Optimism: Icograda Design Week in Brisbane 2010 International Conference opens today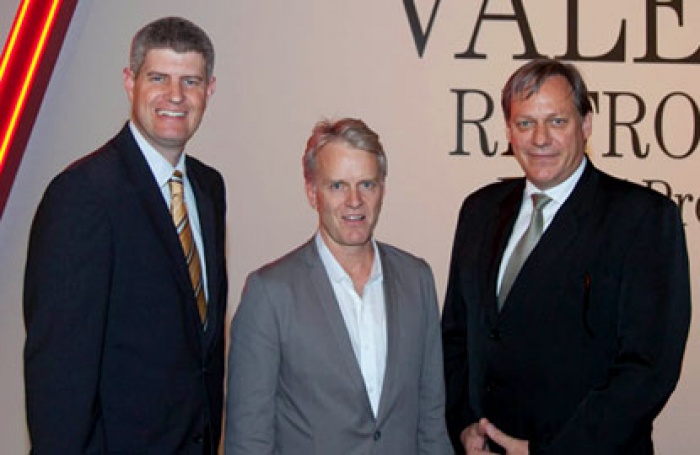 12.10.2010 News
Brisbane (Australia)
- The much-anticipated
Optimism: Icograda Design Week in Brisbane 2010
International Conference opens today at the Brisbane Convention & Exhibition Centre.
Presented by the Icograda in partnership with , the Australian Graphic Design Association, Optimism 2010 provides a forum for dialogue on issues shaping the nature and relevance of communication design practice today.
"
Icograda Design Week Brisbane 2010
promotes taking an optimistic approach to problem solving through design," says Icograda President Russell Kennedy. "It recognises the valuable contribution designers make to delivering benefits and results for business, community and culture.
Optimism 2010
is a forum to discuss design-led thinking and consciousness for a changing world."
Above:
Optimism 2010
registration at the State Library of Queensland. Image by Seesaw Photography
Day One at a glance
Amid numerous exhibitions and workshops, day one of the International Conference brings delegates an exciting line-up of presentations by design creatives from business, government and industry worldwide.
Here is a preview of the speakers and their presentation topics, in order of appearance:
Steven Heller

(United States) –

Wasn't the Future Wonderful - A Study in Optimism

Paul Hughes

(The Netherlands) –

Designing the Future: Lessons on Design Thinking from Business, Nature & Spirituality

Rabia Gupta

(India) –

'Yeh Dil Mange More: Excuse Me While I Kiss the Sky.' An insider's view on design in India

Mimmo Cozzolinio

(Australia) –

Optimism and Ignorance

William Herald-Wong

(Malaysia) –

The Spirit and a Sense of Being

Jodie Cox

(Australia) –

Art and Design in the Public Realm

Jason Fan

(Taiwan – Chinese Taipei) –

Mix and Maximise

Marc Alt

(United States) –

Open Source Cities: Design, Urbanism and the Idea Marketplace
The evening of day one will close with
Forty-Eight (is at a crossroads)
, presentations by ten Australian designers who will respond to the idea of being at a crossroads... a significant moment, encounter or situation that brought about a change in direction or clarification for the way they work or the outcomes they produce.
Day Two at a glance
Day two of the International Conference will continue with speaker presentations from six different countries exploring additional interpretations of the
Optimism
theme:
Paul Hughes

(The Netherlands) –

Design is Dead, Design Should Be Alive: The World of Dynamic Identities from Lava

Lita Talarico

(United States) –

The Design Entrepreneur

Chris Edser and Yianni Hill: The Australia Project

(Australia) –

Defining Australia

Blair Enns

(Canada) –

The Future of Selling Design

Domenico Bartolo

(Australia) –

Relentless Optimism

Cameron Bruhn

(Australia) and

Laurence Ng

(China) –

Panel discussion: Design Media

Fabien Barral

(France) –

Pessimist to be Realist, Optimistic to Act

Eike Konig

(Germany) –

from HORT to heart
How to take part
On-site registration for one or both days is available from 7:00 – 9:00 each day. Professionals, academics or students of an Icograda,
Icsid
(International Council of Societies of Industrial Design) or
IFI
(International Federation of Interior Architects/Designers) member organisation or educational institution qualify for the member rate. Find out all the details at:
designweekbrisbane.com
Optimism 2010
enthusiasts are also invited to stay on top of event updates via
Twitter
and
Facebook
. Images of the event will be posted on
Flickr
throughout the week.
---
For more information, please contact:
Fareed Ramezani
Membership and Communications Manager
E:
framezani@icograda.org
About Icograda
Icograda (International Council of Graphic Design Associations) is the world body for professional communication design. Founded in 1963, it is a voluntary network of independent member organisations concerned with graphic design, visual communication, design management, design promotion, design education and design journalism. Its representation covers 67 countries and regions around the globe. Icograda promotes communication designers' vital role in society and commerce. Our vision, mission and core values are collectively embodied in the statement leading creatively and manifested through our Members' diverse activities to use design as a medium for progressive change. Icograda maintains international affiliations with UNESCO, UNIDO, WIPO, IFRRO and ISO. Since 2003, Icograda has been a partner in the International Design Alliance (IDA).
About the Australian Graphic Design Association (AGDA)
With more than 2 600 members distributed throughout the creative, visual communication, applied design and technology sectors, the Australian Graphic Design Association (AGDA) is dedicated to advancing the profession through an interrelated program of state, national and international activities in education, advocacy and professional development. Many of these activities are also available to the wider design and business communities. AGDA's goal is the establishment of fair and productive working relationships between graphic designers and their clients. They do this by providing designers with the tools and information to manage their professional careers. AGDA also works on increasing awareness of the value and importance of graphic design in business, education and culture.
www.agda.com.au