Positive Posters announces Sex, Drugs & Helvetica - a conference for graphic design students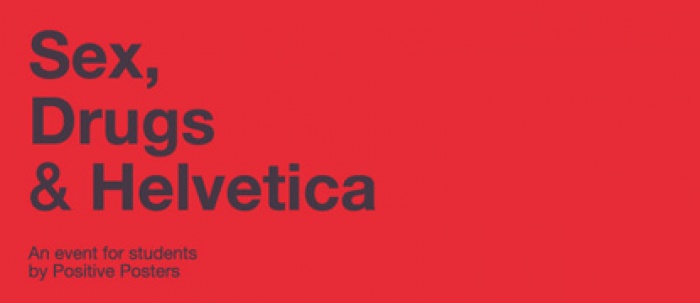 24.07.2011 News
Burnley (Australia) - Positive Posters announce their first conference for graphic design students: Sex, Drugs & Helvetica. Among other topics, the conference covers:
dealing with and charging clients
what to put in your folio and how to present it
the must have books and must read blogs
knowing who actually owns your work
the day in the life of a designer
Join Melbourne designers and other industry professionals as they answer your questions and shed light on the things that matter to young designers. Sex, Drugs & Helvetica, an event by Positive Posters for graphic design students in a big room with seats.
The Positive Posters team strongly encourage graphic design students to attend. They have tried to pack as much value in as possible and kept the price student-friendly at AUD $40.
Sex, Drugs & Helvetica
Thursday, 25 August 2011, 9:15-16:30
Cost: $40
Location: 242 Telstra Conference Centre, 242 Exhibition St, Melbourne
Tickets
Tickets must be purchased from TryBooking.com
Speakers
AgIdeas
K.W.Doggett Fine Paper
Chad Willats (Finsbury Green)
Studio Motherbird
Jono Wallace (Alter)
Vali Valibhoy (Mag Nation)
Simon Mundy (AGDA)
Nick Hallam (Positive Posters)
Mr. Singh
EMK Lawyers
Content
Best of Everything
Blogs, books, mags, networks, comps, festivals, short courses.
Areas of Design
Good, Bad and the Ugly.
Storytime with designers.
Starting out, freelancing tips, charging and handling clients, finance, tax, business structure, scholarships and grants.
Sell Yo'self
Marketing online and offline. Print, Paper, Ink – Wtf?
The Power of Design
Past, present and future. Open forum for pitching ideas. Show us what you're made of!
---
For more information, please contact:
Tenielle
Positive Posters
T +61 3 9420 5070
E tenielle@positive-posters.com
About Positive Posters
Positive Posters is an Australian-based non-profit organisation that, with our community of designers, aims to raise international awareness for global social issues. We achieve this through an annual poster competition giving our community the opportunity to get together and have their say on a social issue or idea. Our community was founded upon our belief in the unrivalled ability of designers to create impact, communicate and spark revolutions.
positive-posters.com