Reminder: upcoming deadline for student submissions to :output award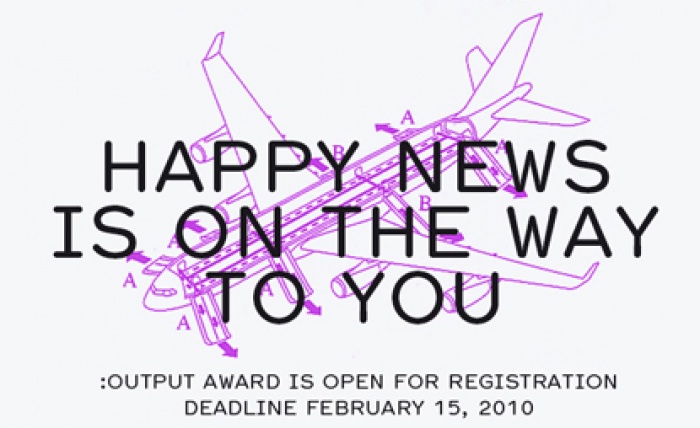 31.01.2010 News
Amsterdam (The Netherlands)
- Until 15 February, :output invites students to submit their projects from all disciplines of design and architecture to the . The best projects will get published in the yearbook :output.
Works carried out by students usually disappear into drawers after presentation to a relatively small college audience. There the work remains invisible. :output wants to change that.
A participant in the International Design Media Network (IDMN),
:output
is an international platform for colleges and students in design and architecture. It organises the largest competition for design students worldwide, fosters new talents and initiates innovation projects by connecting education, economy, politics and culture.
Every year more than 1 000 students from more than 30 different countries submit their best projects to the competition.
An international jury will select the best projects of a year to be published in yearbook :output. This year's jury will meet in April 2010 in Los Angeles, United States, and includes:
Kate Moross (graphic design, UK)
Elio Caccavale (product design, I/UK)
N.N. (architecture)
Juliette Bellocq (graphic design, USA)
Florian Pfeffer (:output foundation, NL/GER)
The best projects submitted to the :output competition are published in the yearbook :output and the overall best project from all submissions is honoured with the :output Grand Prix which includes also a scholarship of 3,000 euro.
Find out more at:
www.open-output.org/award
---
For more information, please contact:
T: +31 20 4 27 90 20
F: +31 20 6 27 44 77
E:
info@open-output.org
W:
www.open-output.org