RGD Ontario's ACCESS-ABILITY Conference transcripts and presentations available for viewing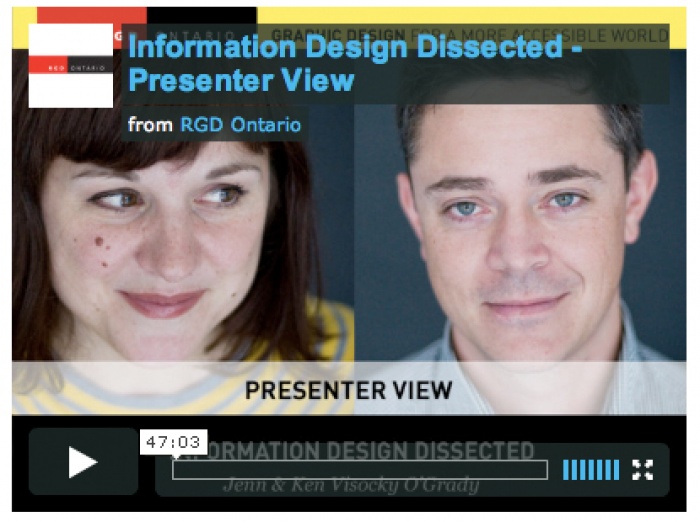 21.06.2010 News
Toronto (Canada)
- RGD Ontario's ACCESS-ABILITY Conference, which took place on 28 January, featured an impressive line-up of guest experts in fields ranging from information design to environmental design. These presentations, including a series of case studies showing tangible examples of accessible design in action, are now available for viewing.
Presentations from Debbie Gillespie & Naveesha Maharaj, Jenn & Ken Visocky O'Grady, Derek Featherstone, Gregory Neely R.G.D., Antonio Garcia and Mies Hora can be found at
vimeo.com/channels/accessability
and viewed in both presenter and slide show formats. Case study presentations from Wayne McCutechon R.G.D., David Hollands, Debbie Adams R.G.D. and Brad Walker R.G.D. have also been added.
The transcripts of the case study presentations are also available via the following links:
Designing Signage for Universal Accessibility
: Working with the CNIB on Pearson's Terminal 1, Presented by Wayne McCutcheon R.G.D., Entro Communications
Projects at the ROM to meet the new AODA Customer Service Standards
Presented by Dave Hollands, Royal Ontario Museum
The Ultimate Accessibility Challenge
: Designing an Exhibition about Disability, History and Activism, Presented by Debbie Adams R.G.D., Adams + Associates Design Consultants
Through their Eyes
: Designing the Reflections book for Chartwell's National Appreciation of Seniors Day, Presented by Brad Walker R.G.D., Charwell Seniors Housing REIT
Other transcripts from the conference can be found under the Guest Experts section of the
ACCESS-ABILITY website
.
---
If you have any questions or thoughts on this project, please contact:
Christina Mastruzzo
Accessibility Project Coordinator
E:
christina@rgdontario.com
T: +1 888 274 3668 x 27
About RGD Ontario
RGD Ontario was created by an Act (Bill Pr56) of the Ontario Legislature in
1996 to grant graphic designers who qualify the right to use the designation
Registered Graphic Designer (R.G.D.). RGD Ontario is the only graphic design
association in North America to have this kind of legislation. The R.G.D. and Registered Graphic Designer designations are signals of quality and competence to the profession, the public and the government.
www.rgdontario.com