San Ignacio de Loyola University announces 4th International Poster Exhibition – YAKU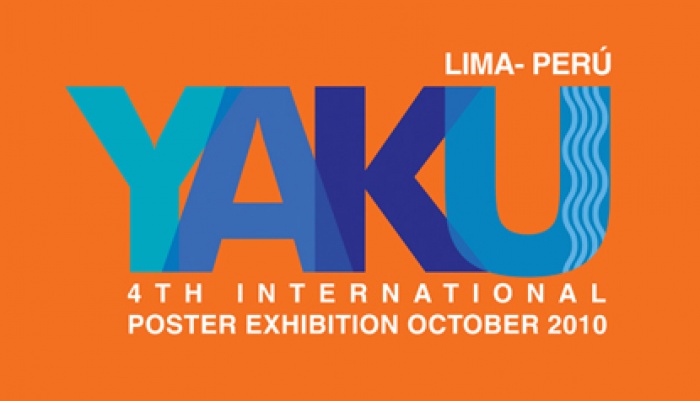 10.03.2010 News
Lima (Peru)
- The Art & Graphic Design department from the is pleased to invite all designers, plastic artists and visual communicators from all the five continents to participate in the fourth international poster exhibition named
YAKU
(which means "water" in quechua language). The exhibition will take place in the city of Lima, Peru, while establishing a close connection within all the diverse artists around the world.
The fourth international poster exhibition is the result of the extensive effort from the Art & Graphic Design department to create a space where our students and every designer in the field can express their own point of view on a common issue. The exhibition tries to alert everyone about the problem our world is having in regards to this vital element, water.
Competition brief
Water has become a scarce resource in our planet. Due to global warming caused by humans, in recent years we have witnessed how humankind eliminates every possible source of water in massive amounts. Some zones have been affected directly by humans, later to have acid rain, hurricanes, typhoons, becoming the central cause of overflowing rivers, inundations and overwhelming destruction. Right now, 20% of the world's population consumes 80% of the world's resources and nearly 5000 people die every year from polluted water.
The solution lies in our hands; us humans as rational thinkers have the responsibility to reverse our actions of destruction and devastation into actions of prosperity. There has to be a push towards positive progress, stepping into quick action and preserving this vital element. The solution has to come very fast, due to the current warnings by geologists, who say that by the year 2025, more than 2000 million people are going to have absolutely no water. Many organisations are worried about what is going on in our world and where are we going to end up.
The communication design profession involves becoming a social visual communicator for the world around us, finding it necessary to commence a solution. This event is a way of contributing to the solution, taking action, showing a reality that many choose to not see and opening the doors to our consciences. The problem is one of critical proportion, but we are in the right moment to switch reality.
Submission period
The submission period will be open from 5 March - 4 June 2010.
Rules and conditions
All local and foreign designers, artists and visual communicators are invited to participate in this international exhibition. For the complete set of rules and regulations, (DOC - 40KB).
To take part in YAKU,
download entry form
(PDF - 552KB).
International jury
The jury for the 4th International Poster Exhibition – YAKU includes:
Susana Machicao, Bolivia
Carlos Zamora, Cuba
Antoine Abi Aad, Lebanon
Hossein Abdolmohammadzadeh, Iran
Iraj Mirza Alikhani, Iran
Onish Aminelahi, Iran
Sergio Olivotti, Italy
John Moore, Venezuela
Rita Vidal Ch?varri, Peru
Rafael Vivanco ?lvarez, Peru
Awards
The international jury will evaluate and select the best 120 posters. From the 120 posters selected, there will be three first place pieces.
All selected participants will receive a diploma in PDF format from The University of San Ignacio de Loyola, Art & Design Programme. The three first place pieces will receive a printed diploma and the official book of the exhibition via standard mail.
The list of selected participants will be published online and by email, on 25 June 2010.
Exhibition
The exhibition will be held in Lima, Per?, from 1-30 October 2010. It will take place at the "Hall of RAUL PORRAS BARRENECHEA" in the "Centro Cultural Ricardo Palma" (Av. Larco 770, Miraflores).
---
For more information, please email:
yakuposter@gmail.com
About San Ignacio de Loyola University
The School of Corporate Art and Graphic Design at San Ignacio de Loyola University in Lima, Peru, was formed in December 1998. The university offers a 5-year Bachelor programme in Art and Graphic Design, with courses in graphic design, advertising, editorial design, environmental design and multimedia.
www.sil.edu.pe