SAPPI: CONSISTENCY INTENSIFIED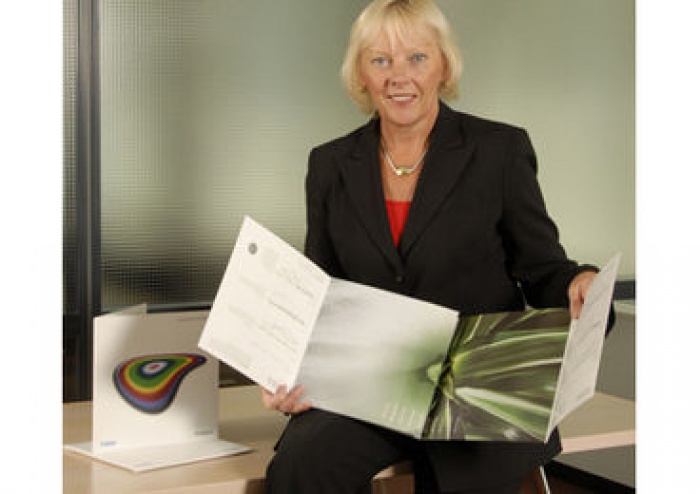 27.08.2007 News
Brussels (Belgium)
- Consistency, whatever the weight and surface, is the theme of Sappi's latest promotional campaign for its Magno range of premium woodfree coated sheets.
"We have continued to build on Magno's reputation for consistency and reliability across the grammage range by improving the surface quality of our board weights, so printers, designers and end users only need to use one brand to match text and cover for their uniquely special job," says Magno Business Manager Margaret Baker. "A significant investment at our Maastricht mill has improved the base formation of our boards, so Magno now offers improved visual appearance, runnability and printability from 90 through to 400g/m sq."
The 'Consistency Intensified' campaign is being spearheaded by a new brochure, which features the two surfaces Magno Star and Magno Satin. For each quality, it compares the three key areas of CIE whiteness, ink setting and surface quality across the grammage range against those of four leading competitive coated woodfree papers. The results clearly indicate that Magno consistently performs at the highest level.
The brochure also contains printed samples, with Magno Star on one side and Magno Satin on the other, in 100, 135, 170, 250 and 350g/m sq. 'waterfalls'. The vibrant, shiny green image of the tropical plant printed on Magno Star highlights the intense colour and crisp detail that can be achieved with this quality, while the silky, soft image on Magno Satin shows this paper's smooth reproduction and texture.
Sappi is distributing the new brochure to leading printers, publishers, graphic designers and advertising agencies, as well as end users, throughout Europe from August.
Further details of the Magno range, as well as a complete range of printed and unprinted samples, are available from local Sappi sales offices or at
www.sappi.com/Magno
.
---
For further information please contact:
Sue Griffin
Marketing Communications Manager
Sappi Fine Paper Europe, Brussels
T: +32 2 676 9761
F: +32 2 676 9669
E:
sue.griffin@sappi.com


About Sappi

Sappi is the world's leading producer of coated fine paper. Brands include Magno, HannoArt, Quatro and Royal graphic papers, as well as Algro, Leine and Parade label and packaging papers and boards. Customers in more than 100 countries worldwide specify these for the highest quality publishing, promotional, labelling and packaging applications. These papers are produced in mills which are quality certified with ISO 9001 and environmentally certified with EMAS and ISO 14001. Sappi is the first paper company in Europe to achieve a multi-site cross border Group Chain of Custody Certification for its entire European operations under both the Forest Stewardship Council (FSC) and the Programme for the Endorsement of Forest Certification (PEFC) schemes.