SEGD Design Awards names 2012 jury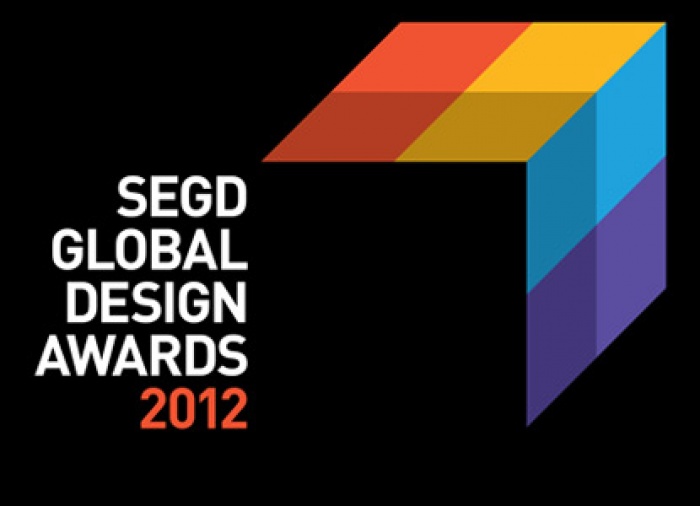 21.11.2011 News
Washington (United States) - In its 25 anniversary year, the SEGD Design Awards programme - the only international competition recognising excellence in communication design for the built environment - has a new name and identity reflecting its increasingly global profile.
Entries for the 2012 SEGD Global Design Awards are now being accepted at SEGD's online entry site. The programme deadline is 31 January 2012, with a 'late deadline' of 14 February 2012.
Launched in 1987 to honour excellence in environmental graphic design (EGD), the programme has grown dramatically in the last 25 years and now attracts entries from around the world. Past winners have represented a wide range of project types, from wayfinding programmes for hospitals and parks to environmental graphics for an airplane factory and a typographic 'poem pavilion.'
In 2011, the programme attracted 450 entries from more than 30 countries.
"This reflects not only greater awareness of SEGD around the world, but growing recognition of how environmental graphic design can positively impact the built environment in a multitude of ways," says Edwin Hofmann, associate vice president of design for Limited Brands and chair of the 2012 SEGD Global Design Awards Programme.
"Great EGD happens when cross-disciplined 'creators' collaborate to develop inspired, information-rich, emotionally compelling experiential spaces," Hofmann continues. "We see the power and value of multidisciplinary thinking in outcomes like ESI Design's dreamy, high-tech corporate pavilion for the Shanghai World Expo as well as in relatively low-tech projects like a New Zealand student's brilliant typographic installation." Both projects were 2011 SEGD Design Award winners.
2012 jury members
Entries in the 2012 programme will be judged by a multidisciplinary panel led by Edwin Hofmann, an architect and founding member of the Victoria's Secret prototype design team. He and a cross-collaborative team define and develop emotionally compelling concept stores and flagships. They were recently responsible for creating flagship stores in New York, Chicago, and Hawaii and are now working to expand Victoria's Secret internationally. Before that, Hofmann was design director at Victoria's Secret Beauty and senior designer at Robert A.M. Stern Architects. He is a member of the SEGD Board of Directors.
Katie Bevin, a junior environmental designer with Frost Design's environments team in Sydney, Australia and 2011 SEGD Design Awards Honor winner for her site-specific typographic installation. Her work has been recognized with several other national and international awards, including the New Zealand Best awards for 2010 and 2011 and the International Society of Typography Design 2010.
Lucy Holmes, creative director and founding partner of Holmes Wood in London and former designer with Pentagram London. She has created design solutions and information graphics for wayfinding schemes including Tate, The National Gallery, the V&A Museum, the Natural History Museum, the British Museum, and the Centre for Contemporary Culture in Moscow.
Alan Jacobson, president of experience design firm ex;it. He has provided design leadership for organizations such as the Boston Symphony Orchestra, Johnson & Johnson, and Novartis, and his humanitarian efforts include community arts and entrepreneurial initiatives in genocide survivor villages in central Rwanda.
Rick Lincicome, executive vice president and principal of the Planning Design and Development Business Line at AECOM and former CEO of Ellerbe Becket, one of the world's oldest and largest design firms. He led Ellerbe Becket's emergence as the leading healthcare designer in the Middle East.
Kyle Reath, principal at GNU Group and formerly a founding principal of ellipsis…, and principal and managing director of EGD at Jacobs Engineering. He has led signage and wayfinding projects for the Metropolitan Museum of Art, Citicorp Center, and Mineta San Jose International Airport as well as programmes for brands such as Apple, Nike, Cisco, and Kaiser Permanente.
Lucinda Sanders, RLA, FASLA, CEO and partner of OLIN. With an emphasis on achieving places of social purpose and ecological sensitivity, her restorative landscapes combine her interest and talents in urbanism with social and natural systems, philosophy, and art. Her recent work includes HemisFair Park Master Plan in San Antonio and Comcast Center Plaza and Central Delaware Riverfront Master Plan in Philadelphia.
Luke A. Snider, who leads design for Procter & Gamble's Baby Care, North America. A champion of the Design Thinking process, Luke works to identify consumer insights and opportunities, develop meaningful innovation, and push team members to think outside their comfort zones. Prior to joining P&G, he served as the director of design and development for the oneCARE Company.
Winners of the 2012 SEGD Global Design Awards will be announced at the 2012 SEGD Conference 8-9 June in Brooklyn and Manhattan.
---
Visit the SEGD Global Design Awards page the archive of award-winning projects, including photos, project descriptions, and jury comments.
About SEGD
Founded in 1973, SEGD (the Society for Environmental Graphic Design) is the global community of people working at the intersection of communication design and the built environment. Through educational programmes, research, and publications, SEGD's mission is to provide learning opportunities and resources for professionals involved in EGD, promote the importance of the discipline in establishing place, and continue to refine standards of practice for the field.