SEGD WORKSHOP EXPLORES "DYNAMIC ENVIRONMENTS"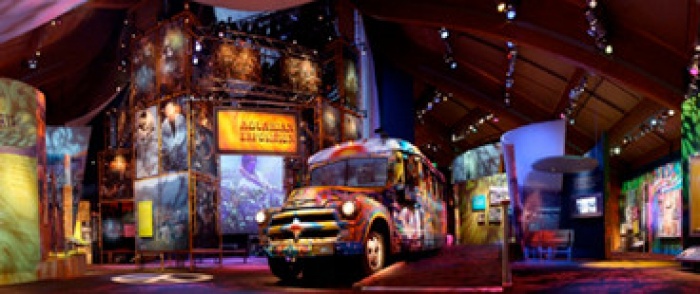 14.10.2008 News
Washington D.C. (United States)
- Advances in display technologies and computing are making it possible for new media to be integrated - literally - into the fabric of built environments. These media-saturated environments can dramatically reinforce brand messaging, create new revenue streams, energise public spaces, and engage museumgoers and shoppers in compelling new ways.
Dynamic environments create special design challenges and opportunities. Both are the focus of SEGD
Dynamic Environments II
, an educational event scheduled for 13-14 November 2008 in Los Angeles, hosted by Icograda member, the (SEGD).
Dynamic Environments II is intended for designers, architects, exhibition designers, art directors, advertising agencies, real estate developers, fabricators, manufacturers, and technology consultants involved in the planning, design, construction, or implementation of dynamic environments.
This second annual event will offer a dynamic program mix of high-profile speakers, workshops, case studies, expert panels, a tech showcase, and tours of projects in Los Angeles, from public art installations to shopping destinations and a hospital campus.
"We believe this is an important new frontier for designers, and our goal is to lead the way toward best practices in the planning, design, and implementation of dynamic environments," says Leslie Gallery Dilworth, CEO of SEGD.
Speakers will include Lee Skolnick, whose architecture and design practice has created the new Sony Wonder Technology Lab museum, opening in New York in October 2008; architect Simone Giostra, creator of Beijing's GreenPix Zero Energy Media Wall; Beijing designer Zhu Pei of Studio Pei-Zhu; David Niles, whose design and production firm conceived and produced the Comcast Experience in Philadelphia; Phil Lenger of Show & Tell Productions; and Craig Hanna of Thinkwell Design & Production.
The event will be headquartered at the Renaissance Hollywood Hotel & Spa, the cornerstone of LA's Hollywood & Highland shopping and entertainment district.
Event sponsors include Daktronics, Mark IV IDS, Barco, Lighthouse Technologies Limited, Akzo Nobel, D3 LED, Edwards Technologies, Omnivex, The Retail Media Company, Show & Tell Productions, and Split Rock HD.
Download the
event brochure
(PDF - 5.2 MB)
---
For the full agenda and information on fees and registering, contact:
Society for Environmental Graphic Design
1000 Vermont Avenue, NW
Suite 400
Washington D.C 20005
United States
T: +1 202 638 5555
F: +1 202 638 0891
E:
segd@segd.org
W:
www.segd.org
About SEGD
SEGD is the global community for people who work at the intersection of communication design and the built environment.