SHRINKAGE WORLDWIDE AWARDS 2006 ANNOUNCED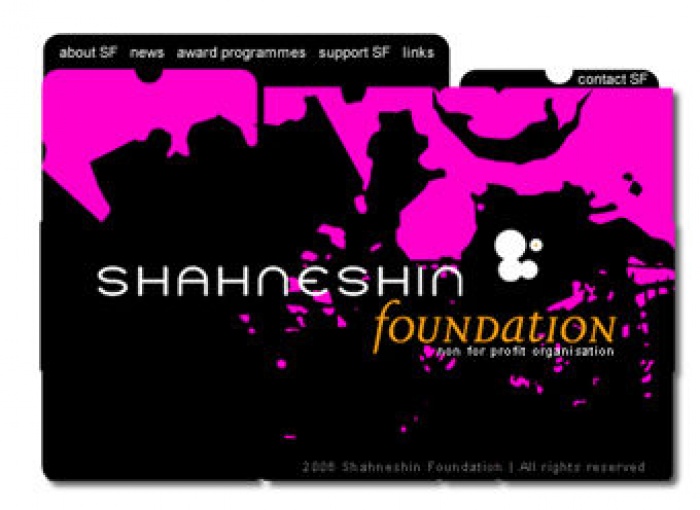 21.11.2006 News
Zurich (Switzerland)
- The Shahneshin Foundation (SF) is pleased to announce that the distinguished jury of the 2006 Shrinkage Worldwide Awards 2006 after careful review and considered assessment of entries to find the award winners, has conferred the Honourable Mention to Emel Ardaman, Zeynep Aygen, Rami Bishara, Pallop Henpreserttae, Emran Hossain, Kitchai Jitkhajornwanich, Anton Legoo, Boris Ljubicic, A. Can Metin, Jacob Peel, Alaina Prokopchuk, Andrea Wilkinson, and Shannon Zandy.
The international jury included: Swiss Philosopher and Cultural Historian Christoph Eggenberger, Italian Designer and Architect Lui Galati, Spanish Artist Guliermo Rodriguez, Persian Critic and Architect Siamak G. Shahneshin, and German Writer and Critic Margit Weinberg Staber.

The entries accepted came from all over the world: Australia, Canada, China, Croatia, England, Finland, France, Germany, Japan, India, Indonesia, Iran, Italy, Lebanon, Mexico, New Zealand, Russia, Singapore, South Korea, Sri Lanka, Sweden, Thailand, Turkey, England, UAE, Ukraine, USA, and from an array of diverse fields -both academics and practitioners- in arts, architecture, graphic design, industrial design, landscape-architecture, planning, product-design, publicity, robotics and so-forth.

The Shrinkage Worldwide Awards 2006 is jointly promoted by several international institutions including the Architectural Association (AA), AIA New York, Architecture for Humanity (AfH), Carnegie Mellon School of Architecture, Chinese University of Hong Kong, Danish Design Centre (DDC), Design Austria (DA), the Institute of Landscape Architects of South Africa (ILASA), International Council of Graphic Design Associations (Icograda), the Royal Australian Institute of Architects (RAIA), and many others.

This was not taking place without the fantastic people around the globe, for their letter of encouragements, support, and promoting the event on their web- and magazine- pages; therefore, the SF wants to acknowledge all of you for your effort in going along with us in helping to build the foundation of the future.

---

For further information please contact:

Shahnehin Foundation
T: +41 (0) 43 540 00 26
F: +41 (0) 43 540 00 27
E: press@shahneshinfoundation.org
W: www.shahneshinfoundation.org