Totally Blue Sky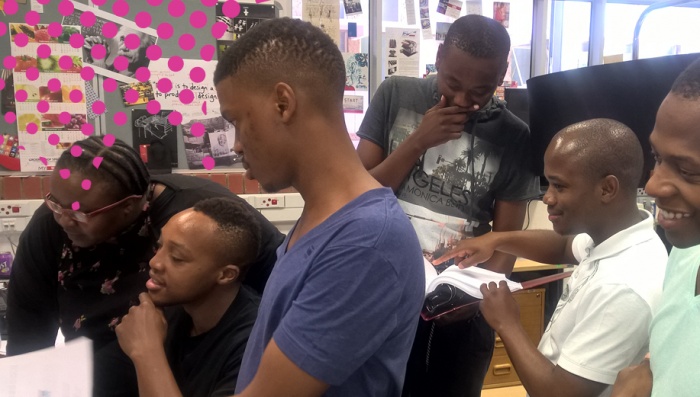 09.04.2015 Features


Following the Open Forum in Johannesburg, ico-D interviewed five of the young interns presently participating in the iDesign Studio Internship Programme at , coordinated by Carine de Swardt. iDESIGN provides a temporary job working as a young design team at the SABS DI - a year-long internship completing high-level regional projects which sets the stage for career development and valuable working experience with professional design experts and mentors.

iDESIGN is known for its hands-on approach, and is a programme which provides understanding of generic product design and development processes; covering aspects of research, concept/idea generation, concept development and the documentation/delivery of design outcomes. Interns learn design principles and basic engineering principles relevant to commercialization and explore this within the context of fast-paced, project-based 'real' learning environments.

The interns ico-D interviewed included: Collen Msimango, Grace Ramadi, Hector Thulare, Kisto Sedumedi, and Sibusiso Mkhawanazi.


Here's what they had to say about their internships at SABS DI:
ico-D: Why do you want to be a designer???

Grace: Design is in everything that we see and feel; buildings are designed, business models are designed, even music is designed. I want to be part of that; seeing how design can make a difference.

Kitso: Design represents a deep-rooted connection to the humanistic side of industrialization - to me that is what design is. I want to create a more human-friendly world with design.


ico-D: In what ways do you think design empowers youth, and is South Africa special in any way considering how many young people in South Africa are choosing design as a viable career option?

Sibusiso: It allows for constant progression and development because one can always improve designs. It can liberate you because it's open to all forms of creativity and proves that nothing is impossible. And through this liberation, it eliminate dependency on others and build confidence which you can use to create employment.

Hector: I believe that many young South Africans are more and more creative and want to see the country designed the way we want it designed, native to our land and local.

Collen: With today's youth everyone wants to see something of their own like clothing brand, shoe designs and T-shirts graphics etc. Most young people in our country want to be self-employed, which is a good chance to show future potential to make SA top-notch in years to come.


ico-D: What was the most useful thing that happened during your internship? What did you get out of working closely with experts and how do you think this will develop your capacity as a designer?

Collen: Everything we do is experiential, everything we create needs to take the end users' experience into account. I think working with experts has increased my thirst for learning.

Sibusiso: Working with other designers from different fields has made me versatile as a designer because I'm stretched to a point where I need to step out of my comfort zone and master a new skill.


ico-D: What about your internship surprised you?

Kitso: The thing that surprised me most was how crazy a creative studio can be - the totally opposing atmospheres - from really slow days, to the really crazy must-deliver last-minute work; this atmosphere kept me and keeps me on my toes - being able to work under pressure and handle the demand.??
Sibusiso: I'd find myself analysing some ideas that the entrepreneurs would come up with and think it is absolutely impossible to develop, totally blue sky. But to my surprise, as interns, we would come up with really good solutions as designer and make this crazy/impossible idea work, and work very well. I'm constantly amazed by our problem solving abilities as designers. The Design Institute really brings out the best solutions in any designer.


ico-D: What is your vision of the future through design for South Africa?

Kitso: My vision for Southern Africa's future through design is one that the country learns to manufacture quality products and services that can be world-renowned, and a stepping-stone or path that the entire African continent may follow suit.
Grace: South Africa is a diverse country filled with people that have amazing ideas that can be shared worldwide through design.
Collen
: My vision is to see a government platform that can "provide training centres for students and creating employment opportunities" for designers in South Africa.
Sibusiso: Considering that 60% of the South African population is youth, I feel we have a very big advantage in dramatically boosting the economy because youth bring new ideas and solutions to an environment which is very important for an evolving economy. Youth can increase a company's lifespan as it is able to evolve to remain relevant, as the youth is constantly open to change.
ico-D: What support do you think should be provided to young designers???
Grace: Young designers should be given the same respect as one would give a young accountant or doctor. The same opportunities in terms of growth and finance.
Collen
: I would say a better salary, because we are underpaid in the industries and yet we are burdened with high expectations as designers.

ico-D: In your specific position, what are your needs / requirements / future opportunities?
Hector
: The ability to properly liaise and the skills to conduct and manage design projects, from start to finish, the skills needed to maintain quality designs when you start your own design company, the marketing skills and training to be able to pitch a brand to the client and potential investors.

Collen: A work structure with all the necessary steps from the front to the back end. As far as design is concerned, the most significant event of the last ten years is that everyone in business knows that they need a designer if they are going to compete.


Read more SPLASH! South Africa