UK BEST PRACTICE AGENCY APPOINTMENT GUIDE AVAILABLE TO ICOGRADA MEMBERS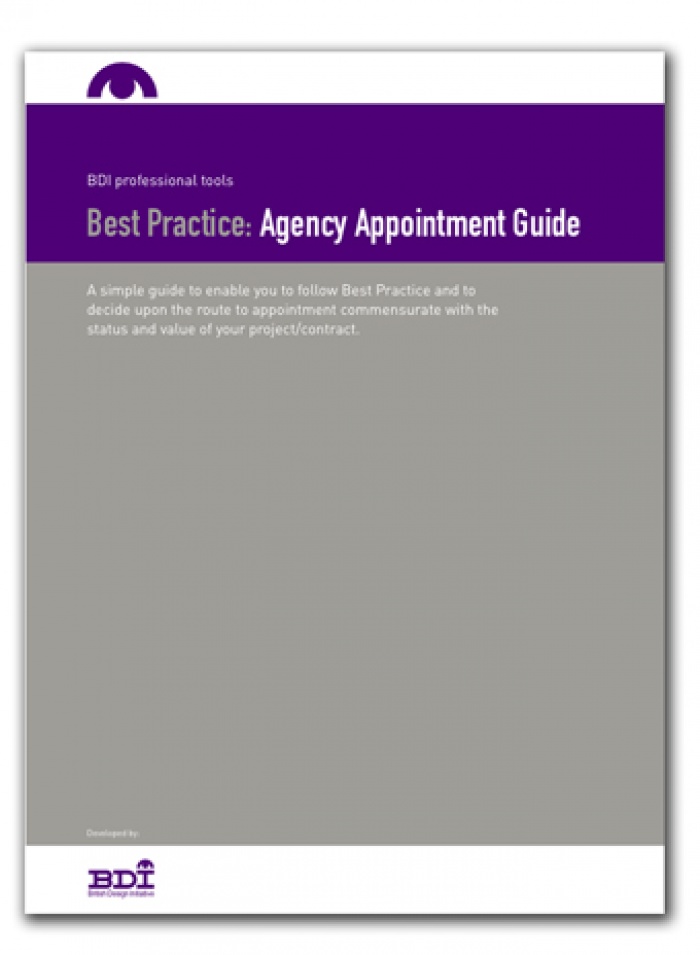 10.06.2005 News
London (United Kingdom)
- The British Design Initiative (BDI) is offering members of Icograda their newly released Agency Appointment Guide to translate into their language. The BDI hopes that this offer will help create a universal standard. In return, they ask that Icograda member associations credit to the British Design Initiative for their work in making this possible.
Following extensive consultation with design agencies of all type & size throughout the UK, the BDI has launched a Best Practice Agency Appointment Guide (AAG) to provide agencies with the means to encourage best practice amongst clients seeking to appoint them.
The AAG presents 7 scenarios each with its own appointment procedure commensurate with the status and value of the opportunity. It enables client organizations to recognize which scenario applies to them and thereby which best practice route to appointment they should follow.
The AAG will be widely available to client organizations from the BDI home page, its Design Directory and where agreed from the web sites of over 200 BDI member agencies.
The Agency Appointment Guide is an addition to the Professional Pitch (PP) appointment procedures developed 18 months ago in consultation with ISBA and the IPA. The PP Guide deals with major project appointments in excess of 100,000 GBP in value. The seven scenario AAG separates appointment routes into projects worth less than 25,000 GBP and those worth more than 25,000 GBP. Importantly it recognizes that a one size fits all approach is not appropriate.
The AAG also provides a Visual Business Case scenario to provide marketing departments who are yet to win board and budget approval for their ideas or start up companies who need to raise funds with a fixed fee service to engage an agency.
This is designed to assist client organizations to achieve their objectives at the same time as eliminate the practice of engaging agencies to pitch for projects that are not at a stage to represent a genuine business opportunity.
A full suite of practical tools, templates and contracts plus IPR advice
Rather than just producing a how to guide the BDI also provides organizations with an ideal briefing template, agency evaluation tools, response to brief, Non-Disclosure Agreements and Terms and Conditions of Business contracts developed by the BDI with expert assistance from leading IPR lawyers to the creative industries, Harbottle & Lewis LLP.
Additionally, the BDI run a Recommendation Service which enables client organizations to utilize its in-depth knowledge of the UK design industry and receive three suitable recommendations of design agencies best qualified for their specific need.
Using the AAG, the tools and templates and the recommendation service the BDI is seeking to target public sector procurement officers to lobby for creative services procurement to be separated from general product & equipment procurement. It seeks to assist the public and private sector to follow Best Practice appointment procedures to ensure an agency s time and money is not wasted and that their copyright ownership is respected & observed.
100 million GBP + per annum
It is estimated that through BDI member case studies, links to their web sites, design directory listings and the supporting BDI recommendation service that over 00 million GBP of design projects are facilitated through
www.britishdesign.co.uk
annually.
Established for 12 years, the BDI is a membership organization that also has an inclusive policy through its online national database of design agencies.
As such it has direct access to over 4500 design agencies of all type and size representing 95% of the commercial design sector.
Site visitors have reached over 420,000 per annum and continue to grow.
It is dedicated to improving professional documentation to ensure that business transactions between all membership groups (design agencies, university innovation departments, graduates & in-house design departments) and industry follow best practice procedures to the mutual benefit of all parties.
---
For further information please contact:
Maxine J Horn
CEO
British Design Initiative
01273 621378
E:
maxine@britishdesign.co.uk
W:
www.britishdesign.co.uk