VCU QATAR FACULTY HONOURED WITH ACHIEVEMENT AWARDS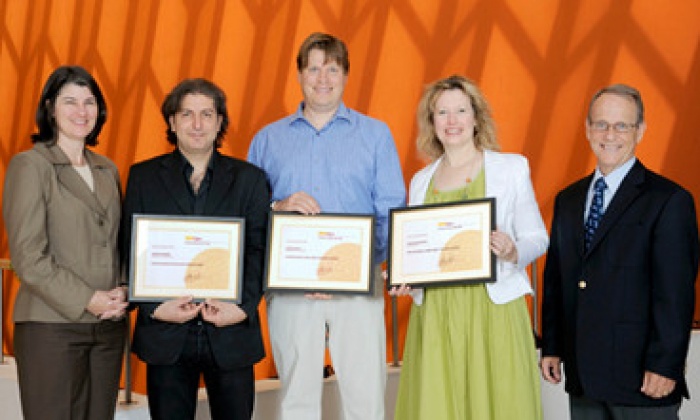 16.09.2008 News
Doha (Qatar)
- The Virginia Commonwealth University in Qatar Assistant Professor of Graphic Design Halim Choueiry, Assistant Professor of English Robin Featherston and Assistant Professor of Graphic Design Peter Martin, were honoured recently with Distinguished Achievement Awards. The awards recognise individuals who have distinguished themselves over a period of years in service to the school, community, profession, teaching and research.
The three were presented with certificates and cash awards at a ceremony held recently at VCUQatar with Dean Allyson Vanstone, Associate Dean for Academic Affairs Dr. Charles Bleick and a host of VCUQatar faculty and staff. "It brings me great pleasure to recognise the outstanding achievements of our faculty and their contributions to the Qatari community and the international design profession. We are inspired by their extraordinary efforts as we look forward to our next decade of achievements," stated Dean Allyson Vanstone.
Halim Choueiry
was recognised for his efforts to influence design internationally through his work with the International Council of Graphic Design Associations (Icograda). Halim holds a Post-Graduate Diploma in 3D and Furniture Design from Notre Dame University, Lebanon, and a Masters degree in Typographic/Graphic Studies from The London Institute and another Masters degree from Brighton University in England. Chairperson for the Department of Graphic Design Muneera Spence characterises Halim as an "exemplary" individual with "boundless energy who works to include many people on his projects." Halim has worked on a variety of projects including "A Flower Every Spring Program" for Her Highness Sheikha Mozah bint Nasser Al Missned and the identity for the Qatar National Research Fund. He is currently a Vice President of Icograda.
Robin Fetherston
was recognised for her work in curriculum development, innovations in the classroom and contributions to intellectual life at VCUQatar with inception of the School Wide Reading Program. Robin holds a Bachelor's degree from Arizona State University and a Master of Arts degree from the College of William and Mary. "Robin has continually done the work necessary to help assure the success of her students. She has led the effort in our English program to adjust the curriculum so that students in Doha are able to meet the same standards that are expected of students on our Richmond campus. Overall she has demonstrated leadership qualities that have had a profound impact on the entire faculty at VCUQatar," stated Dr. Charles Bleick, Associate Dean for Academic Affairs. In her own classes Robin introduced creative writing and book-making as methods for making studies more relevant to student experience and interest.
Peter Martin
was recognised for his research in the arenas of new ways in which design, design thinking and design pedagogy should migrate. Peter was one of the first two faculty members to teach Graphic Design at VCUQatar in 1999. According to Spence, "Peter creates opportunities that build on his thinking and seeks collaborators with whom he can engage internationally." He has recently presented papers at the Design Education Forum of South Africa, and has co-curated the exhibit "Hazawi" at The Gallery, served as faculty mentor for the Undergraduate Research Experience Program.
Recognising their contributions, Dr. Charles Bleick, Associate Dean of Academic Affairs noted, "The commitment of our faculty and their passion in educating the young men and women of Qatar are the driving force behind VCUQatar's success over the last ten years. VCUQatar is very proud to have Peter, Halim and Robin as part of our teaching faculty."
---
For more information, please contact:
Moamer Qazafi
T: +974 492 7277
C: +974 551 0239
E:
mqazafi@qatar.vcu.edu
About Virginia Commonwealth University in Qatar:
Established in the US in 1838 and in Qatar in 1998 Virginia Commonwealth University offers students from all over the world the opportunity to earn Bachelor of Fine Arts degrees in fashion, graphic and interior design. A team of highly skilled professors provide rigorous curricula that prepare students to assume leadership roles in the professional design field of their choice. VCUQatar regularly organises and hosts exhibitions, gallery events, world-class conferences and holds an annual fashion show. VCUQatar is supported and funded by the Qatar Foundation.
www.qatar.vcu.edu
About Qatar Foundation for Education, Science and Community Development
Founded in 1995 by His Highness Sheikh Hamad Bin Khalifa Al Thani, Emir of Qatar, and chaired by Her Highness Sheikha Mozah Bint Nasser Al Missned, Qatar Foundation is a private, non-profit organisation committed to the principle that a nation's greatest natural resource is its people. The headquarters of Qatar Foundation are located within its flagship project, Education City, a fourteen million square-meter campus which hosts numerous progressive learning institutions and centers of research, including branch campuses of six of the world's leading universities, plus a cutting-edge research and development center. Qatar Foundation also works to enhance the quality of life in Qatar by investing in community health and development.
www.qf.org.qa