Walk This Way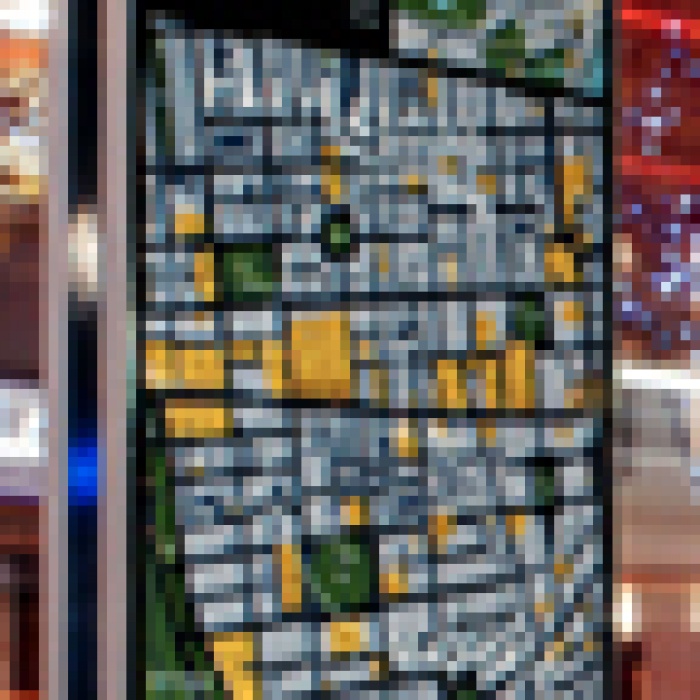 20.01.2010 Features
With a reputation for being difficult to navigate, the city of London decided to take a new design approach to its street signage. Jenny S. Reising describtes the resulting prototype wayfinding system, which aims to simplify a complex city and encourage walking, with the aim of making London one of the most walkable cities in the world by 2015.
---
Above: On monolith signs, information is organised hierarchically. The iconic walker appears at top in a bright yellow bar to indicate this is a walking map. Next comes the name of the neighborhood, directional information to adjacent villages and neighborhoods, an eye-level planner map (or "15-minute map") and a five-minute map, and an alphabetical index of streets showing nearby destinations.
With London's numerous neighborhoods and boroughs, unplanned maze of streets, and dense road traffic, it's not easy for pedestrians to find their way around. A 2001 London Area Transport Survey found that one in seven Londoners had trouble navigating the city on foot, and one in four feared getting lost. That's to say nothing of the 27 million annual visitors, many discovering the city for the first time.
Transport for London, the government agency responsible for the city's public transport network, wants to make London one of the most walkable cities in the world by 2015. In 2005, the Central London Boroughs commissioned Applied Information Group to conduct audits, interviews, and street surveys to determine how people get around London and how their journeys could be improved.
"London is really a bit of a jungle," says Tim Fendley, AIG creative director. "There are lots of interesting things to see, but it's rather dark and there are no numbered streets and very few long vistas. So it's difficult to feel confident wandering if you don't know the area. Our surveys found things like 44.5 percent of people walking around were using the Tube map to guide themselves. It was the best available picture of the city."
According to Surendra Wanza, TfL senior program manager, AIG's 2006 report found that the multitude of pedestrian sign systems in central London - remnants of more than 34 different systems have been found - were ineffective and often confusing, and there was a consequent overreliance on the Tube map to help people navigate above ground.
"There's nothing wrong with the Tube map," says Fendley. "But there's little guidance once you get on the streets, and that creates a lot of stress and uncertainty." For example, what should have been a five-minute walk to Leicester Square took one couple nearly two hours, simply because of a lack of knowledge of how the city's neighborhoods are connected.
AIG's research uncovered three basic needs: information at transport systems, information on the street, and strategies for traveling by foot. The proposal met with great support from the various London boroughs, and the mayor at the time committed a large budget to designing, building, and installing wayfinding signage. AIG took the design lead, working with TfL, the Mayor's Office, the London Development Agency, Center London Partnership, London boroughs (including Westminster City Council), members of the design community, and other groups to create a fast-track prototype signage system, which was installed in November 2007 in the Bond Street area.
Above: Fingerpost signs incorporate the now familiar Legible London walker icon.
A sensible sign system
One of the key concepts of the new signage system was a reliance on "mental mapping." According to Fendley, research has shown that people build maps inside their heads based on familiar locations and routes; a strong mental map builds confidence in walking to destinations.
"We wanted to generate a series of 'Eureka!' moments so that people could start to calculate distances and determine if they're walkable," Fendley explains. The team also measured the time it took to take the Tube - including the walk to the platform, wait time, and travel time - and found that 55% of journeys under a mile are actually quicker by foot than by Tube. "One of our goals was to get people to walk more, which is good for business, good for relieving the overcrowded transport system, good for the visitor economy, and good for health."
Above: The signs are fabricated from vitreous enamel and shot peened stainless steel for cleanability and durability.
The prototype wayfinding system consisted of 19 signs, including monoliths (7.5 ft. high by 2¼ ft. wide) and "miniliths" (8.5 feet high by 1 foot wide) incorporating heads-up maps, as well as fingerposts.
"We wanted a signage system that would be easy for everyone to understand," explains Martin Low, director of transportation at Westminster City Council. "The signs are double-sided and when you look at them, the map shows the road layout in front of you." After much discussion about how much information to include, AIG designed the signs to answer four basic questions: Where am I? Where is it? What else can I find here? Can I walk there?
A hierarchical information system puts general information at the top and progressively detailed information below. The system's iconic "walker" appears at the top of each sign, signaling that it is provides information for walkers. The mono- and miniliths include the name of the neighborhood under the walker; directional information to adjacent villages and neighborhoods just below; a 15-minute-radius map at eye level, with landmarks highlighted in yellow; a "five-minute map"; and, finally, an alphabetical index of streets to show what's nearby.
Self-illuminating all the signs would be cost-prohibitive so instead, they're placed close to shops or streetlights. AIG finally chose Johnston Underground type for the sign messaging because TfL also uses it for the Tube and bus system and surveys showed that it is instantly recognisable and engenders trust. In addition to installing the signs, 46 items (including signage and street furniture) were removed to lessen visual clutter.
Above: Although the signs are designed with heads-up orientation - showing the road map in front of the viewer - a small "north" marker at the base of the sign provides additional orientation.
Signs of success
A follow-up study on the new system's impact was convincing. Eighty-five percent of the 2,600 people interviewed found Legible London easy to use, 90% felt the system should be rolled out across London, and almost two-thirds said the new system would encourage them to walk more. Following installation of the signs, pedestrian journeys in the Bond Street area were quicker by up to 16%.
AIG has refined and tweaked the signage program based on user feedback. Improvements have included four different widths of miniliths to suit different street environments, altering the scale of the maps to correspond to the different sizes of signs, adding an icon key and destination index to highlight nearby attractions, creating a wraparound yellow beacon to improve the visibility of the signs from the side, and rethinking the signs' physical structure. For example, while the initial prototype used hand-built cladding for the frame, the second prototype employs two pieces of extruded steel on either side of the sign panel. According to Fendley, "The tweaks are all about reducing costs, making the signs easier to install, and looking at the map in greater detail."
In 2008, an additional 23 signs incorporating the refined designs were installed on Regent and Oxford Streets in central London. And installation of more than 200 signs in three areas - Richmond and Twickenham, South Bank and Bankside, and Bloomsbury and Covent Garden - is underway.
Above: Printed maps are also available. In the future, the signs will be equipped with Wi-fi technology that will deliver information to visitors' phones and PDAs.
The future of Legible London
A future consideration for Legible London is employing digital technologies to put the wayfinding information in the palms of people's hands. "The on-street signs have been developed with internal space that allows for the inclusion of different technology components," Wanza explains. "Further system development will continue to explore map integration across various media, and TfL is also considering putting Legible London maps on the popular journey planner facility on our website." AIG is currently developing a walking map for the iPhone in a different city, and there is some interest in creating a similar walking map for London.
However, the current economic crisis has put the future of Legible London temporarily on hold, and no plans are currently in place to expand the system beyond 2009. However, TfL's Wanza says that London boroughs and business groups have expressed interest in implementing the system widely throughout London. The 2012 Olympics is further reason to improve London's navigability in a timely fashion.
Whether and when Legible London is expanded is still undecided, but its success thus far is undisputed. One of its achievements is how quickly the sign system was pulled together considering how many parties were involved in the process. "It's quite unusual if you have four organisations and two providers all working closely as a team, gaining consensus, and delivering a hell of a lot in a short time frame," says Low. "What we ended up with is a world-class mapping system that's easy for users to read and provides huge benefits for the city of London."
Legible London West End Prototype
Location
London
Clients
Westminster City Council, New West End Company, Transport for London, Crown Estate, Greater London Authority
Planning and Design
Applied Information Group, Lacock Gullam
Design Team
Applied Information Group:
Tim Fendley (creative director); Kasper de Graaf (executive producer); Richard Simon (planning director); Ben Acornley (design director); Manuela Zwingmann (project director); Collete Jeffrey (inclusivity director); James Lefrere, Ben Gibbs, Matt Cooper (information designers); Simon Hillier (researcher and planner)
Lacock Gullam:
Sam Gullam (product director); Paddy Long, Paul Garratt (product designers)
Fabrication
Woodhouse (fabrication), Westone (installation)
Photos
©Philip Vile/AIG
About the author
Jenny Reising is a Cincinnati-based design writer and editor.
---
Article and images originally published in segdDESIGN magazine No. 26, 2009. Republished by permission of
,
www.segd.org
.