"WITH LOVE ..." DEADLINE EXTENDED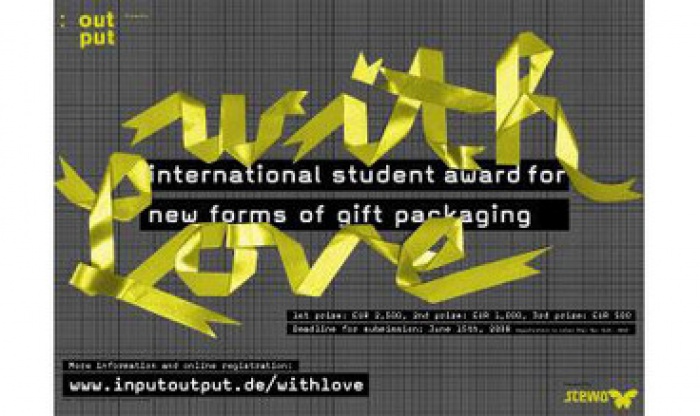 02.06.2008 News
Amsterdam (The Netherlands)
- The International student award for new forms of gift packaging has received numerous requests to extend the deadline for submissions for the "WITH LOVE ..." competition in order to align better with the end of semester dates of many design schools.
We therefore extend the deadline for submissions to
30 June 2008
. Accordingly the pre-registration will close at
15 June 2008
.
PLEASE NOTE THAT PRE-REGISTRATION IS MANDATORY IN ORDER TO PARTICIPATE.
The idea
"With LOVE ..." is the title of the first international (gift) packaging competition, and has been announced by Stewo AG, in cooperation with :output foundation. Students of architecture, product design and communication design are invited to develop novel, surprising and innovative gift packaging solutions involving integrated concepts and objects which focus on the issue of 'giving', 'packaging' and 'presentation'.
Prizes
1st prize: EUR 2,500
2nd prize: EUR 1,000
3rd prize: EUR 500
What can you submit?
Innovative folding, foldable or wrapping techniques for 3-dimensional packaging
Packaging incorporating a comprehensive range of technology and materials
Multi-functional packaging, reusability
Personalisation of packaging
Adaptation of packaging to a range of different gifts and occasions
Innovative solutions for the application of secondary materials, such as, for example, tape or ribbons
Playful elements that promise lots of fun when packing and unpacking
Visionary gift packaging solutions for the gift of the future.
Who can participate?
Anyone throughout the world enrolled as a student of architecture, interior design, product design or communication design at a university or university of applied sciences, or has graduated from such an institute in the last 24 months, may enter.
More information, online-pre-registration and entry form are available online:
www.inputoutput.de/withlove
---
For more information, please contact:
:output foundation
Keizersgracht 8
1015 CN Amsterdam
The Netherlands
T: +31 20 4279020
F: +31 20 6274477
E:
info@inputoutput.de