'WITHOUT YOU, I'M NOTHING: DESIGN IN NEED OF COMMUNITY, COMMUNITY IN NEED OF DESIGN'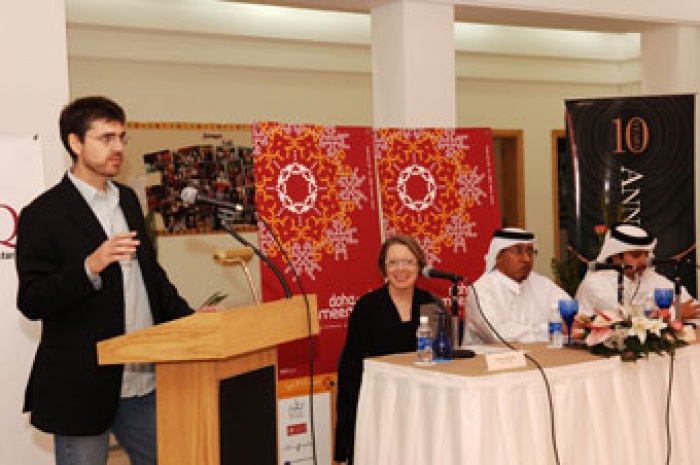 01.01.2006 News
Doha (Qatar)
- The Virginia Commonwealth University School of the Arts in Qatar (VCUQ), in partnership with the Ministry of Civil Service Affairs and Housing, has announced the dates for its annual international design conference, Tasmeem Doha. The 2006 edition of Tasmeem Doha will be held from 20 > 23 February 2006 at the VCUQ.
Endorsed by Icograda, this year's conference continues the discussion initiated in Tasmeem Doha 2004 and 2005 regarding the important role design plays in shaping our identity, determining our quality of life and driving our economy. VCUQ will host a group of speakers that are representative of the best designers working today to address this subject.
"The Ministry works very closely in coordination with VCUQ annually to organize Tasmeem. It gives us the opportunity to strengthen our partnership with Qatar Foundation and VCUQ. The number of participants increases significantly each year. We are extremely excited about Tasmeem Doha 2006. We are most grateful to our sponsors for their continuing support in this great endeavor. This year the conference will discuss how designers integrate the community; it will involve Qatar's community with panel discussions." said Abdul Aziz Al Sulati, Ministry of Civil Service Affairs and Housing and Tasmeem 2006 Committee Chair.
Tasmeem Doha 2006 will include 12 international designers, presentations given by Qatar's decision makers, design exhibitions and panel discussions. Participants will include practitioners, design professors and students from academic institutions and facilities throughout the world.
The theme of this year's conference, 'Without You, I m Nothing: Design in Need of Community, Community in Need of Design', conveys a symbiosis between the designer and those he/she designs for. It suggests that it is imperative to understand the roles of all the collaborators and participants in the design process. This understanding is what can give design power.
For more information, visit the event website at
www.tasmeemdoha.info
---

For further information please contact:

Shefa Ali
T: 0974 492 7807
C: 0974 5300135
F: 0974 481 7058
E: snada@qatar.vcu.edu
About VCUQ:
VCUQ offers specialized programs in various design professions. Students have the opportunity of earning a Bachelor of Fine Arts degree in communication, fashion or interior design. A team of highly qualified professors provide rigorous curricula that prepare students to assume leadership roles in the professional field of their choice. VCUQ regularly organizes and hosts exhibitions, gallery events, world-class design conferences, and holds an annual fashion show. VCUQ is supported and funded by the Qatar Foundation. For more information please visit
www.qatar.vcu.edu
or call 0974 492- 7238.
About Qatar Foundation:
Qatar Foundation for Education houses VCUQ; it is a unique concept which has revolutionized education in the State of Qatar. It is a non-profit organization which was founded in 1995 by the Emir and Head of the State of Qatar, His Highness Sheikh Hamad Bin Khlaifa Al-Thani. The vision of Her Highness Sheikha Mozah bint Nasser Al Missned, the Chairperson of Qatar Foundation indicates the keenness of Qatar's leadership in encouraging education among all levels among the citizenry. The Qatar Foundation has altogether changed the face of the education sector in the State of Qatar with first-class educational programs and organizations. For more information, please visit
www.qf.org.qa
.