director, school of fashion design
ALBA University of Balamand
Lebanon
Valid from 30.10.2020 to 11.12.2020
L'Académie Libanaise des Beaux- Arts Alba-University of Balamand (Lebanon) is recruiting a Director for its School of Fashion Design (M/F). The position is scheduled to begin 01 March 2021.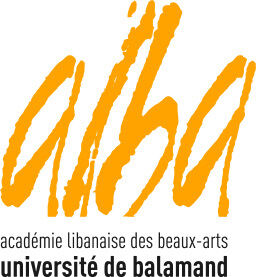 CANDIDATE PROFILE
Skilled designer in the field of Fashion and Fashion Design with a recognised artistic practice and an excellent knowledge of the industry including: design and fashion, fashion images, fashion scenography and artistic direction. Experience in teaching at a professional artistic level is a definite asset.
JOB DESCRIPTION
The Director of the School of Fashion Design manages the educational and administrative structure of the School.
He/she recruits the teaching staff, specialists in clothing and fashion design from different fields of expertise.
He/she is in charge of the educational coordination based on the program's artistic and academic project.
He/she is responsible for ensuring that the students are involved in a national and international educational, artistic and professional network within the structure of the training.
He/she assists in the Bachelor's degree program as well as facilitates students' integration into the professional world via internships, complementary training, international competitions, etc.
He/she coordinates the administrative aspects of the undergraduate program.
He/she sets up the school's educational and artistic project and helps to its advancement.
He/she takes part in the programming of the general training given to the students.
He/she facilitates meetings and synergies with all the courses given to undergraduate students at the Academy.
ALBA's undergraduate program in Fashion Design is part of a collaboration with the École nationale supérieure des arts visuels (ENSAV) La Cambre in Brussels.
The educational coordination and programming development, as well as the recruitment of the staff, are carried out with the management of La Cambre's Fashion Design and Creation Section based on the terms of the current agreement.

TERMS AND CONDITIONS
Full-time position. Three-year contract with a renewal option. Start date: 01 March 2021, in Beirut, Lebanon. The salary will be subject to discussion according to detailed working conditions and skills.


RECRUITMENT PROCEDURE
Candidates are requested to send a motivation letter and a resume to l'Académie Libanaise des Beaux-Arts (ALBA) at: communication@alba.edu.lb by 11 December 2020.
Each selected candidate will be notified on 18 December 2020 and will be asked to present a dossier comprising an educational and artistic project, a portfolio or any other audio-visual support of their work. This file will be sent to e-mail above before 15 January 2021.
A jury chaired by Alba's Dean, Mr. André Bekhazi will audition the candidates on 23 and 23 January 2021.


JURY
This jury will be composed of:
• Two ALBA representatives: Isabelle Eddé, Director of the Dean's Office, Joseph Rustom, Director of Studies.
• Two representatives of ENSAV La Cambre: Benoit Hennaut, Director of ENSAV and Tony Delcampe, Director of the Fashion Design and Creation Section.
• One external expert: Rabih Keyrouz, fashion designer - Maison Rabih Kayrouz.
ABOUT ALBA
Founded in 1937, l'Académie Libanaise des Beaux-Arts is the first national institution of higher education in Lebanon. Since 1944, ALBA is a private institution recognized as a public utility. In 1988, it became part of the University of Balamand. Today, ALBA comprises: the School of Visual Arts, the School of Architecture, the School of Decorative Arts (Interior Architecture department, Graphic Arts and Advertising department and the Design department), the School of Cinema and Audiovisual Directing (Cinema and Television departments) and the Urban Planning Institute. More than 1000 students attend the school every year and more than 250 professors teach there. www.alba.edu.lb mode@alba.edu.lb

Contact
Isabelle Eddé Director of the Dean's Office
Tel: +961 1 48 00 56 Ext: 121
communication@alba.edu.lb