tenure track or tenured professor in visual communication design (information design)
Aalto University, School of Arts, Design and Architecture
Finland
Valid from 13.11.2020 to 30.11.2020
POSITION: Tenure Track or Tenured Professor in Visual Communication Design (Information Design) | Aalto University, School of Arts, Design and Architecture (Finland) The Department of Media invites applications for: Tenure Track or Tenured Professor in Visual Communication Design (Information Design)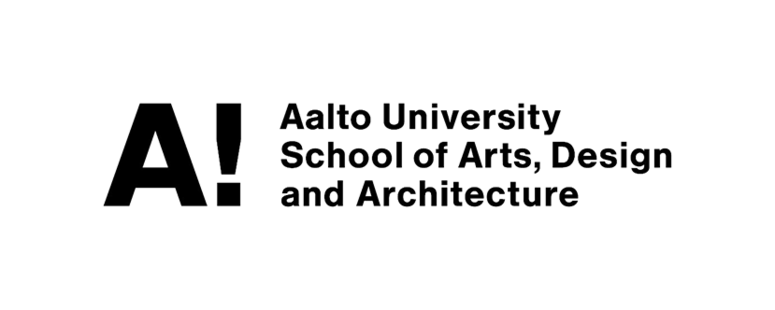 The Visual Communication Design unit is looking for a professor with a strong professional portfolio in information design and teaching experience in higher education.
The position is to be filled at Assistant or Associate Professor level of the Aalto University tenure track system. The position is full-time and depending on the positioning on the tenure track, either on fixed or permanent term. The position will begin in the Autumn 2021.
JOB DESCRIPTION
Information Design has become established within the department of Media during recent years and exists as a core study track within the Visual Communication Design (VCD) MA study programme. Information Design is a trans-disciplinary field of specialisation, combining various knowledge domains which include Visual design, Interaction design, Visual perception, Multi-sensorial perception, Cognitive psychology and Systems thinking.
Information Design is a field which combines art and design with science in order to create understandable insightful and meaningful design solutions and information experiences in diverse contexts.
The successful applicant is expected to have a broad understanding of the value of information design today in society and in culture, as well as in business and science, to be familiar with contemporary discourse in the field and to foster critical thinking. The professor shall possess a strong and realistic vision for guiding the studies in Information Design within the Masters Programme in Visual Communication Design. The professorship is situated in the Department of Media, where close contacts and cooperation between the various units is expected. The professor is also expected to contribute to the teaching of information design in Aalto's university-wide course offerings and to collaborate within multi-disciplinary projects.
Applicants with a strong background in Visual Communication Design and familiarity with various related areas of the field of Information Design are encouraged to apply.
YOUR ROLE AND GOALS
The tasks of the Professor of Information Design include teaching and activities within research and development projects in the field, as well as development and management work within the department. The Professor of Information Design leads the studies in this field, which form a significant part of the Masters programme in Visual Communication Design. The role involves initiating and participating in externally funded projects, organisation of conferences and exhibitions, as well as cross-disciplinary collaboration. The professor will work in cooperation with the professors and other teaching staff of the Department of Media, with other schools in the Aalto University and related disciplines in other universities and external organisations, including commercial and public sector partners.
Developing and participating actively in national and international cooperations and networks is a necessary part of the professor's activities.
REQUIREMENTS
The applicant is expected to have significant artistic and/or design qualifications and wide practical experience in Information Design. In addition, the applicant is expected to have strong and well-articulated vision regarding the field and how it should be developed further.
A master's degree in Visual Communication Design or an equivalent field is a prerequisite. Professional experience of research and development activities in art and/or design related fields are highly appreciated. Artistic/design merits will be emphasized in the selection process: the applicant is expected to have at least master's level artistic/design qualifications, with good knowledge of theories of Visual Communication Design, plus wide practical experience in the field. The applicants will be reviewed on the basis of the following areas: artistic/design merits; teaching, research and collaborative skills; and active participation and leadership in the artistic/design professional or academic community.
WHAT WE OFFER
A possibility to work within a well-resourced learning community where the students are rigorously selected and highly motivated. This results in an unusually interactive and intellectually challenging atmosphere.
Aalto University provides its employees with occupational health care services and retirement benefits. Finland is a healthy and safe living environment, offering many excellent state-subsidised services including affordable day care, free schools and universities, which are consistently ranked among the best in the world. More information about living and working in Finland https://www.aalto.fi/en/careers-at-aalto/for-international-staff.
The salary is determined based on applicant's experience and qualifications. Activities of the department are located in the Otaniemi campus of Aalto University in Espoo (Helsinki metropolitan area).
TENURE TRACK IN AALTO UNIVERSITY
The position will be placed on the Aalto University Tenure Track. Individuals on the tenure track have the possibility to advance in their career through regular performance assessments, which take into account their merits in all areas of their scope of duty. Launched only in 2010, the tenure track has attracted a wide range of international applicants, giving Aalto University the possibility of recruiting top experts and young talent to join the Aalto University community.
Throughout their careers, those in the academic tenure track system are expected to exercise and guide artistic/scientific research and/or artistic/design work, to provide related higher academic education, to follow the advances of their field, to participate in service to the Aalto University community, and to take part in societal interaction and international collaboration in their field. For more information on the tenure track system of Aalto University, please see https://www.aalto.fi/en/tenure-track.
READY TO APPLY?
To apply, please share the following application materials with us in English and in PDF format:
-         Motivation letter
-         Curriculum vitae
-         Design portfolio including 5 most significant projects in a single PDF file (max. file size 100 MB)
-         List of research/artistic publications (the most important ones to be marked with an asterisk)
-         Teaching statement (recommended length at most two pages)
-         Brief (max. 1000 words) overview of your ideas regarding the future development of the field and how these might be implemented in a Master's program.
From amongst the applicants in the first phase, Aalto University will select those who may be asked to supplement their application materials. Supplemented applications are submitted for review by external experts (the second phase of the application process). Based on the application materials and external evaluations, the Departmental Committee will choose the most suitable applicants to visit the Department of Media and deliver teaching demonstrations in early Spring 2021, if the pandemic situation allows (if not, the teaching demonstrations will be delivered remotely).
Please submit your application through the eRecruitment system no later than 30 November 2020 (Finnish time UTC +2). The link to the eRecruitment system can be found at the bottom of the page.
General instructions for applicants including evaluation criteria, language requirements and guidelines for compiling your CV are given at https://www.aalto.fi/en/tenure-track/interested-in-joining-our-tenure-track.
For additional information please contact the Chairman of the Departmental Committee, Professor Philip Dean, email firstname.lastname@aalto.fi. In recruitment process related questions, you may contact HR-Coordinator Johanna Glader, tel. +358 50 411 7666, firstname.lastname@aalto.fi.
Aalto University reserves the right for justified reasons to leave the position open, to extend the application period and to consider candidates who have not submitted applications during the application period.
Aalto University is a community of bold thinkers where science and art meet technology and business. We are committed to identifying and solving grand societal challenges and building an innovative future. Aalto University has six schools with nearly 20 000 students and more than 400 professors. Our campuses are located in Espoo and Helsinki, Finland.
The Aalto School of Arts, Design and Architecture is an international leader in higher education for design, fashion, games, media, architecture, film, art education and art. We produce world-class research e.g. in art education, design and design thinking, digital media and visual culture, urban planning and architecture. Our graduates innovate in and beyond their fields, drawing on over a century of tradition, a humane and forward-looking approach, and the latest technologies. Our new campus in Espoo, just west of Helsinki, makes working together among and across disciplines easier than ever before.
The Department of Media is an academic community of approximately 500 students and 60 faculty members created through a restructuring of the School in January 2010. The department conducts research and provides education in bachelor, masters and doctoral programmes across a broad range of subjects and themes. The study programmes and research of the department are organized within three units: The Media Lab, Visual Communication Design and Photography. Get more information on the Visual Communication Design programmes.