icographic 01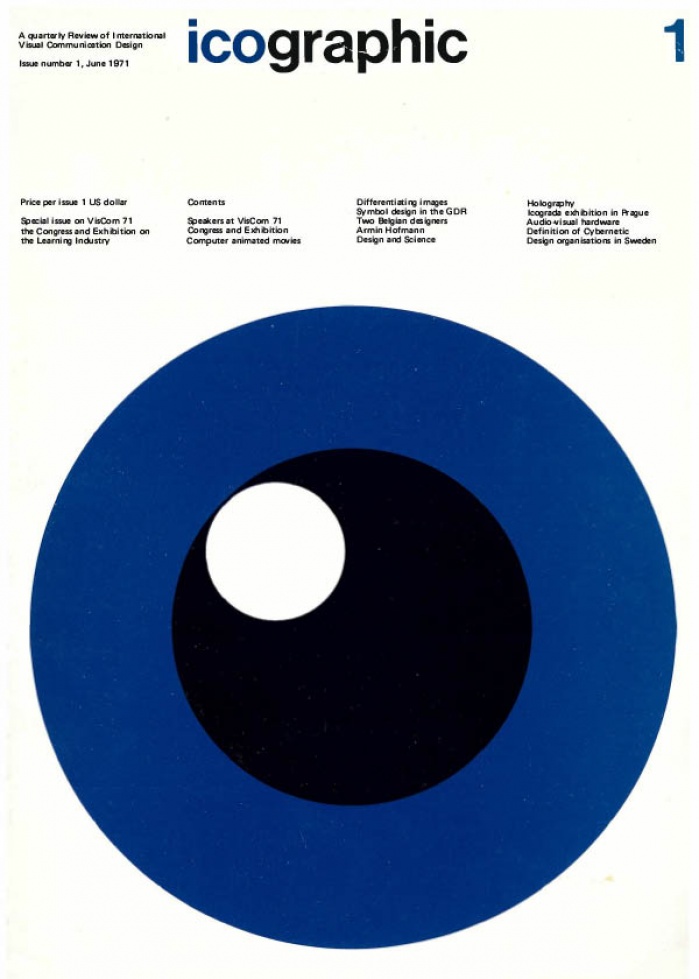 TABLE OF CONTENTS
2      Speakers at VISCOM '71
3       ICOGRADA Congress and exhibition
The diagram below tries to clarify the content of the VisCom 71 Congress on the Learning Industry. The difference between VisCom 71 and other conferences on visual communication is that it is attempting to combine a number of disciplines which are affecting the industry.
In this way it is hoped that the problems will be viewed in their totality and so reveal the relationships between the various activities and their interdependence.
04      Computer animated movies KC Knowlton
The illustration shows a sequence of six stills that were produced using the author's new computer language, EXPLØR. EXPLØR is designed for explicit patterns, logical operations, and randomness, and the author will discuss its applications during his speech at VisCom 71.
05      Differentiating images ltsuo Sakane
ltsuo Sakane's article was originally published in 'Graphic Design' (Japan) edited by Masuru Katsumie.
06      Symbol design in the GDR Gerard Voight
Gerard Voigt is a graphic designer and the present Deputy President of the Verbund Bildende Kuenstler of the German Democratic Republic. He was a winner of the Trade Prize from the District of Halle and a winner of the Art Prize from the city of Halle.
 07      Two Belgian designers
Jacques Richez, Michel Olyff
08      Armin Hofmann
Armin Hofmann is the first Honorary Fellow of the Society of Typographical Designers. An exhibition at the Central School of Art of his work was opened in January by Keith Murgatroyd, President of the Society which sponsored the show.
10      Design and science by Paul Kenny
Paul Kenny was, until recently, teaching at the Faculty of Creative Arts at San Francisco State College. His article is devoted to the search for a possible new visual language utilising the research of human physiology and experiments in visual communication.
11      Holography
12      ICOGRADA exhibition in Prague
Top photograph shows, from left to right, John Halas, Marijke Singer and Stanislav Kovar at the 'Pro Bono Publico' Exhibition in Prague. Photograph by Martin Pycha. Photographs below show a selection of some of the posters which were included in the Exhibition.
13      Audio-visual hardware
The possibilities in new technical developments of mass­communication can always be of interest to graphic designers. As the introduction of off-set litho printing has extended the powers of designers whose work is in printing, so also the development of new machines and facilities for displaying moving pictures can extend the powers of designers who are moving into the audio-visual field.
On this page we show some items of hardware which may help to make audio-visual communication easier in the classroom and in every situation where good audio-visual design is needed.
14      Definition of Cybernetic Nicolas Scheffer
15      Design organisations in Sweden Claes Folkeson