17 INTERNATIONAL LAHTI POSTER BIENNIAL TO BE HELD IN FINLAND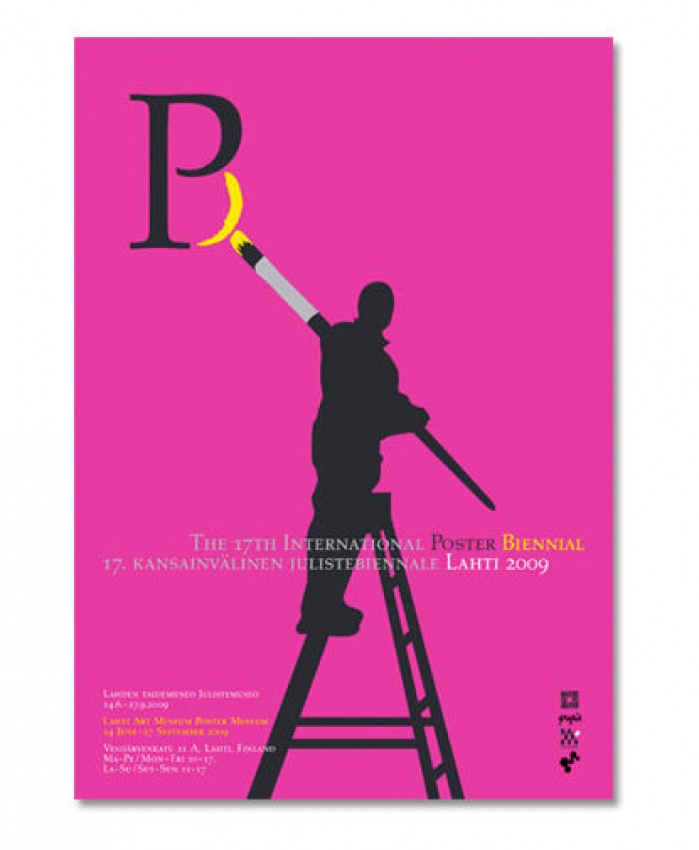 30.05.2009 News
Lahti (Finland)
- An unparalleled number of entries were submitted for the 17 International Lahti Poster Biennial. Nearly 2 600 posters from 49 countries around the world were offered for this year's exhibition, exceeding the number of posters submitted for the 2007 event by more than 1 000. The great number of posters sent from Iran, China, Taiwan (Chinese Taipei), Japan and Poland and their high general standard is worth noting. New participating countries include New Zealand and United Arab Emirates. Young graphic designers from various parts of the world have shown a great interest in the environmental posters category. On the other hand, the number of commercial posters offered for the show has decreased compared with previous biennial exhibitions.
The competition committee of the Lahti Poster Biennial has chosen 252 posters to be displayed in the exhibition. The criteria emphasised in the selection process included topicality, high-quality visual design, seeking new ways of expression and multicultural tendencies, which have always been central issues in Lahti Poster Biennial.
The 17 International Lahti Poster Biennial, organised by Poster Museum, Lahti, and Poster Friends, will be on display from 14 June - 27 September 2009 at the Lahti Art Museum. There are two categories in the exhibition. The general category includes social and ideological posters, commercial posters and cultural posters. In addition, there is a special category for environmental posters in the exhibition.
Michal Batory (France), Vladimir Chaika (Russia), Bruno Monguzzi (Switzerland), Antti Raudaskoski (Finland) and David Tartakover (Israel) have been invited as members of the International Jury to select the prize winning posters. Grand Prix, Grafia Prix, Lauri Tarasti prize, 2nd Prize and certificates of honour will be granted in the exhibition.
Organising Committee
Pekka Loiri, graphic designer (Chairman)
Tapani Aartomaa, graphic designer, AGI
Timo Berry, graphic designer
Esa Ojala, graphic designer
Kari Piippo, graphic designer, AGI
---
For more information, please contact:
Kari Savolainen
T +358 3 814 4546
E
kari.savolainen@lahti.fi
Maija-Riitta Kallio
T +358 3 814 4542
E
maija-riitta.kallio@lahti.fi
Lahti Art Museum
PO.Box 113, 15111
Lahti, Finland
F +358-3-814 4545
W:
www.lahdenmuseot.fi

About Grafia
Grafia is a professional organisation promoting expertise in and understanding of graphic design. Grafia members are employed in various sectors within the field of visual communication: from graphic design to marketing communications and electronic visual information, or from illustration and layout design to teaching, research and study of the graphic design field. Grafia was founded in 1933 and is a founding Member of Icograda, member of BEDA and of Nordisk Visuell Kommunikation.
www.grafia.fi