2012 Taipei International Digital Content Awards endorsed by Icograda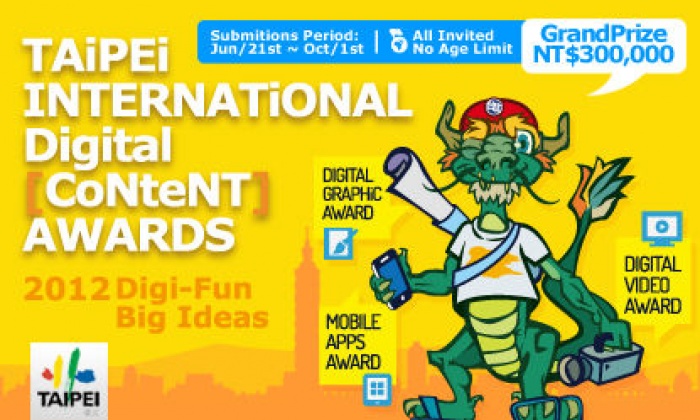 26.06.2012 News
Taipei City, Taiwan (Chinese Taipei)
- The Taipei City Government and the China Productivity Center have launched the , an Icograda endorsed event.
This competition is organised to encourage digital content creators in Taipei to generate creative, international, and marketable digital products to shape Taipei as a design capital. By holding international competitions, this project seeks to select outstanding creative works, raise the quality of the creations, and develop marketable products with the ultimate aim of stimulating the development of the digital content industry.
Anyone around the world interested in digital content design is eligible to submit an original creative work, published or not, that has been created after June 2010.
The categories include Digital Graphic, Digital Video, Digital Animation, Mobile Apps and Mobile Games. Each category is judged by a five-member panel of national and international judges:
Digital Graphic Art
Ken Cato (Australia)
Taku Satoh (Japan)
Michel Bouvet (France)
Teddy Ho (Taiwan)
Akibo Lee (Taiwan)
Digital Video
Fred Koblinger (Australia)
Karim Bartoletti (Italy)
Jack (Ming H.) Shih (Taiwan)
Nelson Shin (Korea)
Chang Jay Shih (Taiwan)
Mobile Application
Tom Eslinger (Britain)
Adrian Kosmaczewski (Switzerland)
Charles (Chuan-Hsing) Lee (Taiwan)
Mikael Hed (Finland)
Toru Iwatani (Japan)
A total of NT$1500,000 will be distributed to over 40 award winners.
To find out more details, visit the
endorsed event description
, or the official event website:
www.tidca.org.tw/index.aspx
---
For more information, please contact:
China Productivity Center 2012 TIDCA
Attn: Miss Hsiao or Mr. Wu
T: +886-2-26982989 ext 2401, 2642
E:
2401@cpc.tw
,
2642@cpc.tw
About the China Productivity Center
Established in 1955, the China Productivity Center (CPC) was organised by fifty public and private commercial and industrial businesses. CPC has combined innovative concept elements and its own ample business management force to integrate marketing modules and mechanisms with consultation to help Taiwan's creative industry to grow, connect innovative products to the market, promote marketing and to substantiate new business opportunities and profitable operations.