Adding value to the Rupee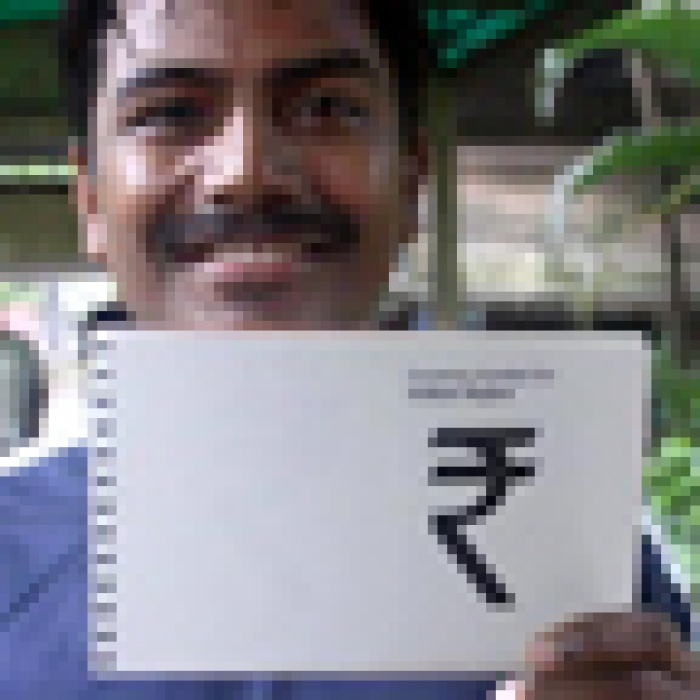 03.08.2010 Features
Ashwini Deshpande

In July 2010, the Indian government presented the first symbol for the Indian rupee, designed by D Udaya Kumar and selected from thousands of submissions responding to an open call for entries. The Director of Elephant Design, Ashwini Deshpande, presents her take on the submission process, the new symbol and how it represents this diverse nation.


---
There are two things that drive most Indian corporates to look at their image, branding, quality of products and services, differentiation in offering, communication values, etc. Either they are facing competition from global brands in India or they foresee themselves exporting their products or services in markets where global brands have firmly established themselves already. It is never too late to start something that feels right.
Peculiarly, the Indian Government followed the same principle. As it saw the Indian currency making its way to becoming convertible with other globally accepted currencies, it realised it had no identity to claim as its own! No visual symbol!
And to make it more confusing, several of our neighbours call their money by the same name. So we are surrounded by the Nepalese Rupee (NPR Rs), Pakistani Rupee (PKR Rs), Sri Lankan Rupee (LKR Rs), Indonesian Rupiah (IDR Rp), Maldives Rifiyan (MVR Rf) and so on.
An open call for submissions
Indeed it was a very smart move by the Finance Ministry of India to float a brief for the Rupee symbol design. It makes us the leaders, as we rightfully are on many global parameters. It gives us the opportunity to have a face for our improving economy and it adds to our dignity as a nation in general.
While Icograda's best practices for design competitions are valid where there is a roaster of professional design agencies (with their competencies and experience clearly listed) available to the government, in India, design is a relatively nascent profession. We do not have any official listing of design agencies, nor validation of their scales, experience and competencies. So such projects traditionally go to the professional cells of design institutes like NID or IDC. Institutes either do these projects by themselves or get some other practicing designer/s involved.
Yet, currency is the pride of the nation. By doing an open call, the ministry involved many more designers and design enthusiasts than it would ever hope to do by simply handing over the task to an educational institution. The process was quite engaging and inspiring, as can be seen from the number of entries that qualified... over 2500. I am guessing there were many more that probably did not make it through the first round.
However, the process was not as transparent as it could have been. It also took a very long time for getting the final announcements out. The competition was announced in March 2009 and we did not hear anything further till our Finance Minister talked about it during the Union Budget of 2010. Finally, the winning entry was unveiled early July 2010!
Representing India in the global scene
I feel that the most challenging part of the brief was that the identity was expected to "represent the historical and cultural ethos of India." Considering the vast cultural diversity and historical expanse of India, this seemed like the toughest part. While there were basic expectations that the identity would be adaptable in the conventional keyboard system, the brief made no reference to what the identity needed to do from the global business and finance perspective. I missed that part.
Above: Illustration explaining the representation of the Indian flag.
Quoting the designer of the winning entry of the Rupee symbol design competition, from an interview, Bombay IIT post-graduate D Udaya Kumar stated "My design is based on the Tri-colour, with two lines at the top and white space in between. I wanted the symbol for the Rupee to represent the Indian flag. It is a perfect blend of Indian and Roman letters: a capital 'R', and Devanagari 'ra', which represent rupiya, to appeal to international and Indian audiences."
To an Indian, the reference and use of Devnagari letterform is obvious, and it leaves no doubt about its Indian roots. In India, most of us learn at least two languages and scripts and are equally at ease with Devnagari or Roman scripts. Though most official references to figures are now in Roman numbers, this touch of Devnagari makes it firmly "Indian".
With no offence to any designer, I am aware of at least half a dozen other design entries that are uncomfortably close to the winning entry. Some have surfaced on blogs and groups, others are being privately circulated. This only means one thing; that the chosen design is one of the most logical arrivals. I can also say that chosen symbol is the most balanced design out of the lot I have managed to see.
Above: Seeing the Rupee symbol on an international level.
It follows the design of horizontal strokes found in Euro and Yen completely and Pound to some extent. So on a scale of global currencies it is not distinct. I would say it is harmonious to other global currencies.
An official from the Indian Government related to this activity has summed it up as follows in a press interview: "While the basic aim of the new symbol is to provide the Indian rupee international recognition as the country's economy exerts more influence in the global space, the unique sign will also help isolate the currency from the current abbreviation 'Rs' which is used by neighbouring Pakistan, Nepal and Sri Lanka. "
I can't say this about nations in general, but no single symbol can represent a country as diverse as India. We celebrate and respect diversity. As for the design itself, it does the job for me. I feel positive. As we get familiar with it, I am sure we will all like it.
Public response
Overall response has been quite positive. While there are limited references to the graphic design, Indian population has been very vocal in their pride and appreciation of the fact that Rupee has a symbol of its own now. It is seen as a huge step towards claiming leadership in economic growth in the region.
Integration into society
The largest national daily has started using the symbol in all its publications immediately and others are following suit. At Elephant, we are already sending out proposals using the symbol. We hope it will be integrated quickly across all currency exchange booths across the world!
Above: An example of the Rupee symbol in use in Indian currency.
While NID redesigned some of the coins over a year ago, it makes eminent sense to have the entire currency portfolio re-designed with the new symbol.
Prof Anil Sinha from NID, who was on the Rupee symbol jury panel and was part of the team that designed new Indian coins last year, believes the entire currency portfolio will be re-designed in the near future.
Outside interpretation
To know what non-Indians think about it, (and this is the real test for a currency that has global ambitions), I actually gathered opinions from my designer friends from The Design Alliance (Asia) , a collaborative network of design consultancies in 11 Asian countries to help organisations communicate across Asia.
Here is one opinion from , the Founder and current Chairman of The Design Alliance. He served as Icograda Vice-President (2001-2003) and is currently an
INDIGO
Ambassador.:
"I understand the 'R' but not the two horizontal strokes - do they mean anything in the local context or were they influenced by the Japanese Yen? The symbol seems to be "in a hurry", maintaining a delicate balance (so as not to topple over). In contrast, the Dollar, Yen and Sterling Pound, for example, are stable and sit solidly on the ground. I don't think its a bad design. I can live with it, and so will the world after the debate has died down."
– William Harald-Wong, Malaysia
This of course is only one designer's reaction. But as William says, the world will live with it.
About the winning designer
Above: D. Udaya Kumar showcasing his winning design. Source:
Facebook
D. Udaya Kumar born on 10th October 1978 in Chennai, Tamil Nadu, India. He pursued his doctoral studies at Industrial Design Centre, IIT Bombay. Udaya received his Master's degree, MDes in Visual communication from IDC, IIT Bombay and Bachelor's degree in Architecture from School of Architecture and Planning (SAP)Anna University,Chennai. His areas of interest include graphic design, typography, etc.
For complete details on D. Udaya Kumar's Rupee symbol,
download the design proposal
(PDF - 6.8MB)
---
Segments of this article originally appeared on
moneycontrol.com
. This extended version has been republished with permission from the author.
All above images are property of D. Udaya Kumar and have been republished with permission.
About Ashwini Deshpande, Director of Elephant Srategy + Design
As a Visual Communications expert from NID, Ashwini co-founded Elephant Strategy + Design, India's largest independent design consultancy. Ashwini divides her time between design philanthropy and professional consultancy to help brands become relevant in emerging markets; later being her priority. Ashwini's significant engagements include Rockefeller Foundation's Bellagio Summit, China World-Expo, Copenhagen Co-creation Summit and the Icograda Design Week in Vancouver.