Adobe Reveals 2009 Design Achievement Award Winners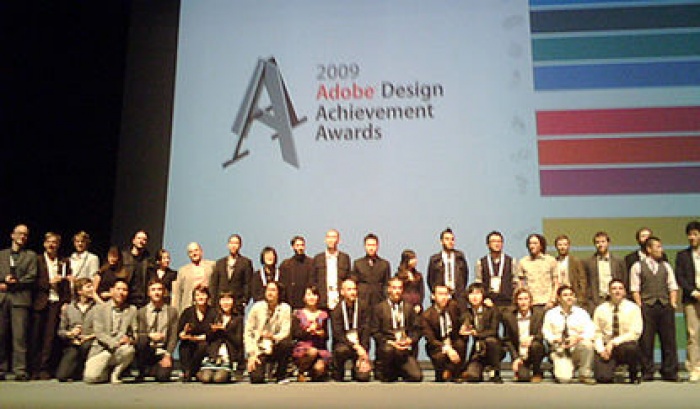 25.10.2009 News
San Jose (United States)
- Adobe Systems Incorporated (Nasdaq:ADBE) has announced the winners of the ninth annual (ADAA), recognised as one of the world's most prestigious student design and film competitions.
The awards, which took place at the
Icograda World Design Congress 2009
in Beijing, honor the most talented and promising student graphic designers, photographers, illustrators, animators, digital filmmakers, developers and computer artists from renowned higher education institutions around the globe. This year the program received a record-breaking number of submissions totaling more than 3,300 from students in 37 countries.
"The Adobe Design Achievement Awards provides students worldwide with the opportunity to express their enormous creativity and showcase their work among some of the world's top designers," said Ann Lewnes, senior vice president of corporate marketing at Adobe. "The body of work that these students produce is truly inspiring."
"This year's ADAA submissions were a powerful collection," said ADAA judge Lance Wyman. "As the language of communication design is evolving and the cross-pollination of designer skill sets is flourishing, it's uplifting to see students produce high-quality work that creatively conceptualise ideas and solutions. The competition demonstrated the global phenomenon that technology and the creative arts enable designers in different cultures to effectively solve similar problems or tell similar stories while still retaining their own individuality."
In a ceremony last night at Beijing's National Centre of Performing Arts, winners were recognised for their achievements in 12 categories:
Animation

: a team led by David Prosser of the Royal College of Art in London.

Application Design

: Bryan Berger of Full Sail University in Winter Park, Fla.

Browser-based Design

: a team led by Jayheun Kyum of Hongik University in Korea.

Illustration

: Joerg Block of Hamburg University of Applied Sciences in Germany.

Installation Design

: a team led by Margherita Rubini of Universit? IUAV di Venezia in Italy.

Live Action

: Varathit Uthaisri of Parsons New School for Design in New York City.

Mobile Design

: a team led by Marc Oßwald of University of Applied Sciences Swabian Gmund in Germany.

Motion Graphics

: David Harper of Indiana University in Bloomington, Ind.

Non-Browser-based Design

: a team led by Jared Weinstock of Drexel University in Philadelphia.

Packaging

: a team led by Adam Paterson of Royal College of Art in London.

Photography

: a team led by Barnaby Coote of Gobelins in France.

Print Communications

: a team led by Jiwon Park of Ewha Woman's University, and Chung-ang University in Korea.
The winning entries can now be viewed at
http://adaaentry.com
.
Winners were selected by a global panel of industry judges based on their originality and effectiveness in meeting the project's communication objectives and the contestants' skills in applying Adobe products specified in their entries.
Judges include Leimei Julia Chui (Japan), Louis Gagnon (Canada), Cristina Chiappini (Italy), Garth Walker (South Africa), Tarek Atrissi (The Netherlands), Kyle Kim (Korea) and Lance Wyman (United States).
All winners received a round trip flight to Beijing and two nights accommodation to attend the Icograda World Design Congress 2009, a US$3,000 cash prize, a copy of Adobe® Creative Suite® 4 Master Collection, a winner's certificate, and a trophy. As part of the program, students also are offered a one-year mentorship with a design leader working in their area of interest and are appointed to an Icograda Youth Advisory Panel.
---
For more information, please contact:
Russell Brady
Adobe Systems Incorporated
T: +1 408 536 6048
E:
rbrady@adobe.com
Nellie Wong
A&R Edelman
T: +1 650 762 2839
E:
nellie.wong@ar-edelman.com
About Adobe Systems Incorporated
Adobe revolutionises how the world engages with ideas and information – anytime, anywhere and through any medium.
www.adobe.com
About Icograda
Icograda (International Council of Graphic Design Associations) is the world body for professional communication design. Founded in 1963, Icograda promotes communication designers' vital role in society and commerce.