Icograda honours Pan Gongkai and Robert L. Peters with the 2009 President's Award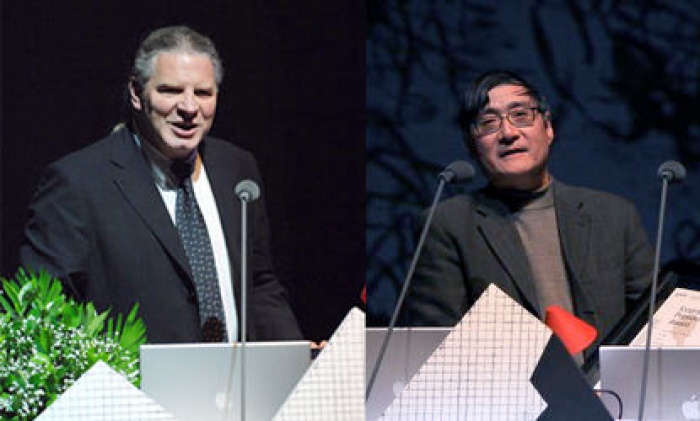 02.11.2009 News
Beijing (China)
- On 26 October, as part of the opening ceremonies of
Xin: Icograda World Design Congress 2009
, Don Ryun Chang honoured Pan Gongkai (China) and Robert L. Peters (Canada) with the 2009 President's Award. The awards were presented in front of a capacity audience of 2000 delegates at Beijing's National Centre for the Performing Arts.
Pan Gongkai (China)

An international artist, author and educator, Pan Gongkai is the President of the Central Academy of Fine Arts (CAFA), Beijing, China's leading art and design institution. In 1991, he received national recognition when his work was collected by the Chinese Ministry of Culture for display at the new Beijing Conference Centre. Despite the demands of his current position, he remains an active artist with an international reputation for traditional Chinese ink painting, exhibiting across China, the United States, Japan and Europe.
As an educator, since the 1980s, Pan Gongkai has pioneered and championed the idea that the Chinese and Western art and design teachings should "coexist and complement each other and go deeper in both directions." As President of the China Academy of Art from 1996 to 2001 and the President of Central Academy of Fine Arts from 2001 until today, he has had a profound influence on transdisciplinary education at both institutions. He has led the widespread reform of academic systems, disciplines and professions through programmes of innovation, systematically modernising both schools and establishing their continued influence in China's burgeoning creative sector. Most recently, at CAFA, he has been the architect of tremendous growth and development, leading to the institution's recognition by BusinessWeek as one of the best design schools in the world. In his citation Chang said, "It would not be an over statement to say that Pan Gongkai has helped to redefine the direction of art and design education in China."
Above: Pan Gongkai acknowledges the audience at Xin: Icograda World Design Congress 2009. Source:
beijing2009.org
Above: The audience for Xin: Icograda World Design Congress 2009. Source:
visionunion.com
Robert L. Peters (Canada)

Raised and schooled in Europe, Peters was educated in Switzerland, Germany, and England. A graphic designer, communications strategist, and principal of CIRCLE, an award-winning design consultancy he co-founded in 1976, he is active internationally as a design practitioner, advisor, juror and lecturer.
From 1991-99 he served as the GDC's official liaison to Icograda, and was then elected to Icograda Executive Board for successive terms from 1999 through 2005, serving as President from 2001 to 2003. Significant achievements during his six years as a Board member include: development of the Icograda website, rejuvenation of the network 'Icograda Friends', launch of both the Icograda Design Education Network (IEN) and the Icograda Design Media Network (IDMN), co-organisation of Icograda congresses in Seoul, Korea ('Oullim' 2000), Johannesburg, South Africa ('Continental Shift' 2001), and in Nagoya, Japan ('VISUALOGUE' 2003). With some 3700 delegates from 49 countries in attendance, VISUALOGUE stands as one of the world's largest ever congress of graphic designers. Peters also served as official liaison between Icograda and the World Intellectual Property Organization (WIPO), as well as the United Nations Educational, Scientific and Cultural Organization (UNESCO), from 2001 to 2005. He was a member of the founding executive of the International Design Alliance (IDA) from 2003 to 2005.
For nearly 30 years, Peters has lived in a low-energy, passive-solar house he designed and built in the woods east of Winnipeg, Manitoba. His interests include art, architecture, photography, visual language and travel and he has written many articles for many prominent design publications, including the memorable Communication Arts' article that introduced Chinese design to readers all over the world.
In receiving the award, Peters said, "I'm truly honored and grateful. I consider it a great pleasure to have had the opportunity of serving both the Icograda family and the design profession that I love so much. I'll remember this special occasion, in this very special place, for as long as I live."
---
About the Icograda President's Award
Beginning in 1970, the Icograda President's Award has been presented on a biennial basis to recognise outstanding contribution to the work of Icograda.
Download a list of the
previous recipients
.