agIdeas Design Lab submissions published on Iridescent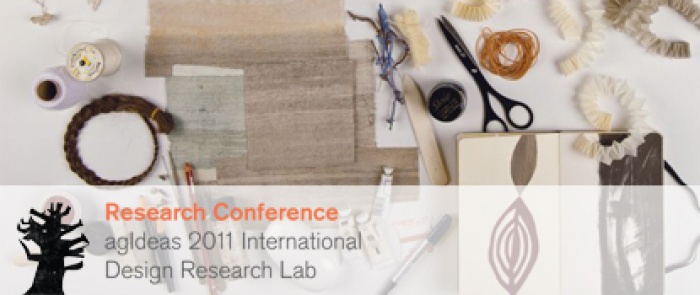 10.05.2011 News
Montreal (Canada) - Iridescent, Icograda's online Journal of Design Research, recently published 5 papers and 13 posters that were presented at the agIdeas 2011 International Design Research Lab. The DesignLab was successfully held on 2 May 2011 as part of the agIdeas 2011 International Design Week in Melbourne, Australia.
A one-day forum, the DesignLab provides design educators, researchers and practitioners the opportunity to present design research to their peers. The inaugural forum aimed to create awareness of new knowledge in the areas of multidisciplinary design practice and its benefits. Presenters also discussed the relationship between design practice and education.
Design researchers were invited to submit abstracts that address the brief "Where is design practice at today?" Where methodology often rules debates around design - especially in education - the role and importance of design practice is often overlooked. This interdisciplinary forum provides the opportunity to invigorate design discourse by sharing ways that design practice is carried out, advanced and used to produce effective results.
agIdeas worked in collaboration with Icograda to solicit papers for this call. Papers on this topic were received from around the world and the resulting program offered stimulating, informative and challenging discourse. Submissions were blind peer-reviewed by Iridescent's multidisciplinary panel. The following panel members took part in the review process:
Audrey G. Bennett (United States)
Sherry Blankenship (United States)
Hernan Casakin (Israel)
Selby Coxon (Australia)
Rebekah Davis (Australia)
Ashis Jalote-Parmar (India)
Veronique Vienne (France)
Evert Yuma (Switzerland)
Jeremy Yuille (Australia)
Five papers were presented live in the Clemenger Auditorium at the National Gallery of Victoria and thirteen posters were displayed. The following authors were invited to present their papers and posters.
Papers
Posters
All papers and posters can be viewed on the Iridescent website: iridescent.icograda.org
---
For further inquiries contact:
Diala Lada
Icograda Secretariat
E: iridescent@icograda.org
For more information on agIdeas, please contact:
Design Foundation Limited
10 Gipps Street
Collingwood, Victoria
3066 Australia
T: +61 3 9416 2966
F: +61 3 9415 1604
E: contact@agideas.net
About agIdeas 2011 International Design Week
agIdeas 2011 International Design Research Lab is a key event at agIdeas 2011 International Design Week. Presented annually for the past 20 years in Melbourne, Australia, agIdeas International Design Week has evolved into one of the largest and most prestigious design festivals in the world. Established by Ken Cato and presented by the Design Foundation, agIdeas offers an inspiring program of events that celebrate design excellence and promote the value of design-driven innovation. agideas.net