AI-AP presents inaugural Latin America Fotograf?a and Ilustración competition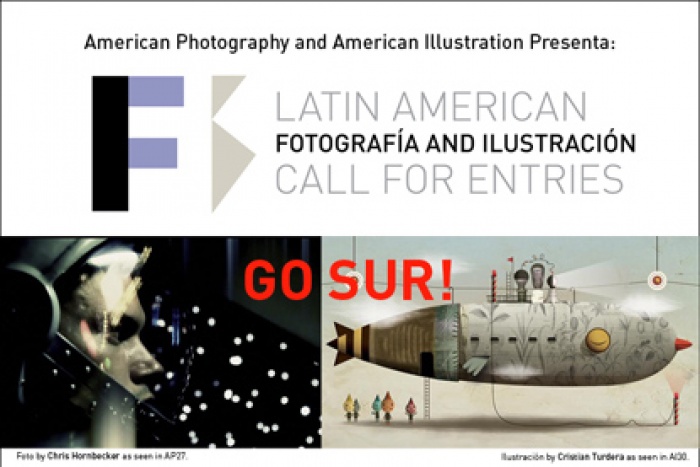 19.04.2012 News
New York (United States) - American Illustration-American Photography (AI-AP), introduces a new competition to honour the best work being created today in Latin America. AI-AP, well-known for 31 years as the exclusive resource for art directors, designers, photo editors, art buyers and publishers, seeks to introduce established, emerging and student Latino illustrators and photographers to the North American market - and vice versa - in a global, multi-cultural exchange of art and ideas.
Latin America Fotograf?a and Ilustración Call for Entries (LAI-LAF) will be judged by an international jury of top creatives who commission illustration and photography for use in magazines, advertising, books, posters, packaging, promotion, and video. Unpublished, fine art and student work will also be eligible.
The collection of winning Latin America Fotograf?a and Ilustración Call for Entries images will be presented at the annual American Illustration-American Photography launch party in New York City in November 2012 - the most anticipated networking event of the year that brings photographers, illustrators and creatives together to celebrate the year's winning images.
The winning Latin America Fotograf?a and Ilustración Call for Entries collection will also receive:
Slideshow announcement to AI-AP's 30,000 global email subscribers
Exclusive, searchable web gallery at ai-ap.com which receives over 200 unique visitors daily. Images will include illustrator's and photographer's contact, caption and creative credits.
Special app for tablet platforms.
Hardcover book for worldwide distribution to creative clientele.
Features in selected art and design publications in Latin America.
Traveling exhibit in North and South America 2013.
Categories for Submission
Images for consideration include:
Editorial - News, Fashion, Food, Portraiture, Sports, Travel, Conceptual
Advertising
Books - Children's, Adult Fiction/Nonfiction, Graphic Novels, Comics
Posters, Monographs
Packaging, Promotion and Design
3D - Vinyl/Plush toys, Housewares, Products and Installations
Video/Animation
Unpublished - Fine Art, Nudes, Personal Work
Student - Full- or part-time undergrad and graduate university students
Eligibility
The following are welcome to submit work:
All photographers, illustrators, creative professionals, publishers, agencies, representatives, students and teachers of photography and illustration living, working or studying in Latin American - includes Mexico, Caribbean, Central and South American countries - with work created, published or exhibited anywhere in the world for any purpose.
International photographers living abroad who have Latin American representation or have been published or exhibited in Latin America are also eligible.
Online submissions
with complete rules, deadlines and jury will open Spring 2012. Winners will be announced in September 2012.
---
For more information, please contact:
AI-AP
15 E. 32nd St.
New York, NY
10016 United States
T +1 212 470 0302
E info@ai-ap.com
W www.ai-ap.com