AIGA's "Living Principles for Design" introduce quadruple bottom line for design and business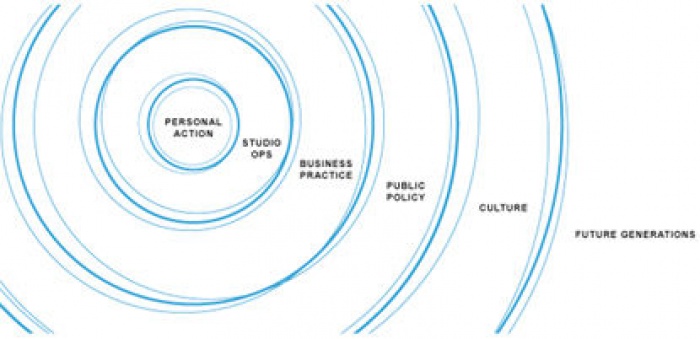 09.10.2009 News
Memphis (United States
) - , the professional association for design, unveiled a new sustainability framework,
The Living Principles for Design
, at the AIGA Design Conference in Memphis. The Living Principles distill the collective wisdom found in decades of sustainability theories and bring them to life in a quadruple-bottom-line framework.
The Living Principles weave together environmental protection, social equity, and economic health - thus building upon commonly accepted, triple-bottom-line frameworks. Most significantly, the Living Principles for Design incorporate cultural vitality because culture is where all aspects of sustainability find their way into the bloodstream of society, and culture is where designers have the deepest impact as their creations and choices shape habits and values.
"The influence of design on culture is enormous," said Richard Grefé, AIGA Executive Director. "As designers create messages, artifacts and experiences for consumers, they have an important opportunity to weave sustainability into the broader fabric of culture, helping to shift consumption and lifestyle aspirations to a more sustainable basis for living."
Environmental iconoclast Adam Werbach notes, "The Living Principles are incredibly useful for designers as they make sustainability endemic to their work. Right now, the battle is getting people to understand that cultural vitality is as central to sustainability as environmental protection. The Living Principles do an elegant job of clarifying these concepts and making them accessible."
The AIGA Center for Sustainable Design and AIGA, the professional association for design, will submit the Living Principles for global adoption at the
Icograda General Assembly 23
during in Beijing later this month.
The architects/authors of this framework are AIGA Center for Sustainable Design (CFSD) co-chairs Gaby Brink and Phil Hamlett, and CFSD's strategy committee chair, Nathalie Destandau.
---
For more information, please contact:?
Jennifer Bender?
Manager, communications and marketing?
AIGA | the professional association for design?
T: +1 212 807 1990
F: +1 212 807 1799
About AIGA
AIGA's mission is to advance designing as a professional craft, strategic tool and vital cultural force. AIGA stimulates thinking about design through journals, conferences, competitions and exhibitions; demonstrates the value of design to business, the public and government officials; and empowers the success of designers at each stage of their careers by providing invaluable educational and social resources. AIGA is a Professional Member of Icograda.