AWARD-WINNERS OF 8TH POSTER BIENNIAL OF MEXICO DEMONSTRATE SOCIAL AWARENESS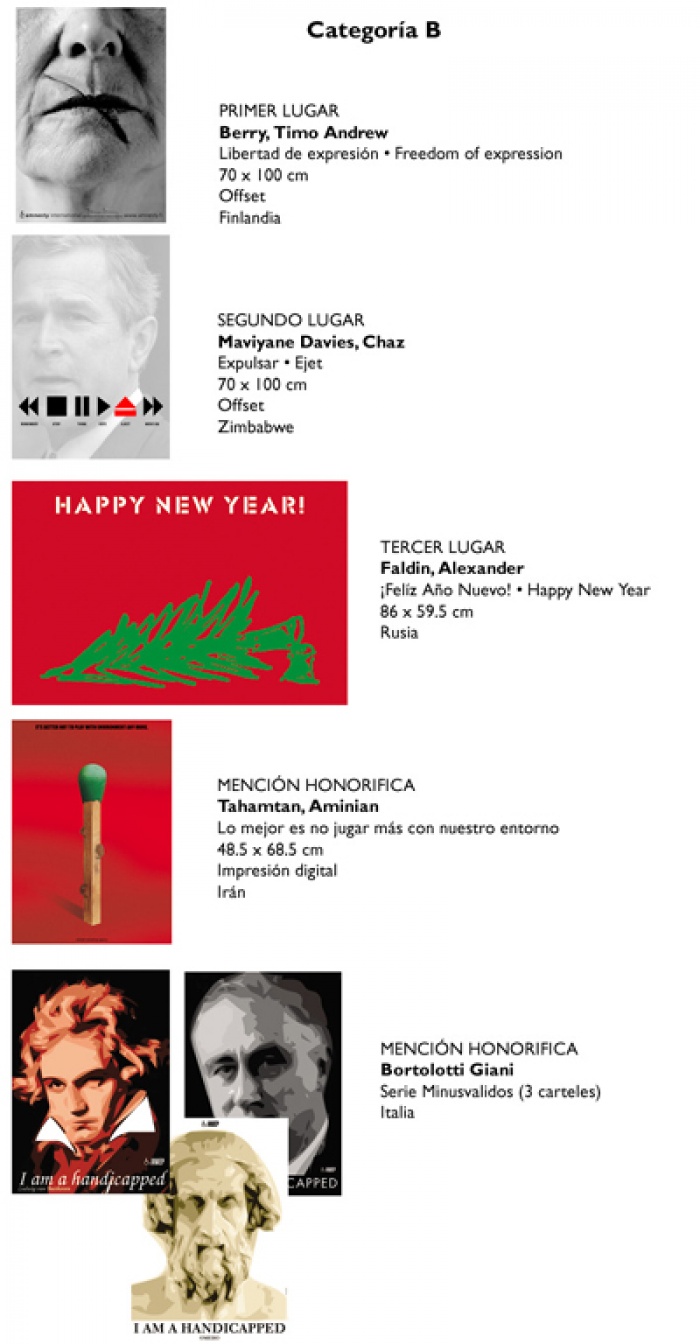 21.12.2004 News
Mexico City (Mexico)
- This year's International Poster Biennial of Mexico has brought together an engaging and diverse collection of works to the Franz Mayer Museum in Mexico City. Organised by Trama Visual and endorsed by Icograda,* the biennial competition and exhibition aim to increase awareness of social and environmental issues through the poster medium. The award-winning works from Mexico and around the world are being exhibited in the Franz Mayer Museum until 30 January 2005.
Presenting poster designs created between May 2002 and May 2004, the 8th International Poster Biennial of Mexico awarded posters under the following categories:
Category A - Cultural Themes and Activities
1st place
'Sand Dreams'
Abedini Reza - Iran
2nd place
'Kubilai Khan Popular Mechanic'
Joanna Gorska & Jerzy Skakun - Poland
3rd place
'Ole! Goya - Posada'
Renato Aranda Rodriguez - Mexico
Honourable Mention
'(ALQ)2'
Alain Le Quernec - France
Category B - Ecological Themes
1st place
'Freedom of expression'
Berry Timo Andrew - Finland
2nd place
'Eject'
Chaz Maviyane Davies - Zimbabwe
3rd place
'Happy New Year'
Alexander Faldin - Russia
Honourable Mention
'Lo mejor es no jugar mas con nuestro entorno'
Aminian Tahamtan - Iran
Honourable Mention
'Serie Minusvalidos' (3 posters)
Gianni Bortolotti - Italy
Category C - Advertising, Products and/or Services, and Commercial Events
None
Category D - Unpublished posters under the theme: 'Posters against Impunity'
1st place
'Dead File, the Only Answer to the Murder of Women in Juarez City'
Victor Manuel Santos Gally - Mexico
2nd place
'Impunity'
Octavio Martino - Argentina
3rd place
'Lid (1)' and 'Gag (2)'
Iyama Koji - Japan
EUMEX
1st place
'Nestle Mexico'
McCann-Erickson Mexico
Gabriel Ortiz, Cecilia Garnica, Francisco Aguirre y Alejandro Lopez
2nd place
'Cruz Roja'
Nazca Saatchi & Saatchi Mexico
Jose Arce Balbuena, Pascual Garcia Garcia, Christian Rivera Vazquez, Mauricio Meza Bustamante
3rd place
'Camel, Cigarrera la Moderna'
Lowe, S.A. de C.V.
Erika Siguenza, Miguel Angel Bolio, Julio Cesar Villegas y Adriana Villegas
Honourable Mention
'Se Solicita'
Montenegro Comunicacion
Henri Martinez
---
For further information please contact:
8th International Poster Biennial of Mexico
Mexico City, Mexico
T: + 52 5 514 81 37
F: + 52 5 525 42 65
E:
tramavis@prodigy.net.mx
W:
www.bienalcartel.org.mx
*Icograda endorsement is a guarantee that the design event complies with approved international guidelines.