BEDA MEETS WITH JOSÉ MANUEL BARROSO, PRESIDENT OF THE EUROPEAN COMMISSION, TO DISCUSS A DESIGN POLICY FOR EUROPE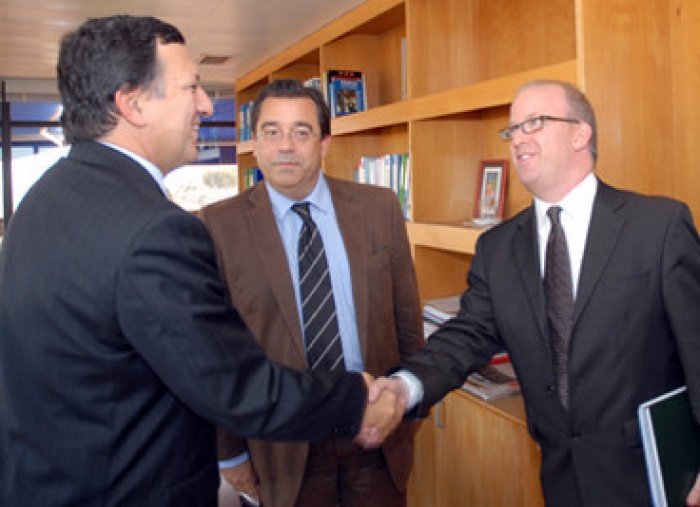 15.10.2007 News
Lisbon (Portugal)
- On Monday 8 October 2007, Michael Thomson, the President of BEDA, accompanied by a delegation of three BEDA Members, Severin Filek of Design Austria, Henrique Cayatte of the Portuguese Design Centre and Isabel Roig of the Barcelona Design Centre, met with European Commission President Jose Manuel Barroso in Lisbon.
BEDA presented President Barroso with an overview of the aggressive design policies of competitor nations and stressed the need for a more coherent strategy at the European level. BEDA recommended the formation of a strong European mechanism to build Europe's design competence for the 21st Century as a complementary strategy for Europe's innovation performance. Three key measures were proposed for coherent action at the European level to maintain, develop and increase Europe's unique design power.
At a successful and wide-ranging meeting, the Commission President stated that he is in full agreement of the need of recognising the importance of design for Europe and that he is ready to support this as an important issue.
---
For further information please contact:
The Bureau of European Design Associations
Diagonal 452, 5
08006 Barcelona, Spain
T: +34 934 153 655
F: +34 934 155 419
E: office@beda.org
W: www.beda.org

About BEDA
The Bureau of European Design Associations (BEDA) was established in 1969 and currently has 39 national design member organisations from 22 European Countries. BEDA seeks to promote design at the pan-European level to increase design's acceptance as a vital component of Europe's innovation strategy and cultural identity. It represents the interests of the practicing design professions which account for some 400,000 designers across Europe to the institutions of the European Union.