2007-2009 ICOGRADA EXECUTIVE BOARD ELECTED IN LA HABANA, CUBA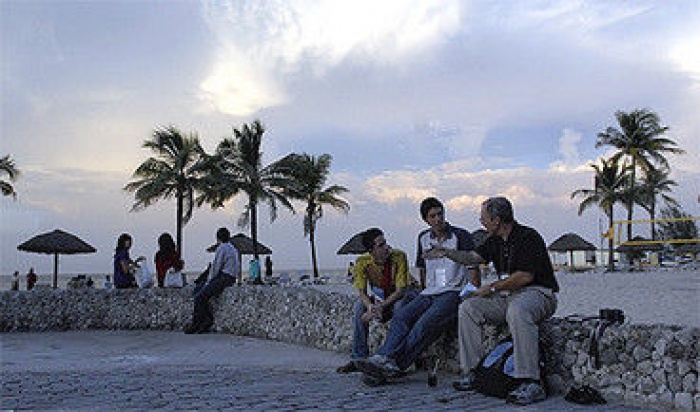 29.10.2007 News
Montreal (Canada)
- The Icograda Executive Board of Directors for the 2007-2009 term was announced during the close of the Icograda General Assembly 22 on 26 October 2007. The General Assembly was the final component of a week-long schedule for for
Design/Culture: Icograda World Design Congress 2007
. The biennial meeting brought together representatives from 33 of the 67 countries represented within Icograda and included an unprecedented gathering of 10 generations of Icograda Presidents. The overall Congress included delegates from more than 50 countries. Proceedings took place at El Palacio de Convenciones de La Habana in La Habana, Cuba.
First Asian president
Prof. Don Ryun Chang (Korea)
becomes the first Asian president to lead Icograda in its 44 year history. He is currently the Dean of the Graduate School of Advertising and PR of Hongik University and Executive Advisor for Interbrand Asia Pacific. Educated at the University of British Columbia in Canada and the Parsons School of Design, he received his MFA from the California Institute of the Arts. He has received numerous international design awards and conducted seminars and workshops around the globe on branding and design management. In addition he has served as a Vice President of the Visual Information Design Association of Korea (VIDAK) and was Executive Organising Director for the 2000 Icograda Millennium Congress in Seoul. He has served two terms on Icograda's Executive Board, as Vice President from 2003-2005 and as President Elect from 2005-2007.
In his vision for the 2007-2009, Prof. Chang highlighted key initiatives, including:
? increasing the status of Member associations and the status of communication design
? expanding the Council's inclusivity and encouraging wider participation developing an online knowledge sharing database of best design practices and design management content
? instilling a collective management system within the International Design Alliance (IDA) to better represent the future interests of the Council
? evolving the IDA World Design Report pilot to become the most authoritative international database for design survey
? leveraging strategic planning and project management systems to empower the Secretariat
? expanding and refining collaborative projects through the International Design Media Network
? increasing membership in the Icograda Education Network by strengthening core benefits.
? integrating technology to maximise resources and facilitate meeting structures.
As Icograda President, Prof. Chang also becomes lead chair of the IDA Executive Committee for the first eight months of the 2007-2009 term. The IDA is a strategic alliance founded by Icograda and the International Council of Societies of Industrial Design (Icsid). In September 2007, the International Federation of Interior Designers/Architects (IFI) voted to become the third partner in the IDA.
Leadership team
L-R: Brenda Sanderson, Managing Director (Canada), David Berman, Treasurer (Canada), Jacques Lange, Past President (South Africa), Lise Vejse Klint, Secretary General (Denmark), Russell Kennedy, President Elect (Australia), Don Ryun Chang, President (Korea), Omar Vulpinari, Vice President (Italy), Halim Choueiry, Vice President (Qatar), Mohammed Jogie, Vice President (South Africa), Iva Babaja, Vice President (Croatia). Photo: Stuart Alden
Jacques Lange (South Africa)
becomes Past President. He will continue to serve on the Advisory Committee of the IDA World Design Report pilot project. In his new capacity, Mr. Lange will also take on a leadership role in the redevelopment of the Icograda Foundation. A partner and creative director at Bluprint Design in South Africa, Mr. Lange is responsible for strategic consulting and R&D of integrated visual communication programmes for a diverse client portfolio. He is an advisor to various NGOs, governmental and education institutions and a steering committee member of the SABS Design Institute's Design Achievers Awards. He is also member of think, the South African Communication Design Council.
Russell Kennedy (Australia)
was elected to the position of President Elect 2007-2009. Mr. Kennedy is a Senior Lecturer and Course Coordinator of Visual Communication at Monash University in Melbourne, Australia. In his two previous terms as an Icograda Vice President, Mr. Kennedy oversaw the development of Icograda's Education Network as well as the incubation of innovative initiatives such as Creative Waves (an online international student collaboration in partnership with the Omnium Project) and INDIGO, the International Indigenous Design Network pilot. As President Elect, Mr. Kennedy will serve as an Icograda representative on the IDA Executive Committee. Mr. Kennedy is a Fellow of the Royal Society for the encouragement of Arts, Manufacture and Commerce (RSA), a member of the Australian Graphic Design Association (AGDA) and of the Design Institute of Australia (DIA).
Lise Vejse Klint (Denmark)
was re-elected as Icograda's Secretary General. Ms. Klint is Program Director of INDEX: Design to Improve Life, the world's largest design prize. As Secretary General, Ms. Klint has responsibility for Icograda's policy and professional best practice portfolios. She will continue to serve as a member of the IDA Executive Committee. Ms. Klint is a member of Danish Designers.
David Berman (Canada)
will serve a second term as Icograda's Treasurer. In addition to these responsibilities, he serves as Icograda's ISO liaison and is committed to advancing Icograda's policy regarding greener meetings for the Council and its members. Mr. Berman is a Fellow of the Society of Graphic Designers of Canada.
Iva Babaja (Croatia)
was elected to her first term as an Icograda Vice President. Based in Zagreb, Croatia, Ms. Babaja is a designer currently working in the advertising field with both local and international clients. She will work to strengthen communication between Icograda's European members and advance Icograda's professional best practice position papers. Ms. Babaja is a member of the Association of the Artists of Applied Art of Croatia (ULUPUH) and the Croatian Designers Society (HDD).
Halim Choueiry (Qatar)
was re-elected to his second term as an Icograda Vice President. He is currently an Assistant Professor at Virginia Commonwealth University, School of the Arts in Qatar (VCUQ) and a collaborator with the Center for Research in Design at VCUQ, contributing in the development of the World Design Report and the Design Zone in Qatar. Mr. Choueiry is a member-at-large of the Danish Designers.
Mohammed Jogie (South Africa)
was elected to his first term as an Icograda Vice President. He is a practising designer and works for Adobe, looking after marketing, public relations and creative profesional products in Africa, the Middle East and Indian Ocean Islands. He is a member of think, the South African Communication Design Council, a Professional Member of Icograda.
Omar Vulpinari (Italy)
becomes an Icograda Vice President for 2007-2009 after having being co-opted as a Board Member in the 2005-2007 term. Since 1998, he has been the director of the visual communication department at Fabrica, the Benetton communications center in Treviso Italy founded by Luciano Benetton and Oliviero Toscani. Mr. Vulpinari is serve as the liaison to Icograda's Design Week in Torino 2008, a component of the World Design Capital™ celebrations, organised in partnernship with AIAP. He is a member of AIGA.
Min Wang (China)
was elected to his first term as an Icograda Vice President. He is Professor of Graphic Design at China Central Academy of Fine Arts (CAFA) and serves as the Dean of School of Design and the Design Director for Beijing 2008 Olympic Games Committee (BOCOG). He is a member of AIGA. After studying, teaching and working in Europe and the US for over twenty years, Min Wang made the decision to come back to China in 2003 to focus on three things: design education, design for the 2008 Beijing Olympic Games, and bringing the Icograda World Design Congress 2009 to Beijing. It is an opportunity that will engage a half million Chinese communication designers in the international design community.
---
For further information please contact:
Brenda Sanderson
Icograda Managing Director
455 Saint Antoine Ouest, SS10
Montreal, QC
H2Z 1J1 Canada
T. +1 514 448 4949, x 226
E: secretariat@icograda.org

About Icograda:
The International Council of Graphic Design Associations (Icograda) is the world body for professional communication design. Founded in 1963, it is a voluntary assembly of associations concerned with graphic design, visual communication, design management, design promotion and design education. Icograda promotes communication designers' vital role in society and commerce and unifies their voices worldwide. The vision, mission and core values of the Council are collectively embodied in the statement 'leading creatively' and manifested through our Members' diverse activities to use design as a medium for progressive change.