Bright Flags: A new symbol for Europe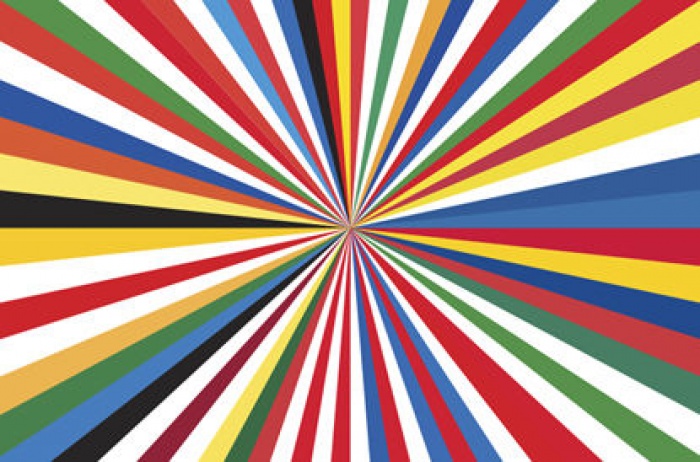 13.05.2010 News
The Hague (the Netherlands)
- The current European flag, with the twelve golden stars against a blue background, was designed in 1955. Since then society in Europe has changed dramatically. Nowadays various cultures live and work together in a relative small area. What is the impact of this new, dynamic society with its diversity in culture, language and traditions on Europe's identity?
How do Europeans experience Europe? And how can that identity take shape?
Designers from across the world were invited to consider these questions and to submit their ideas for a new symbol for Europe.
As a project of Design Den Haag, more than 1400 designs from 63 countries were received. An
international jury selected twelve
. Bart Roelandt, from the representation of the European Commission in the Netherlands, presented the 12 winning symbols for Europe at an 27 April press conference. The new symbols will adorn the flagpoles at the Hofvijver for a week.
The exhibition will be accompanied by a debate, featuring representatives of the European Commission and designers discussing Europe's identity.
Venue: Hofvijver, The Hague ?
Dates: 31 May - 6 June 2010
---
For more information, please contact:
E:
info@designdenhaag.eu
W:
www.designdenhaag.eu
About Design Den Hague
Foundation Design Den Haag researches the relation between Design and Government in Europe within an international context, from cultural, economic and social viewpoints. Starting summer 2010, Design Den Haag will organize a total of five public events biennially in the field of design, architecture and visual communication, with exhibitions, publications, lectures and debates, workshops and documentary films. Each edition will entail a collaboration between The Hague and another European government Capital: Berlin (2010), Stockholm (2012), Paris (2014), London (2016) and Rome (2018). Every edition will be evaluated. The final evaluation of the five editions will be submitted as report to the European Union at the end of 2018. This report will contain recommendations concerning the betterment of relations between design and governance, and on governmental funds for the quality of design, architecture and visual communication.
www.designdenhaag.eu