Mission Design: bringing together design and economic development in Quebec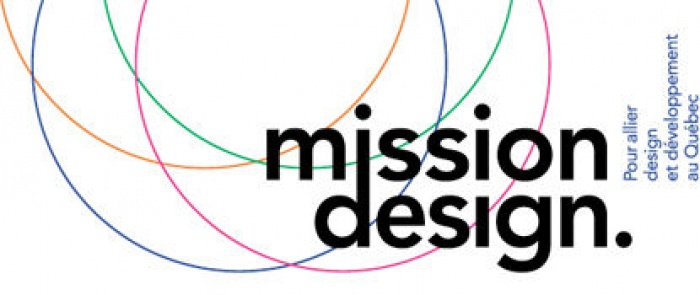 13.05.2010 News
Montreal (Canada)
– The professional orders and associations of design in Quebec, along with MDEIE (Quebec Department of Economic Development, Innovation and Export Trade) and MAMROT (Quebec Department of Municipal Affairs, Regions and Land Occupancy), have jointly announced the official launch of Mission Design, the first organisation to highlight the design professions and be a true voice for this industry in Quebec. During the launch event, which took place at Centre CDP Capital, the organisation's mission and objectives were presented and the new president, Mr. Jean-Paul L'Allier, and the board of trustees were introduced.
Design as driver for economic development
This initiative was born of a simple observation: architects and design professionals can provide a springboard for the Quebec manufacturing and service industries on the international scene, not only by contributing to increasing productivity, but by creating real added value to products and services created by Quebec firms. Astoundingly, according to a survey conducted by MDEIE among manufacturers in Quebec, only 13% employ the services of these professionals.
Now, Mission Design has set its primary mission as bringing together the actors in the design industry and formulating a common strategy to take design to the forefront in Quebec. "We want to make design a real economic force that will act as an driver for the development of Quebec industry," explains Alain Dufour, executive director of the non-profit organization.
A creation of the Quebec design industry
This mission cannot be realized without the unconditional support of the industry as a whole, which comprises more than 39,000 professionals in the architecture, landscape architecture, graphic design, interior design, industrial design, and urban planning fields. Mission Design is the fruit of two years of consultations held by the Conférence interprofessionnelle du design du Québec. This major series of consultations with all actors in the design, architecture, and urban planning sectors confirmed that the creation of an organization to highlight design, supported by governments and the private sector, was viewed as a highly desirable initiative by those in the milieu.
In addition, Mission Design has created a board of trustees with 25 members who are as representative as possible of the industry, bringing together individuals from the business, design, and academic domains, as well as government observers.
Stimulating demand for design
A roundtable, gathering key actors in the public, private, associative, and educational sectors around debates on the industry's issues, will aim to ensure coherence in design initiatives and a positioning at the centre of Quebec's strategic orientations. "By making Mission Design a real roundtable for professionals in the industry, created by and for them," notes André Bourassa, president of the Ordre des architectes du Québec, "we will help Quebec evolve into a world-class, innovative and creative society in which architecture, design, and urban planning are integrated into popular and organizational culture."
Moreover, Mission Design will set up a Web portal to be both a promotional tool for design and a platform for exchanges. Another part of the plan is to group all design professional associations and orders on a single site, which could become the Maison de l'architecture, du design et de l'urbanisme.
Mission Design also intends to use concrete tools to encourage Quebec enterprises to use more of the services of the various design professions. To begin with, the organization is in the process of creating a diagnostic tool that can assess the level of integration of design practices into Quebec manufacturing, technological, and services firms. Inspired by the experience in Singapore, where design services are now used by the majority of firms, this multi-disciplinary diagnostic tool will be available online.
Among its other projects, Mission Design is also proposing to make Montreal a design platform in 2017, by bringing a series of international interdisciplinary congresses for architecture, design, and urban planning to the city in that year.
Visit Mission Design at:
www.missiondesign.org
---
For information, please contact:
Clarah Germain
T: +1 514 845 1188
M: +1 514 585 2922
E:
cgermain@volume2.ca