CALL FOR ABSTRACTS: ICOGRADA WORLD DESIGN CONGRESS 2009 EDUCATION CONFERENCE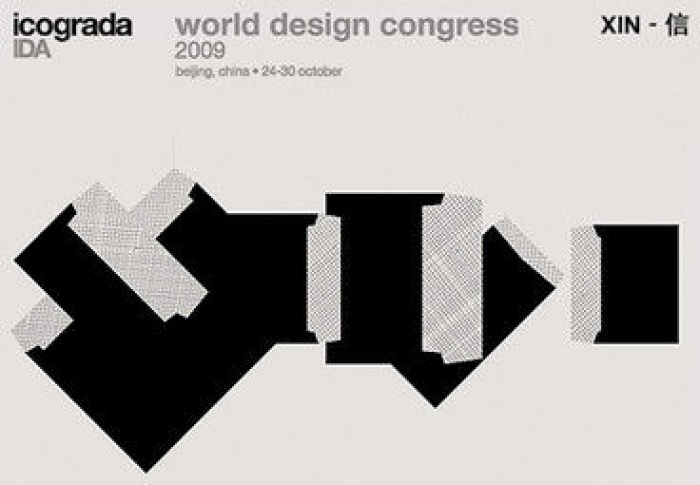 20.01.2009 News
Beijing (China)
- Icograda is pleased to announce the Call for Abstracts for the Icograda Education Network (IEN) Conference that will take place during the Icograda World Design Congress 2009 in Beijing, China. The Congress is being planned in collaboration with the Central Academy of Fine Arts (CAFA). CAFA is the only national art education institution in China directly under the Ministry of Education, exclusively dedicated to the education of the fine arts, including painting, sculpture, design, architecture and art history.
Xin-?:Icograda World Design Congress 2009 theme
Literally signifying human speaking and hence message/letter in Chinese, Xin-? represents a primitive means of communication. Yet today Xin has come to encompass more dimensions than ever before:
Xin-xi (Information)—human communication
Xin-nian (Vision)—designing a better world
Xin-ren (Trust)—understanding and collaboration
Xin-yong (Creditability)—reliability and responsibility
Xin-xin (Faith)—believing in hope
Through the theme of Xin-?, Icograda World Design Congress 2009 Beijing seeks to explore the contemporary issues and challenges facing communication design.
IEN Conference format and theme
The Icograda Education Network (IEN) Conference brings together the worldwide community of communication design educational institutions during the Icograda World Design Congress 2009. This two-day event will include invited and refereed papers. All selected papers will be published in book form and on the Icograda website following the event.
Icograda is inviting papers from the international design education community adressing the following themes:
Design Education and Innovation
Design Education and Diversity
Design Education and Cross-Disciplinary Collaboration
Design Education and Regional Development
Papers should demonstrate one or more of the following aspects:
Exemplary education practices
Exemplary education institution and curricular framework
Research in Design Education development
Reflections on the status-quo and future of Design Education
Critical dates
Call for papers: 21 January 2009
Deadline for submission of abstracts: 23 March 2009
Notification of abstract acceptance: 27 April 2009
Deadline for submission of papers: 29 June 2009
Conference: 29-30 October 2009
Peer review committee
Russell Kennedy (Australia) - chair
Omar Vulpinari (Italy)
Halim Choueiry (Qatar)
Xiao Yong (China)
Xu Ping (China)
Lü Pintian (China)
Amy Gendler (AIGA China)
Submission process
Abstracts should be no more than 500 words and should be accompanied by a brief biography of the presenter. All abstracts received by 23 March 2009 will be reviewed by the Review Committee. Selected abstracts will be notified by 27 April 2009 and full papers are due by 29 June 2009. A total of 16 papers will be selected for presentation at the Icograda Education Network (IEN) Conference.
Abstracts and papers may be submitted in either English or Chinese. Selected papers in Chinese will not exceed 30% of the total number of selected papers. The final publication will include the original paper and an abstract in both languages
Selected presenters will not be compensated for travel to Beijing, China. However, all selected presenters will receive free registration for all Congress events and four days accommodation in Beijing.
Submissions should be sent to:
English abstracts

Diala Lada
Education Projects Officer
Icograda Secretariat
education@icograda.org
Chinese abstracts
Icograda World Design Congress 2009 Secretariat
Beijing, China
education@beijing2009.org
---
Download the
.