Call for entries: Australasian Student Design Awards 2010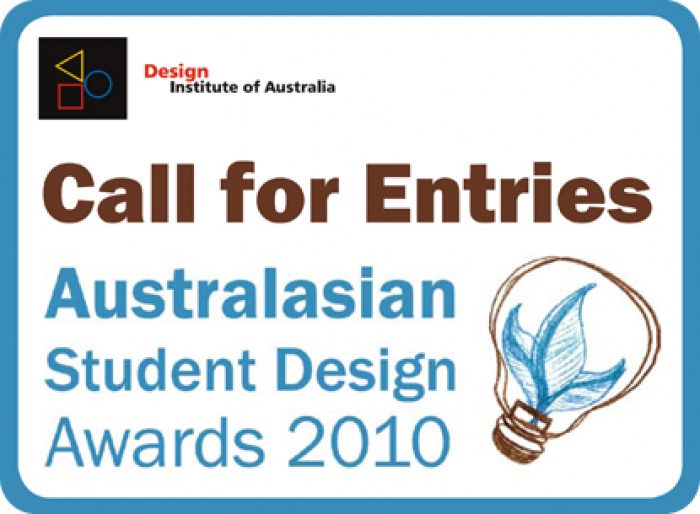 24.02.2010 News
Melbourne (Australia)
- The (DIA) invites nominations of top Australian and New Zealand student projects for this year's
Australasian Student Design Awards
(ASDA). The deadline for educators to register their schools is 17 March 2010.
In recent years, Sustainable Design has moved past its pop-culture status to form a key requirement of any good design process. Sustainable Designs allow us to live, work and play in such a way that is more efficient, profitable, secure and pleasurable but most importantly a way that does not compromise our future. Now as one of the defining ideas of the 21st century, Sustainability holds tremendous possibilities for designers.
ASDA fosters the future of Sustainable Design practice by rewarding the region's best emerging designers. As the foremost student design awards, the ASDA multidisciplinary program attracts an exceptional range, depth and quality of entries.
The DIA invites Australian and New Zealand tertiary design institutes to nominate their top student design projects that reflect design excellence and adopt innovative Sustainable Design principles.
Now in its 15th year, the DIA presents the ASDA in conjunction with designEX. Entries will be judged and displayed at this premier interior architecture and design exhibition which attracts over 20,000 Australian and International design professionals.
The ASDA prize pool includes cash prizes, travel scholarships, art & design supplies, DIA memberships and ASDA certificates.
Entry is open to design projects created in 2nd Semester 2009 or 1st Semester 2010 from entrants aged 18 years or older as at the date of entry who are:
Permanent residents of Australia and New Zealand or international students under a Student Visa in Australia and New Zealand.
Currently studying, full time equivalent or apprentice tertiary courses at a Certificate III, Certificate IV, Diploma or Advanced Diploma or Degree level or graduated from any of these courses in Semester 2 2009.
Visit:
www.design.org.au/asda
---
For more information, please contact:
Caroline Benzie
Program and Event's Officer
Design Institute of Australia
Level 1, 175 Collins Street,
Melbourne, Victoria
Australia
T: 1300 888 056
F: +61 3 9662 4140
E:
cbenzie@design.org.au
W:
www.design.org.au
About the Design Institute of Australia
The Design Institute of Australia is the voice of professional design in Australia and has been actively improving the community recognition and status of designers since 1947. The DIA is the only multidisciplinary organization representing designers in Australia. The organisation promotes the value of design and designers to industry, business, government and the community. The DIA provides a vibrant networking base on a state, national and international level. Through its international affiliations, the DIA links its members with designers in over 40 countries.