CALL FOR PAPERS: INTERNATIONAL 'DESIGN EDUCATION, TRADITION AND MODERNITY (DETM)' CONFERENCE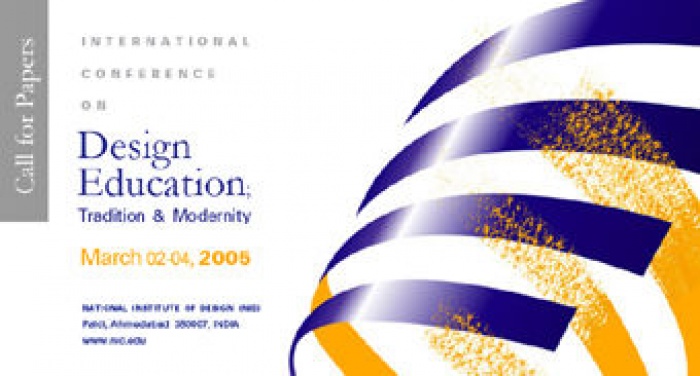 31.08.2004 News
Brussels (Belgium)
- The National Institute of Design (NID) in Ahmedabad, India, will host the International 'Design Education, Tradition and Modernity (DETM)' Conference on 2-4 March 2005. This 3-day conference will be the first ever major event of its kind to be held in the Indian sub-continent. It aims to provide a platform for defining the vision and future directions of design education in contemporary scenario. The event is open to international audience for participation and papers are invited from Design Educators, Researchers and Practitioners.
Poster paper presentations are also invited from design students in the areas related to the conference theme. A parallel session of these poster presentations will be carried out during the conference and the student presenters will get the opportunity to put forth their perspective to the international audience. This category of presenters will also need to submit their abstracts that will undergo the procedural requirements of selection.
DETM also invites registrations from the student volunteers for the event from all the design institutions. Selected student volunteers will get participation fee waiver and are expected to work with the team of Conference Organizing Committee. Other terms and conditions that are special to this category of participants will be sent separately on expression of interest.
Topics/Theme
The conference will focus on following major areas of design education and will look into emerging socio economic changes and their impact on Design education. Various sessions will explore best practices and new directions in design education and provide a forum to share the experience and ideas.
The list of topics under each heading is only suggestive, and by no means an exhaustive one. Authors are free to choose any other Design education related topic/s under the following four main headings,
1. Design Research and New Curriculum Development
- Design Research - scope and possibilities
- Design education research
- Curriculum development for higher design education
- Visual design Research
- Future of design Education
- Envisioning design institutions of future
- Professional experience in class room
- Design case studies
- Design for outsourced services and products
- Creating designers for knowledge economy
- Advanced design curricula
- Instruction vs. guidance
- Design education for under privileged
- Future design education campuses
2. Curriculum Dissemination and Teaching Methodologies in Design
- Interdisciplinary and Trans-disciplinary curriculum
- Design Teaching Behavior and Cognitive modeling
- Innovations in teaching methodologies
- Quality assurance in design education
- Validating and verifying curriculum
- Role of design students
- Role and responsibilities of design educators
- Profile of a design educator-2010
- Design curriculum for international students
- Creative design assignments
- Advances in design theory, representation and methods
- Design teaching tools and approaches
- Design Foundation programmes
- Technology for design educators
- Teaching design in field or environments
- Teaching methodologies for undergraduates, postgraduates and doctoral students
3. Evaluation Methods and Practices
- Qualitative and quantitative Assessments
- Need for assessment
- Grading and Credit systems
- Envisioning universal assessment and evaluation system
- Continuous Vs. periodic assessment
- Student cross-over and twining programmes
- Issues of academic equivalence
- Peer evaluations and group critique
- External auditing of course work
- Assessment and evaluation criteria
- Student participation in evaluation process
4. Design competency
- Inculcating Professional competency
- Design Competency parameters and definitions
- Risk based design
- Social responsibility of design education
- Inculcating professional ethics
- Design education for craft rich countries
- Profile and Role of Designer-2010
- Collaborative approach in design practice
- Scope for culture centric design
- Role of industry professionals teaching at design schools
- Synthesis of design, technology and management
- Improving design practice in the industry
- Design audit and design certification
- Industry-institute networks
- IPR in Design education
Submission of Abstracts
DETM is seeking previously unpublished papers on design education areas or on other related topics. Those wishing to present papers should submit an extended abstract of upto 600 words through email - detm2005@nid.edu or to the contact address below. The author/s name, organization and the complete mailing address with phone and fax numbers and email address should be typed on a separate sheet that accompanies the abstract.
Paper Evaluation
The Conference's Editorial Committee will review abstracts and the full papers. Preprints of the papers will be available at the conference and the papers will be considered for inclusion in a subsequent book based on the recommendation of the editorial committee. Authors of accepted papers (at least one person) must register and present the paper during the conference. Each accepted paper will be provided 25 minutes for the presentation during the conference.
Schedule and Deadlines
September 15, 2004 - Submission of abstracts
September 30, 2004 - Notification of preliminary Acceptance
December 05, 2004 - Submission of full papers
February 15, 2005 - Submission of digital presentations
March 02-04, 2005 - DETM-05 Conference at National Institute of Design
Total Duration and Structure
Total duration of the conference will be 3 days. While there will be several parallel sessions, panel discussions, interactive sessions, poster presentations and break away sessions on each of the day, each day will begin with keynote address by renowned and international speakers. There will also be sessions dedicated to the presentations from the 16 major design institutions from various parts of world with which NID has active ongoing relationships and has signed the Memorandum of understanding.
Day-1: Plenary Day
Day-2: Network Day
Day-3: Practitioners' Day
Conference Location
National Institute of design (NID) is India's foremost and world renowned trans- disciplinary design institute situated in historic city of Ahmedabad in western part of India in the state of Gujarat. NID was established in 1961 by the Government of India's Ministry of Industry, as an autonomous national institution for design education, research, training, consultancy services and outreach activities. Education at NID endeavors not only to impart design skills and knowledge, it also ensures that students graduate from the Institute as mature, responsible, professionals who understand the social and ethical implications of their work. It carries out these objectives through integrated programmes of education of both graduate and post graduate levels. The design specializations offered at NID are: Product Design, Furniture and Interior Design, Ceramic and Glass Design, Toy Design and Development, Graphic Design, Film and Video Communication, Animation Film Design, New Media Design, Textile Design, Apparel Design, Life Style Accessory Design and Exhibition Design. For further details about the institute you can visit our web site <a href='http://www.nid.edu/" target="new">http://www.nid.edu</a>
---
For further information please contact:
Mr. Vijai Singh Katiyar
T: 0091 79 2663 9692 (Ext. 2016)
or
Mr. Shashank Mehta
T: 0091 79 2663 9692 (Ext. 3012)
National Institute of Design
Paldi, Ahmedabad - 380 007
Gujarat, INDIA
F: 0091 79 2662 1167
E:
detm2005@nid.edu
W:
www.nid.edu
---
The National Institute of Design in Ahmedabad, India is a member of the Icograda Education Network (IEN).
To see the school's IEN website profile, visit:
www.education.icograda.net/web/school.shtml?s=nidind