COMPUTER DESIGNERS SHARE DMI'S 2008 MURIEL COOPER AWARD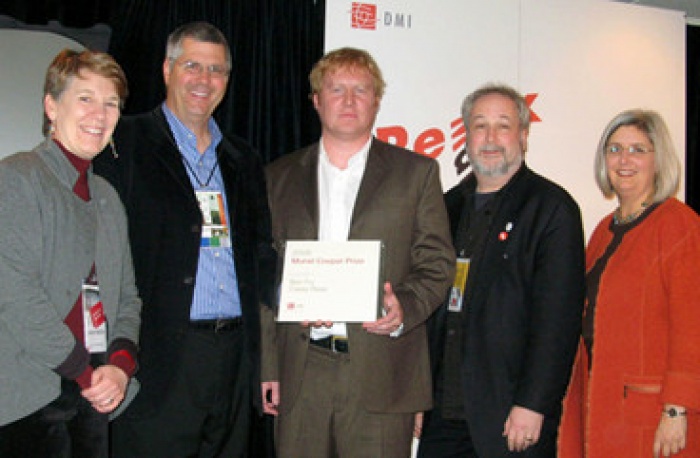 21.10.2008 News
Boston (United States) - Ben Fry and Casey Reas share the Muriel Cooper Award, the highest international design award given by the (DMI), an Icograda Affiliate Member.

Ben Fry and Casey Reas initiated Processing in 2001. Processing is an open source programming language and computer environment for creating images, animation, and interactions. In 2007, they published Processing: A Programming Handbook for Visual Designers and Artists, a 736-page comprehensive introduction to programming within the context of visual media (MIT Press).

Fry and Reas represent the award recipients who challenge our current understanding and experience of interactive digital communication. The award honors professionals who are in mid-career, adding momentum to their emerging talent and unconventional thinking.

The award is named for the late Muriel Cooper, one of the most influential modern designers of the 20th century and an early DMI Board member and director of MIT Media Lab. DMI provides incentive for recipients to take their work to the next level through a financial award, a featured article in the Design Management Review, and the opportunity to deliver a lecture at a future DMI conference.

Ben Fry was present to receive the Award and discuss the work at DMI's 33rd Conference in October, aptly named REMIX.

Past award recipients include: Masamichi Udagawa of Antenna Design, John Maeda of RISD, Dan Boyarksi of Carnegie Mellon's School of Design, and Lauralee Alben of Alben Design.




About Casey Reas
Casey Reas lives and works in Los Angeles. He focuses on defining processes and translating them into images. He is an associate professor and chair of the department of Design | Media Arts at the University of California, Los Angeles.

Reas has exhibited his work internationally at institutions, independent venues, galleries and festivals. He has lectured at educational institutions and artist-run spaces around the world.




About Ben Fry
Ben Fry received his doctoral degree from the Aesthetics + Computation Group at the MIT Media Laboratory, where his research focused on combining fields such as Computer Science, Statistics, Graphic Design, and Data Visualization as a means for understanding complex data. After completing his thesis, he spent time developing tools for visualisation of genetic data as a postdoc with Eric Lander at the Eli & Edyth Broad Institute of MIT & Harvard. During the 2006- 2007 school year, Ben was the Nierenberg Chair of Design for the Carnegie Mellon School of Design. At the end of 2007, he finished Visualizing Data for O'Reilly. He currently works as a designer in Cambridge, MA.

More information on Ben Fry, Casey Reas and the Muriel Cooper Award can be found at www.dmi.org.


---
For more information, please contact:
The Design Management Institute
101 Tremont Street, Suite 300
Boston, MA 02108
United States
T: +1 617 338 6380
F: +1 617 338 6570
W:
www.dmi.org
About the Design Management Institute
With over 1,500 members in 44 countries, the
(DMI) is a nonprofit 501(c)3 organization and international authority, resource and advocate on design management, and a thought leader in the areas of design management, design strategy and design leadership. DMI was founded in 1975 and is based in Boston, Massachusetts.