ICOGRADA HONOURS MARIO PIAZZA WITH ACHIEVEMENT AWARD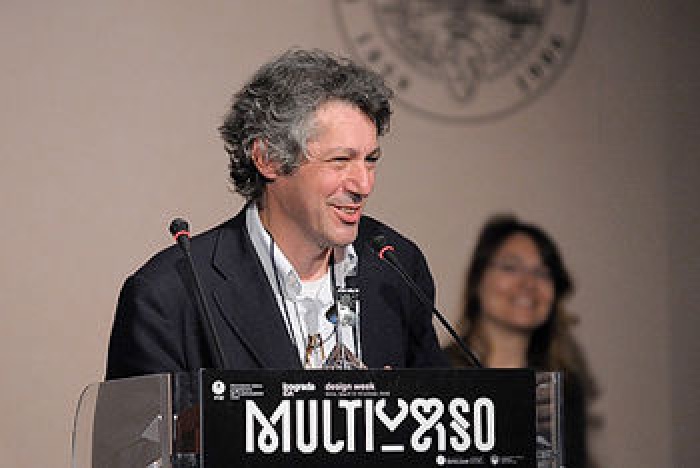 22.10.2008 News
Torino (Italy)
- The presentation of an Icograda Achievement Award to Mario Piazza, designer and architect, during the opening ceremonies on 17 October 2008, was a highlight of Multiverso: Icograda Design Week Torino. Piazza is the first Italian designer to receiver the recognition. The award was presented by Icograda President, Prof. Don Ryun Chang.
Milan-based Piazza was nominated by AIAP, the Italian Association of Visual Communication Design. From 1992 to 2006, Piazza served as the President of the AIAP.
Piazza works principally in the areas of communication design, brand management and exhibition design. In 1996, he founded
46xy
, a design and strategic communication consultancy. He is also a noted educator, teaching visual communications at the Politecnico di Milano and serving as a tenured researcher in the Indaco department of the Design Faculty of Milan since since 1997.
Recent projects where he acted as designer, curator and/or editor include:
Bruno Munari e il Club degli editori
,
Progettare il marchio
,
Italic 1.0
.
Il disegno dei caratteri contemporaneo in Italia
and
Una firma per sei
.
Piazza is presently the art director for Abitare and a contributor to design publications including Abitare, Progetto grafico, Linea Grafica and Domus. From 2004-2007, he was creative director of Domus.
Introduced in 2001, the Icograda Achievement Award honours an outstanding career. It is presented to an individual or a team in recognition of outstanding and consistent achievement in the practice, education or promotion of communication design. Piazza joins Young Hye Lee and Kumnam Baik from Korea, who received awards earlier this year at the Icograda Design Week in Daegu.
For more information about the Design Week, visit the and the
Photo Archive
.
---
For more information, please contact:
Brenda Sanderson
Icograda Managing Director
T: +1 514 448 4949
E:
secretariat@icograda.org