CRAIG HALGREEN IS AWARDED THE 2005 ICOGRADA PRESIDENT'S AWARD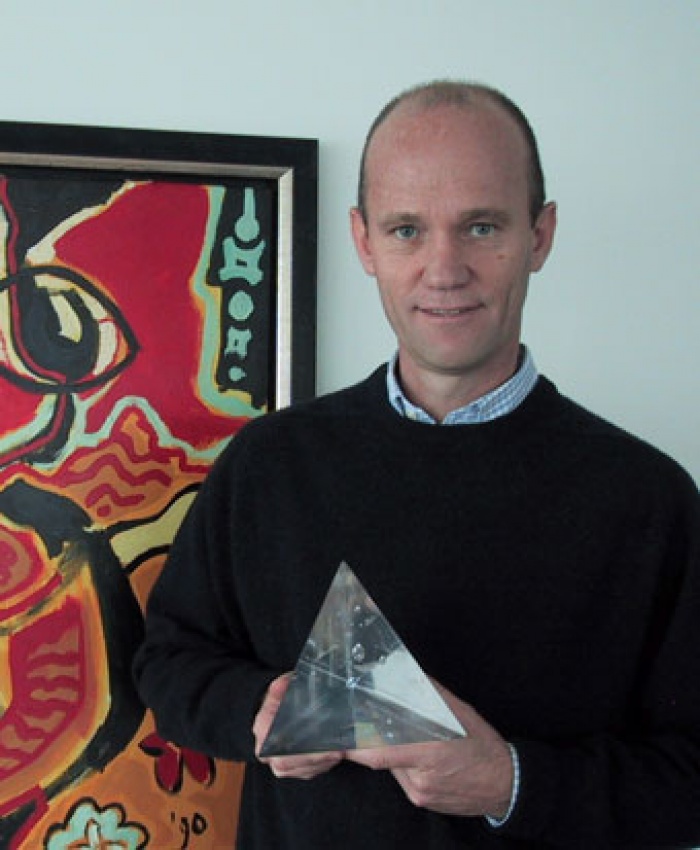 16.10.2005 News
Copenhagen (Denmark)
- On 28 September 2005, Craig Halgreen, Europe's Corporate and Marketing Communications Manager of Sappi Fine Paper, was presented with the 2005 Icograda President's Award for his role in the Sappi 'Ideas that Matter' programme. Awarded by Icograda's outgoing President just before the Icograda General Assembly every two years, the Icograda President's Award is given to an individual who has made an outstanding contribution to graphic design during the two-year tenure of the President in question.
"Although it is true that what Craig has achieved has been in the name of Sappi," explained Mervyn Kurlansky, Icograda's President, during the presentation of the award at the ERA05 World Design Congress in Copenhagen, "I believe that, with his drive and energy, the 'Ideas that Matter' programme has achieved enormous success in meeting the needs of the graphic designer in benefiting society."
Sappi's 'Ideas that Matter' is a global initiative that awards grants to graphic designers for the development of creative print-based communications campaigns to promote social, environmental and humanitarian causes close to their hearts. Whether individuals, groups or companies, the designers who receive these grants volunteer their time and talent to develop campaigns for the greater public good. Grant money is used to cover implementation costs based on initial concepts submitted as part of the grant application.
The organically structured 'Ideas that Matter' process begins with individuals, design agencies, advertising agencies and colleges identifying non-profit programmes in which they have a profound belief. They then approach the organisations running these programmes to discuss the possibility of developing awareness and fund-raising campaigns for them. Campaign concepts, together with detailed outlines of objectives, development costs and potential benefits, are then submitted to Sappi for assessment by independent panels of judges, who are all highly qualified and experienced industry experts. Grants to develop and implement these campaigns are made on the basis of creativity and potential effectiveness.
Mervyn Kurlanksy has been involved in the jury of the 'Ideas that Matter' programme with Craig Halgreen since its inception in October 1999.
The previous recipient of the Icograda President's Award was Lei-Mei Julia Chiu of the International Design Centre in Nagoya, Japan.
---
For further information please contact:
Jenny Jasper
Icograda Communications Officer
T: +1 514 448 4949, ext 234
W:
jjasper@icograda.org