EPOXYBOX GALLERY HOSTS SIMULCAST FROM 'SHARING DREAMS 2005', A COLLABORATIVE U.S./CUBAN GRAPHIC ART SHOW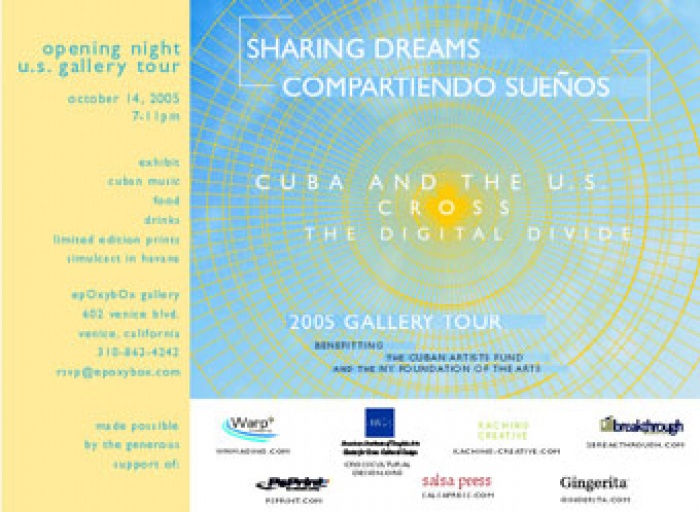 16.10.2005 News
Los Angeles (United States)
- U.S. restrictions prohibit many Americans from travelling to Cuba as tourists, but art fans had the chance to go there - virtually - last Friday night. That's when the epOxybOx Gallery in Venice, California hosted a live, on-line feed from Havana, allowing gallery visitors to interact with some of the participating artists in 'Sharing Dreams 2005', a graphic art show featuring the collaborative works of American and Cuban artists.
Earlier this year, six Cubans and six Americans were put together in an online forum and asked to discuss the theme 'Dreams of Peace.' Each of the 12 artists then developed a piece based on that idea, and the resulting work was shown in June at the International Digital Design Exhibit in Havana.
Artists from around the world have been participating in the annual graphic design conference, which has been staged for the last seven years in Cuba. The United States started taking part in 2004, when 'Shared Dreams' co-producer Larry Richard came up with the idea of involving American artists via the Internet.
"My idea was to take what was a collaboration online and a physical show in Havana and bring it back to the U.S." Richard said of the exhibition, which will move to San Francisco, Miami and New York early next year.
In all, there are 22 original pieces in the show - 10 from last year's Cuban-American collaboration and 12 from 2005. Though none of the art is available for sale due to the U.S. embargo of Cuban products, commemorative posters from each year's collaboration will be sold, with the profits going to two non-profit groups - the Cuban Artist Fund and the New York Foundation for the Arts.
---
For further information please contact:
Toni O'Bryan
AIGA Center for Cross Cultural Design
E:
designpartnership@xcd.aiga.org
W:
www.shared-dreams2005.com