DESIGN ACHIEVERS: GREAT IDEAS FROM YOUNG DESIGNERS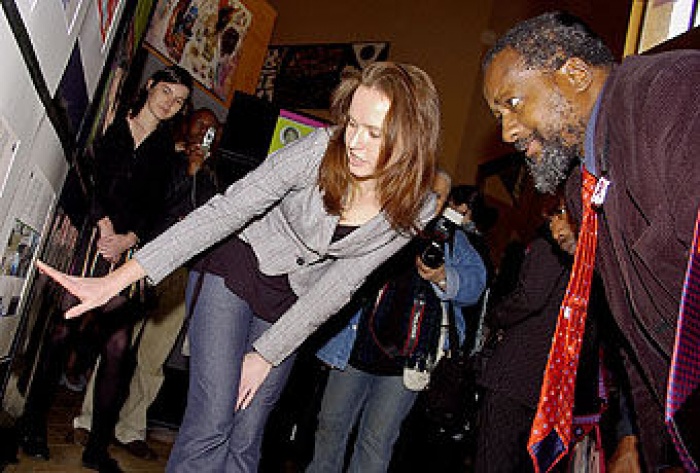 26.06.2005 News
Pretoria (South Africa)
- A school bag that doubles up as a desk, a flask that keeps breast milk fresh for up to ten hours, a board game to make children environmentally aware, a candle that will not fall over - these are just some of the ideas with which 19 design students from all over South Africa came up to help solve a South African problem.
The students took part in the annual Design Achievers Award scheme, hosted by the SABS Design Institute. This four-day workshop was aimed at developing design leadership amongst young designers and culminated in an awards function on 16 June, Youth Day. The guest speaker at this event was Dr Pallo Jordan, Minister of Arts and Culture.
The winner of this year's Design Achievers award is Lauren Alexander, a graphic design student from Stellenbosch University. Lauren designed the Smart Case, a portable desk-aid for use by children in rural schools. The Smart Case doubles up as a school bag and a desk. It has a hard work surface that fits onto a learner's lap. Once it has been used as a desk, the learner can pack it up and carry it away. It comes with comfortable straps and is lightweight so that it can be carried over long distances. Inside the case is an alphabet chart and a compartment for storing books.
This year there were five students whose work also came highly commended. They are Donavan Goliath, a graphic design student from the Nelson Mandela Metropolitan University in Port Elizabeth who designed Loud & Proud, an attempt to add to the Proudly South African campaign. Then there was also Mark Urry, a graphic design student from the Cape Peninsula University of Technology who designed a multimedia educational product for profoundly deaf children. Matthys Esterhuysen, information design student from the University of Pretoria designed VUSA, a safety candle with enough safety features to prevent most accidental fires in informal settlements.
A visual communication student, Nina Pfeiffer from the Open Window School of Visual Communication came up with an innovative saving scheme called the tikibank which would help people not formally part of the banking sector to save their coins. The final highly commended student is Zinhle Zwane, a textile design student form the Tshwane University of Technology who took part in a project to design textile to support the fight against HIV/AIDS.
The Design Institute has been hosting the Design Achievers Award since 1987. The theme of this award scheme is Hands-on, Minds-on, Hearts-on. Every year, nominations are invited from tertiary design institutions across South Africa for students to submit a design business concept which could contribute towards solving a social, environmental, industrial or cultural problem currently experienced in South Africa. As has been the case in the past, this year's winner was selected on the strength of her leadership potential and portfolio work, as well as the viability of her design business concept.
Lauren Alexander, the winner of the 2005 Design Achievers Awards will represent South Africa at an international workshop in Stuttgart, Germany in August, sponsored by the SABS Design Institute.
The Design Achievers Award was born of the belief that opportunities should be created for young designers to define the future and to prove that South Africa is a country with great creative potential. Design Achievers is a unique award scheme insofar as it not only recognises design talent, but also seeks out and awards leadership in design and entrepreneurial potential. The design leaders of tomorrow will be instrumental in promoting and stimulating our country s design and manufacturing industries.
For further information please contact:
SABS Design Institute
Jennie Fourie
T. 083 4578682
Patiwe Booi
T. 073 2156203