DESIGN AT THE CROSSROADS: THE INTERSECTION OF CHANGE AND THE FUTURE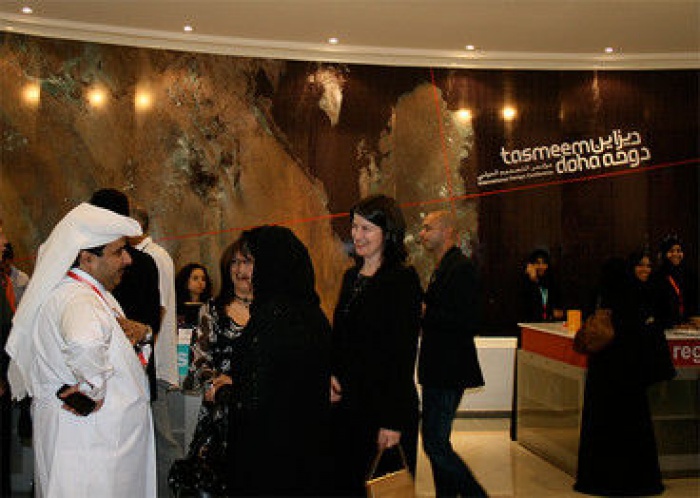 05.03.2008 News
Doha (Qatar)
- Tasmeem Doha 2008 celebrated its fifth international design conference this week. Hosted by Virginia Commonwealth University in Qatar, the event offers a stimulating framework for international design experts to speak to common global and distinctly local futures.
This year's gathering included presentations from 12 thought leaders, including a keynote presentation from celebrated US choreographer, Twyla Tharp.
The week began with a 3-day student charette facilitated by the Tasmeen presenters on the theme of navigation and wayfinding in Doha. Six groups explored the design challenge not only from the perspective of finding one's way around the city, but also in the context of the history and culture of Qatar, a rapidly changing country.
The two-day international conference began with a presentation from Stephen Banham of Melbourne, Australia. Called a "typographic evangelist" by Eye magazine, Stephen is the founder of Letterbox, a typographic studio. He has written and produced 12 publications on typography, notably the Qwerty series, the Ampersand series and Fancy. Since 2005 he has run a very successful public forum series on graphic design and typography known as Character, the most recent of which hosted the Australian premiere of Helvetica.
Other noted communication designers included in the multi-disciplinary speakers' roster included Amsterdam-based Irma Boom, whose work includes the five year project SHV Think Book 1996-1896, a 2136-page book commissioned by SHV Holdings in Utrecht, and published in English and Chinese. Sadik Karamustafa, who founded Karamustafa Design Ltd. and initiated Grafist, an educational-based international graphic design event in Istanbul, Turkey showcased recent work from this part of the world.
Icograda Design Week comes to Qatar
Next year, Virginia Commonwealth University in Qatar will host Icograda Design Week in Qatar. During Tasmeem Doha, VCUQ Dean Allyson Vanstone and Icograda Past President Jacques Lange signed the Event Agreement that formalises the partnership to bring Icograda's signature event programme to Qatar for the first time.
---
For more information, contact:
VCUQ Marketing
Tasmeem Annual Design Conference
PO Box 8095
Doha, Qatar
T: +974 492 7245
F: +974 481 7058
W:
http://tasmeem.qatar.vcu.edu