Design Currency 2010: Educators' Roundtable highlights unique Canadian higher education system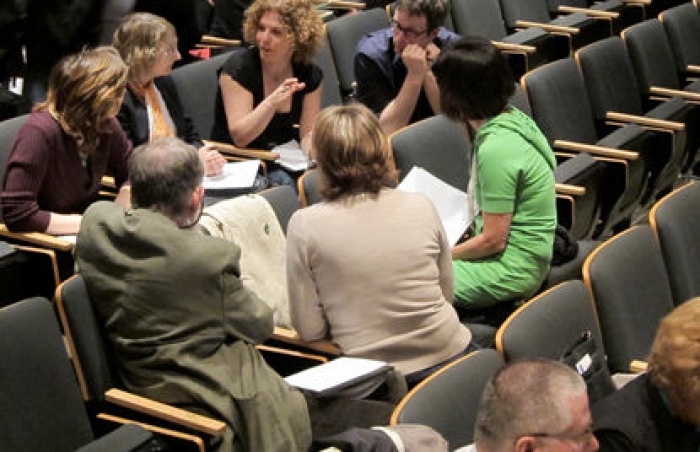 02.05.2010 News
Vancouver (Canada)
- Hosted by on 30 April 2010, the Educators' Roundtable gathered more than 50 participants to examine and explore the nature of post-secondary graphic design education in Canada on the closing day of
Design Currency: Icograda Design Week in Vancouver
.
The session began with a presentation by Karin Jager, Chair, School of Media Arts, IDEA Program, Capilano University. Ms. Jager described the evolution of graphic design education over the last twenty years, the unique Canadian higher education system and the current shift from the information age to the conceptual age.
Above:
Bonne Zabolotney
, Dean of Design and Dynamic Media at
Emily Carr
University welcomes participants. Photo: GDC/BC
Ms. Jager noted that Canada was unique amongst industrialised countries in regulating education at the provincial rather than national level. She highlighted the current structure of accrediting bodies for graphic design education and the low participation rate of Canadian institutions in these organisations - of the 134 identified institutions offering graphic design education, only 52 belonged to an accrediting association.
Above:
Overview of education accrediting associations and structures presented during the Educators' Roundtable
. Photo: GDC/BC


Participants then broke into workgroups to address four questions posed by Ms. Jager's research:
What comprises scholarly activity for faculty teaching in graphic design programs?
What is an ideal learning outcome for students at the diploma level? Undergraduate level? Masters level? Doctoral level?
In what way should graphic design education contribute to the profession today?
What level of graphic design education would be required for professional accreditation, if accreditation existed?
Above:
Participants review and rank workgroup outputs during the Educators' Roundtable
. Photo: GDC/BC


The focus of the session was to discuss how a national profile for post-secondary graphic design education can support the profession, prospective students, educators and the public. The data gathered will form part of the study in establishing a profile for graphic design education in Canada. Outputs from the workgroup were synthesised under each question heading and the participants then individually ranked preferences as highest priorities.
A report of the session outcomes will be circulated to all Roundtable participants.
---
For more information, please contact:
Karin Jager, MGDC
IDEA Program
Capilano University
Arbutus Building, Room 106
2055 Purcell Way
North Vancouver, BC
V7J 3H5 Canada
E:
KJager@idea.capilanou.ca
About the event
Hosted in one of Canada's most innovative cities,
included a two-day International Conference, Design Keynote, Trade Fair, Education Workshops and the 2010 Graphex Awards.