Design Institute of Australia welcomes new Victorian inductees to DIA Hall of Fame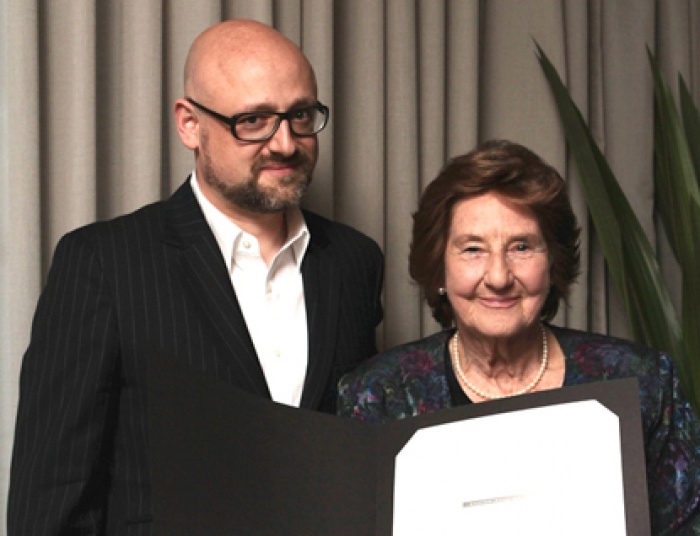 31.01.2011 News
Melbourne (Australia)
- In one of his first official duties as the new National President, Oliver Kratzer FDIA, announced three new Victorian inductees into the DIA Hall of Fame late last year.
The induction ceremony was held overlooking the sea at The Royal Melbourne Yacht Squadron's Harbour Room at St Kilda, and was combined with the DIA Victorian branch's 'Spring into Christmas Dinner' and introduction of the newly elected 2011 DIA Victoria Council.
The three new Hall of Fame inductees were Robert Gill FDIA, Ron Rosenfeldt LFDIA [posthumously] and Joan Stewart FDIA, all noted Victorian design luminaries.
The DIA Hall of Fame was originally established in 1995 as part of the Victorian Design Awards to highlight the work of Victorian designers at all career levels and over a broad range of design disciplines.
Since then it has expanded to become a national award in order to demonstrate the significant contribution made to Australia's economic and cultural development by a united and dynamic design profession.
The DIA Hall of Fame recognises the outstanding achievements of the following 62 designers who have contributed to the promotion of design excellence:
2009
- The first half of new Inductees [announced in Sydney in April] were Derek Wrigley, Fred Ward [posthumously] David Davenport, Don Goodwin, Edward Healy and Alma Maccallum.
The second half of inductees were Robert Gill, Ron Rosenfeldt [posthumously] and Joan Stewart.
2008
- Richard Henderson, John Redmond, Gerry Mussett, Tom Hewitt and David Robertson
2007
- Thomas Heath, Florence Broadhurst, Carl Neilsen, Leslie Walford, Ian Kidd, Barrie Tucker, Rob Miller Smith, Rob Pataki and Dario Zoureff
2006
- Brian Smyth, Sue Carr, Madeline Lester and Michael Bryce
2005
- Geoff Fitzpatrick
1999
- Gerard Herbst, Fred Lowen AM, David Lancashire
1998
- Brian Sadgrove, Rae Ganim and John Truscott
1997
- Gary Emery, Phillip Zmood, William and Keera Le Lievre, Dr Francis Burke and Ross Madden
1996
- Dr Alberto Alessi (International Award), Grant and Mary Featherston, Peter Geyer, Brian Davis, Richard Carlson and Tony Wolfendon, Ken Cato, Susan Cohn, Fred Moylan, Stephen Bennett and Jane Parker
Read the DIA Hall of Fame citations:
www.design.org.au/hof
---
For more information, please contact:
Caroline Caneva
National Program & Events Officer
Design Institute of Australia
E:
ccaneva@design.org.au
T: +61 3 00 888 056
About the Design Institute of Australia
The Design Institute of Australia - Australia's only professional, multi-disciplinary design organisation - has been actively improving the community and status of designers since 1947. The organisation promotes the value of design and designers to industry, business, government and the community. The DIA provides a vibrant networking base on a state, national and international level. Through its international affiliations, the DIA links its members with designers in over 40 countries.
www.design.org.au