DESIGN KOREA 2007 ANNOUNCES PROGRAMME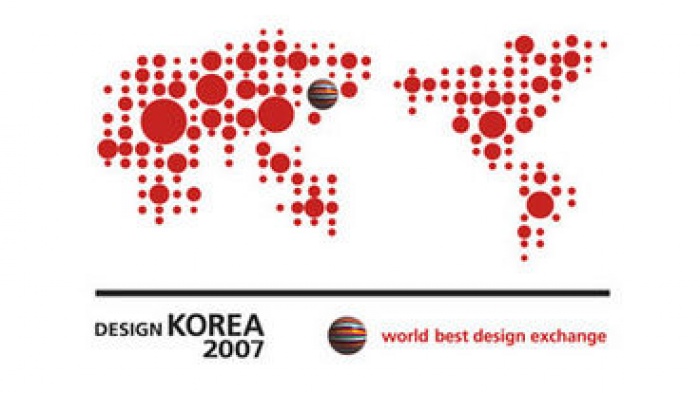 14.08.2007 News
Seoul (Korea)
- Design Korea 2007 will take place from 29 November - 6 December 2007 at the COEX Atlantic Hall and COEX Grand Ballroom in Seoul, Korea. This year's events include the World Best Design Exchange, DESIGN KOREA 2007 International Conference and the Convention on Korean Design Promotion. Design Korea 2007 is endorsed by Icograda.
The World Best Design Exchange in Seoul 2007 will provide an overview of global design trends and issues for 2007-2008 by presenting the latest design trends and global movements. Exhibitions will include future-oriented designs such as world's latest robotic design, ubiquitous design, eco-design, sports design, graphic and product designs and other user interface design. More than 650 award-winning designs from 18 design promoting organisations in 17 countries will be on display, including an international exhibition of good public design, a zone dedicated to leading corporations and an International Design Business Zone.
Presentations will include selected design firms invited to introduce their unique design philosophy, a session dedicated to design convergence and the Legacy of the Future Design Award.
The Design Korea 2007 International Conference will take place from 29-30 November. Day I will explore the theme, "armony of Human Beings and Urban Environment Through Design". Day II will focus on "Managing Design in Global Environments".
The Design Korea 2007 Convention on Design Industry Promotion will include presentation of case studies from the Korean Design Awards, select case studies from the Good Design (GD), and the Korean Design Awards and Good Design Awards.
Organised by the Korea Institute of Design Promotion (KIDP), an Associate member of Icograda, Design Korea is hosted by Korea's Ministry of Commerce, Industry and Energy (MOCIE) and supported by the Korea Federation of Design Associations (KFDA), the Federation of Korean Industries (FKI), the Korea Chamber of Commerce & Industry (KCCI), the Korea Federation of Small and Medium Business (Kbiz) and the Korea International Trade Association (KITA).
---
For further information please contact:
Design Korea 2007
T: 031 780 2103
F: 031 780 2106
E:
smshin@kidp.or.kr
About KIDP

The Korea Institute of Design Promotion (KIDP) is an Associate member of Icograda.
KIDP website