DO GOOD <del>DESIGN</del>: A CALL TO ACTION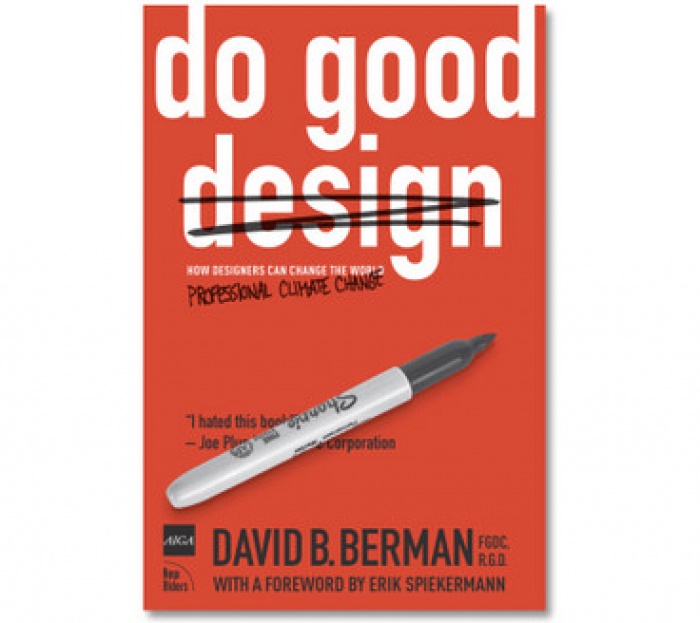 06.01.2009 News
Berkeley (United States)
- On 2 January 2009, Peachpit announced the publication of Do Good
Design
: How Designers Can Change the World, a provocative book that explains why the largest crises we are facing today have design at their core. Author and Icograda Treasurer David B. Berman offers a powerful and hopeful message that will inspire readers to do good design in 2009 and beyond.
Designers create so much of what we see, what we use, and what we experience. How did design help choose a president? Why are people buying houses they cannot afford? Why do U.S. automakers now struggle to compete? Why do we really have an environmental crisis? Design matters. Like never before.
| | |
| --- | --- |
| | Do Good Design is a call to action: It alerts designers to the role they play in persuading global audiences to fulfill invented needs. Berman outlines a more sustainable approach to both the practice and the consumption of design. All professionals will be inspired by the message of how one industry can feel better about itself by holding onto its principles. Today, everyone is a designer. And the future of civilisation is our common design project. |
In this time of unprecedented environmental, social, and economic crises, designers can choose what their profession will be about: inventing deceptions that encourage more consumption - or helping repair the world.
An AIGA Design Press book, Do Good
Design
is published under Peachpit's New Riders imprint in partnership with AIGA.
Readers can become involved in the Do Good movement, take the online pledge, and learn more by visitingÂ
www.davidberman.com/dogood
.
Do Good
Design
is now available atÂ
Peachpit.com
,Â
amazon.com
, as an ebook via
Safari Books Online
, and at other retailers nationwide.
---
For more information, please visit:
www.peachpit.com/dogood
About the author
David B. Berman is a strategic consultant with over 25 years experience in graphic, interface, and accessibility design. He has traveled to 20 countries as an expert speaker, serves as the Ethics Chair for graphic design in Canada, and as a treasurer of Icograda, the world body for graphic design. Clients include IBM, the International Space Station, the Sierra Club, and Canada's largest federal government departments.
About Peachpit
Berkeley-based Peachpit has been publishing the industry's best-selling books on the latest in graphic design, desktop publishing, multimedia, Web design and development, digital video, and general Macintosh computing since 1986. Its award-winning books feature step-by-step explanations, time-saving techniques, savvy insider tips, and expert advice for computer users of all sorts. Peachpit is part of Pearson (NYSE: PSO), the international media company.
Learn more at
www.peachpit.com
and
www.pearson.com
.