Emzin Institute and Penguin Group present 75 Years of Penguin Books exhibition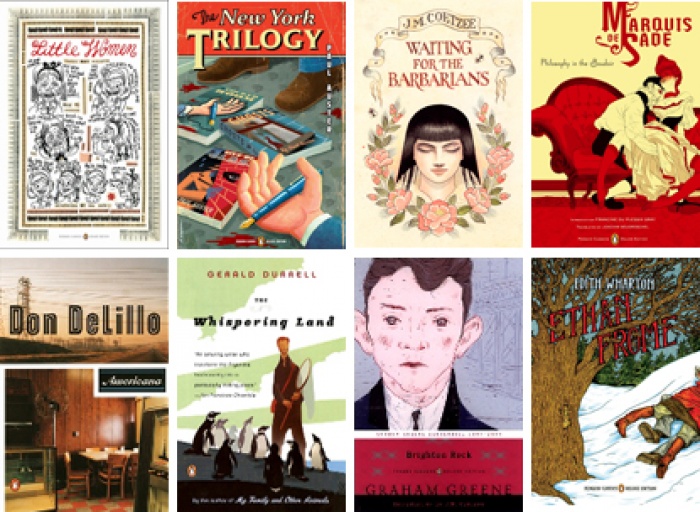 15.11.2010 News
Ljubljana (Slovenia)
- To commemorate the seventy-fifth anniversary of Penguin Books, Penguin's long-time creative director Paul Buckley chose 75 book covers that represent the best of what Penguin has produced over the course of the last decade and investigated the design process behind each one. The selection was published as Penguin 75: Designers, Authors, Commentary (the good, the bad...), a book that came out in 2010.
Produced by and Penguin Group (United States), the exhibition - just like the book - is not only about covers, but also about the simple and complicated, witty and tragic stories behind book designs. It describes the psychology that created all the variables that led to this cover over the 20 other proposed covers. What worked and what didn't? What did the designer or illustrator think? What did the author think? The project features commentary and contributions by Paul Auster, Nicholas Blechman, David Byrne, Brian Cronin, Elizabeth Gilbert, Hanif Kureishi, Roseanne Serra, Art Spiegelman, Ruben Toledo, Tomer Hanuka, Paul Sahre, Chris Ware, etc.
"Leafing through this collection of designs, it should be clear that whatever the focus groups say about book buyers and how they are daily dropping like flies, designers, despite their frailty, sure are a sophisticated lot. Where once typography and illustration used to collaborate to spoil a narrative moment before a book was even opened, type and pictures now operate independently, hinting at a disposition, a feeling, or a slippery state of mind harmonious with, or at odds with, a book's title (or the expectations that title might suggest.) Such an ineffable approach to design is much more in line with the higher aims of literature than it ever has been, and the methods are just as varied ..."
- Chris Ware: foreword to PENGUIN 75, Penguin Group, 2010 (excerpt)
The exhibition shows book covers featured in Penguin 75 and a selection of books from this collection. It also displays spicy commentary by cover designers and illustrators, book authors and Penguin representatives. For the occasion of the exhibition in the Vþigalica Gallery, the author of the selection Paul Buckley has designed an announcement poster, which will be given out to visitors.
About Paul Buckley
Paul Buckley
is an Executive Vice President Creative Director at Penguin, where he and his talented team of Designers and Art Directors oversee the covers and jackets for eight imprints. His iconic design and singular art direction have graced countless bestsellers and garnered him hundreds of awards and frequent invitations to speak in the United States and abroad. His work, and that of his staff, can be seen in every major design annual, and of course, in every book store. This selection is just a small window into one of the imprints and the talents of the individuals involved.
"Publishers and editors are used to hearing art directors and designers moan endlessly about their best work being passed over by the philistines that surround them on all sides. They're also used to hearing from the authors about how there is no way the designer read the material and this lousy cover will surely bury the author's career. Then these poor editors and publishers have to gently navigate us through, hopefully to a good conclusion for all. Beautiful designs flourish. And massive book sales soon follow. Probably. Not really. Okay, sometimes. But never as often as we'd all like."
- Paul Buckley: introduction to PENGUIN 75, Penguin Group, 2010 (excerpt)
Press conference
Mirko Iliã
and Emzin Institute of Creative Production
Museum Café, City Museum of Ljubljana, Monday, 22 November 2010 at 10:00
As an introductory event to PENGUIN 75 book cover exhibition, a press conference will be held for journalists and culture and media editors, with special guest, exhibition initiator Mirko Iliã (New York), author of exhibition concept and design Metka Darið, and project managers Jasna Rackov and Tanja Hladnik.
Mirko Iliã, a world renowned designer and illustrator, has illustrated over 30 Penguin book covers. He began his professional design career in Europe, participating as an illustrator and art director in the creation of numerous posters, album covers and comics. In 1986 he moved to the United States where he began working as an illustrator for major magazines and newspapers. In 1995 he founded the Mirko Ilic Corp., a graphic design, 3D computer graphics and motion picture title studio. He received several prizes for his work; current clients include newspapers, magazines, publishing houses, restaurants and hotels.
Book cover exhibition
Vþigalica Gallery, 23 November - 15 December 2010
Exhibition opening: Tuesday, 23 November 2010, at 20:00
Press conference: Monday, 22 November 2010, at 10:00
Opening of PENGUIN 75, graphic design exhibition of book covers, on Tuesday 23 November 2010 at 8 pm in Vþigalica gallery, Trg francoske revolucije 7, Ljubljana. The exhibition will be on view until 15 December 2010, Tuesdays to Sundays from 10:00 - 18:00, Mondays closed. The exhibition is organised in support to Ljubljana - World Book Capital 2010 title.
Vþigalica Gallery
Trg francoske revolucije 7
1000 Ljubljana
Slovenija
T: +386 (0)1 2412 590
E:
galerija.vzigalica@mgml.si
Opening hours:
Tuesday - Sunday
10:00 - 18:00
Closed on Mondays
---
For more information, please contact:
Emzin
Metelkova ulica 6,
1000 Ljubljana
Slovenija
T: +386 (0)1 4303 544
E:
emzin@guest.arnes.si
Penguin Group (USA) Inc.
375 Hudson Street, 2nd Floor
New York, NY 10014
United States
This project was supported by:

Ministry of Culture of the Republic of Slovenia
City of Ljubljana, Department of Culture
Embassy of the United States of America, Ljubljana
Best Western Premier Hotel Slon Ljubljana
Company RPS d. o. o.

Press materials will be available at the conference. All interested media representatives are requested to register by contacting Emzin at emzin@guest.arnes.si, by Friday 19 November 2010, 12:00. For additional information, call +386 1 430 35 44 or +386 31 685 067.