Seoul to host World Design Survey 2010 Forum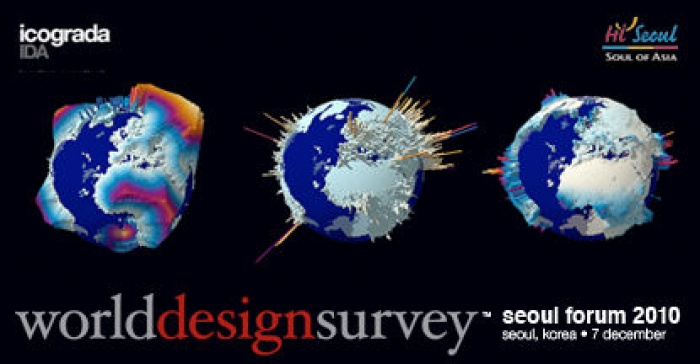 17.11.2010 News
Seoul (Korea)
- The Seoul Design Foundation (SDF) and the will play host to a group of international design researchers and policymakers at the 7 December forum being organised under the collaboration agreement between Icograda and the Seoul Metropolitan Government.
The event will bring together contributors to the 2010 World Design Survey Project from 10 countries, along with members of the international and Korean Advisory Board. Regional reports will be the basis of a roundtable discussion of findings, refining the research framework and examining opportunities for future development.
The World Design Survey Forum Seoul 2010 follows on the publication of the
Asia Design Survey 2009
and the World Design Survey session in June 2010 during the Icograda Regional Meeting in Madrid, Spain. In 2009, Seoul also hosted a working session of project participants as part of the
International Association of Societies of Design Research
annual conference.
Above: World Design Survey Roundtable, Seoul (2009). Photo: Seoul Design Center
"Seoul's support of this phase of the World Design Survey has mobilised an international group of collaborators and formed new networks which will have lasting benefits. One of the key challenges identified throughout the research has been the need for international collaboration in creating a framework for measuring design's contribution," said Russell Kennedy, Icograda President. "Under the leadership provided by the Seoul Design Center, significant progress has been made. Testing the initial framework with data from some 20 countries globally will allow for further enhancements to facilitate meaningful international comparison and analysis. There is still much work ahead of us - there is scarce country-level information today. Our ambition is to expand on the information available at a city or state level, to create truly national profiles."
The World Design Survey™ will become an ongoing, online international resource not only for design organisations internationally, but also for government, industry, universities and research institutes seeking to understand the scope of activity in the design sector and its potential to address global challenges.
---
For more information:
Brenda Sanderson
Managing Director
E:
bsanderson@icograda.org
W:
worlddesignsurvey.org