Emzin presents graphic design exhibition by Dan Reisinger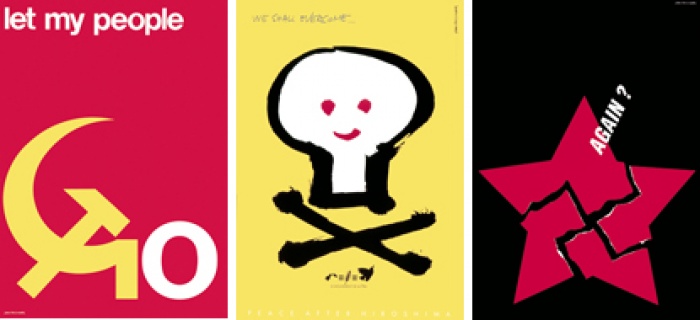 21.10.2010 News
Ljubljana (Slovenia)
- On 18 November 2010, , will present an exhibition of graphic design by Dan Reisinger. The opening will begin at 20:00 at the NLB Gallery Avla in Ljubljana.
Dan Reisinger is a multi-faceted artist whose work includes posters, symbols, calendars, corporate identity programs, exhibition designs, environmental projects, drawings and paintings.
Born in Kanjiza, today's Serbia, in 1934, Reisinger emigrated to Israel in 1949. He graduated with distinction at Bezalel Academy of Art, Jerusalem, and studied 3D and stage design at Central School of Art, London. His works have gained national and international recognition since 1958, when his poster for Brussels EXPO won first prize. In 1998 he received The Israel Prize, the highest recognition of the State, for imprinting his mark on Israeli design. His solo exhibitions have been held in major museums and institutions throughout the world, and his posters are included in many international collections. Two books have been published on the work of Dan Reisinger: by Tsinghua University Press, Beijing 2001 ('great international masters of graphic design' series) and by Alma Mater, Moscow 2008 ('stars of graphic design' series). Articles and works are also included in numerous international publications.
Today, Reisinger devotes most of his time to painting, acts as a consultant on all aspects of corporate identity and frequently participates in international forums as a jury-member and lecturer. He is a member of the
Alliance Graphique Internationale
and Art Directors Club (New York), an Honorary Professor at the Moholy-Nagy University in Budapest, and an Honorary Member of the Russian Academy of Design, the Committee and the Israel Designers Association.
The graphic design exhibition by Dan Reisinger includes 30 posters designed between 1961 and 2010. The exhibition will be open to the public from 8:00 - 18:00 weekdays until 13 January 2011.
NLB Gallery Avla
Trg republike 2
Ljubljana
Slovenia
Special thanks for the realisation of the exhibition go to the Ministry of Culture of the Republic of Slovenia, the City of Ljubljana, Department of Culture, and the Embassy of Israel in Vienna.
---
For more information, please contact:
EMZIN, Institute of Creative Production
Metelkova 6
Ljubljana
Slovenia
E:
emzin@guest.arnes.si
Jasna Rackov
T: +3861 430 35 44 / +386 31 685 067