every cover a piece of art
05.04.2016 Features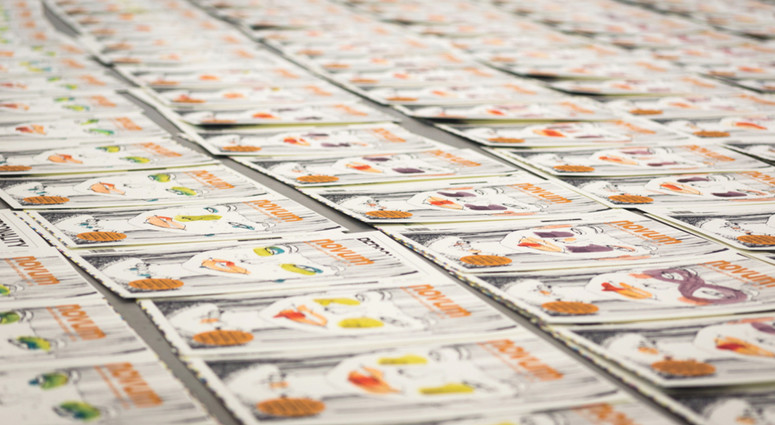 13,000 covers for novum 04.16 painted by hand by Felix Scheinberger. (Photo credits to: Dominic Brighton, www.dominicbrighton.com)

This article was originally published in the latest issue of novum 04.16. ico-D is featuring an adapted version of it as part of our IDMN initiative to highlight new design perspectives in publishing.
Every cover a piece of art
13,000 hand painted covers
for novum 04.16

For the first time in its 92 years of existence, magazine has realised a cover where each copy was coloured by hand. Artist Felix Scheinberger illustrated 13,000 issues with brush and ink to produce thousands of unique copies of the latest issue. It took 4 days of straight painting, lots of helping hands and care, and now novum readers can look forward not only to a great design magazine but also to a real piece of art.
This unusual project was realised with the help of many partners, led by Christine Moosmann, of novum's editorial team. To begin the process, novum printed two versions of the cover in offset: 6,500 women's portraits and 6,500 men's portraits. 13.000 sheets were then ferried to the University of Münster in northern Germany, where Felix Scheinberger works as a professor. The college at Münster allowed them to use its expansive premises, which was lucky, because a lot of space was required to lay out the thousands of cover sheets. Students helped to lay out the sheets and collect them after the paintings were dried. Most of the work, however, was done by Felix Scheinberger himself, who spent four days of straight painting, applying individual touches to each one of the 13,000 covers. After drying, all the sheets were brought back to Bavaria for binding and only a few days later, novum readers would enjoy a unique piece of art.
novum is known for their experimental covers, using etchings, special colours and hot foil, but so far the magazine has never dared anything as crazy as a hand painted cover.

Watch the making of novum 04.16 cover here:


Copies of the issue can be bought at: www.tiny.cc/novum2016
More about novum 04.16:
Artist: Felix Scheinberger: www.felixscheinberger.de
Paper: Aquarellkarton Da Capo, Schoellershammer Fine Art by Reflex in 300 sqm, www.reflex-paper.com
Colours: Horadam Aquarellfarben by Schmincke in the nuances 214, 216, 229, 349, 352, 480, 485, 488, 509, 524,536, 654, 655, 663, www.schmincke.de
Offset printing: f&w Mediencenter, www.fw-medien.de