FABRICA CREATES THE ICOGRADA 50TH ANNIVERSARY PARTICIPATORY LOGO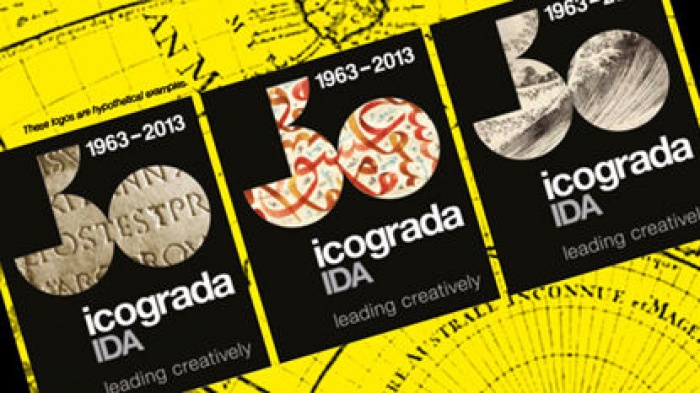 23.01.2013 News
Fabrica, Benetton Group's communication research centre, is contributing to the 50th anniversary celebrations of Icograda (International Council of Communication Design), by creating the participatory logo to be used by Icograda and its 200 member associations for all initiatives marking this important milestone.

The basic shape of the logo is an interpretation of the number 50 inspired by old world maps structured on dual globes, giving a complete view of all continents: a clear reference to Icograda's broader mission to support all design cultures globally (see image 1).



Old world maps serve as source of inspiration for the 50 logo (image 1)

The most significant and original aspect of the logo is its participatory and multicultural nature: while maintaining its core identity, it can be customised by each of the 200 Icograda members around the world, who can add elements relating to their local visual culture, such as images, typography, calligraphy, decorations, etc., (see hypothetical examples in images 2, 3 and 4).



Hypothetical examples of the participatory aspect of the logo (Images 2,3 and 4)

The logo also has an official version (picture 5), to be used exclusively by Icograda for its centralised branding requirements; it was designed by Michela Povoleri, a resident of Fabrica's Visual Communication department directed by Omar Vulpinari, former Vice President of Icograda.



Icograda's 50 logo (Image 5)

Fabrica is Benetton Group's communication research centre, established in 1994 with the aim of blending culture with industry. Fabrica offers young artists/designers one-year scholarships and provides an opportunity for professional growth, as well as a wealth of resources and relationships, with experts guiding them as they develop social and cultural communication projects in the fields of design, visual communication, photography, interaction, video, music and publishing.

Icograda (International Council of Communication Design) is the world body for professional communication design. It is a non-profit, non-partisan network of independent organisations working within the scope of communication design and expanded media. Founded in 1963, Icograda actively promotes the value of design practice, thinking, education and research, representing more than 200 organisations in 67 countries and regions globally. Fabrica is a member of Icograda.

For further information:
Loredana Rigato
Fabrica Press Office
+39-0422-516340
loredana.rigato@fabrica.it
www.fabrica.it