FORMER ICOGRADA PRESIDENT, GIANCARLO ILIPRANDI, FEATURED IN A RETROSPECTIVE AT THE SCUOLA POLITECNICA DI DESIGN IN MILAN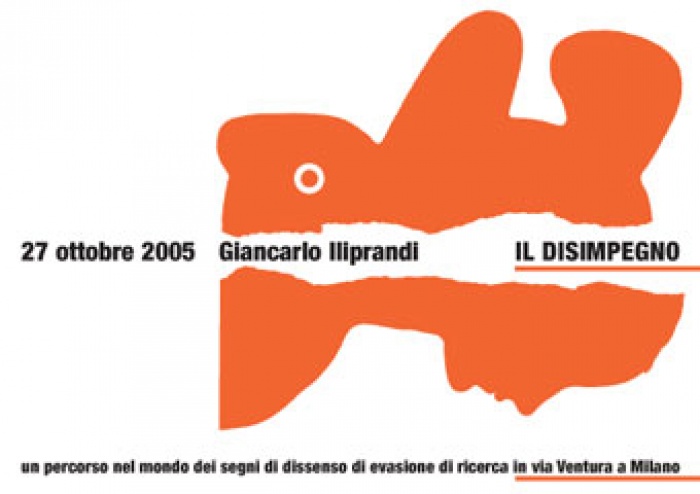 23.10.2005 News
Milan (Italy)
- "For a professional, commitment is a daily routine. These non-profitable works, which were commissioned directly, published with great difficulty or perhaps not published at all - sometimes pretentiously social or fancifully provocative - are what I call my disengagement." These are the words Giancarlo Iliprandi uses to introduce his exhibition, which opens in via Ventura Milano on 27 October 2005.
Iliprandi, one of Italy's leading graphic artists, has dedicated the past fifty years to graphic design and visual communication. He has travelled the world of signs: signs of discovery, signs of diversion and signs of dissent. Any departure from the daily practice of the sign can be termed as diversion or escape. And this is the spirit of the works exhibited here: about two hundred classic pieces, unpublished works and new ones, behind each of which lies a story to be told. The Art Book Milano bookstore is hosting examples of some of the most representative designs carried out during his long career and a series of experimental silkscreen prints made for Grafiche Nava in which he analyses the structure, de-composition and legibility of the alphabet. Plates from the book Letterando-Lettering, published by Corraini, will be on show at Box Corraini. In the book, reflections on typographical composition and lettering provide the opportunity for a dialogue between writing and graphics. On show in the foyer of the magazine Abitareis a series of travel designs, expression par excellence of disengagement and escape from everyday life, mixed together with a sequence of symbols and brand names where the first letter of the alphabet plays a leading role in homage to the magazine which hosts the exhibition. Finally, on display at the Scuola Politecnica di Designis a series of protest posters dating from the 1960s known also as the 'segnaletica del basta' (indications of enough). The best known of these is unquestionably 'Basta una pillola' (a pill is enough), a pirate poster printed in 1967 that encouraged the use of the contraceptive pill, then still banned.
Giancarlo Iliprandi graduated in painting and stage design at the Brera Accademia di Belle Arti. In 1953 he opened a graphic design studio and in 1993 he founded Iliprandi Associati which deals with corporate, editorial and environmental communications. Author of several books and publications in periodicals, numerous articles and short essays, he is currently teaching at the Faculty of Design at Milan Polytechnic. He is a permanent member of Icograda Presidents Forum, Honorary Member of AIAP and ADI. He has won several prizes and awards including a Gran Premio Internazionale at the XIII Triennal in Milan, a certificate of merit at Typomundus 20/2 for the outstanding contribution to the development of graphic art of the 20th century, eight mentions at the ADI Compasso d O-ro and three Compassi d Oro. Milan Polytechnic awarded him an honorary degree in 2002.
---
For further information please contact:
Il Disimpegno (Disengagement)
Art Book Milano
T: 02 21597624
W:
www.ili-asso.com/disimpegno.html